Tips and tricks from a design professional for creating the ideal home office space
Truth be told: One of the greatest perks of a remote or hybrid schedule may be the ability to break free from the confines of compact cubicles, the glare of fluorescent lighting and the bland tones of industrial office furniture to work in a completely customized environment.
Based on her company's experience, interior designer Rachel Cannon knows how to make a home work environment both efficient and aesthetically pleasing.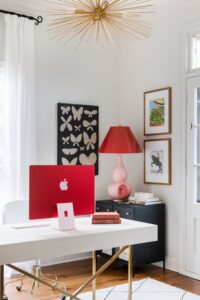 "Some clients are happy with a secretary or desk where they can sit at to pay bills; others need a full-on work station because their work takes place part-time from home," Cannon says. "So, for home offices and home office nooks to be truly useful, they first have to suit the needs of the person(s) working in them."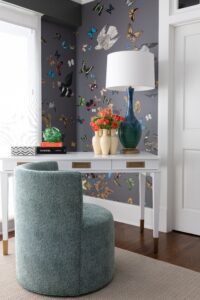 Once the functional requirements are met, the client's aesthetic, artwork or heirlooms often informs the design.
"I can achieve deep focus when I'm in an environment that feels peaceful and inspiring," Cannon explains, "and that's what we've tried to do for each of our clients."
For more inspiration from Cannon's colorful designs, scroll through the home and study spaces below.
---