The Strasner family home combines timeless architectural with amenities to suit their modern lifestyle
The early 1800s ushered in a new age in architecture, not just in Louisiana but around the country. Enamored with the styles of the Mediterranean, designers and landowners began modeling their homes in the style that became known as Greek Revival. The look commanded attention with its formality and symmetry, including such details as Parthenon-esque white columns, deep porches and prominent moldings.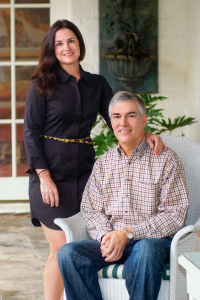 Nearly two centuries have since passed, with many new home styles tried and discarded along the way. But especially here in the South, an ancestral affinity to the Greek Revival aesthetic is still alive and well. Finding an authentic 19th-century home to fit a modern family, however, is difficult, indeed; alas, even if one were available, it would no doubt be lacking in certain contemporary conveniences—large kitchens, roomy closets and the like—that most of us now desire.
That was precisely the position Jennifer and Sheldon Strasner found themselves in a few years ago. Living in the Country Club Crossing neighborhood at the time, they toured older homes and came close to buying one, but in the end a casual drive changed their plans.
"We really wanted a classic Greek Revival-style home, one that had a timeless design with plenty of room for family," recalls Jennifer. "I happened to notice a lot with a 'For Sale by Owner' sign while driving through Majestic Oaks subdivision, and I quickly called Sheldon at work and said, 'Buy it.' He jokingly asked if he could drive by it first."
Sheldon did visit the lot that afternoon, and he arrived home that night holding a purchase agreement. The couple considered themselves lucky to find this spot, as a flurry of development in the Highland Road area had left only a small number of larger properties available.
The next step was to transform their love of traditional Greek Revival architecture into a residence that would suit their family of five, including daughter Helen and sons Bert and Ned. Architect George Hopkins of New Orleans, well known for his custom adaptations of classical styles, was just the man for the job. "He immediately understood what we were trying to create and drew exactly what we wanted," Jennifer says.
General contractor Terry Honore was brought on board to oversee the construction process. "He's very old-school and very honest, and we embarked on the construction with just a 'gentlemen's handshake,' " says Jennifer. "His crew was wonderful and very accommodating, making sure we were pleased with everything before moving on."
To complete the exterior vision of their home, the Strasners partnered with landscape architect Michael Hopping, whose work they had long admired. "He was careful in designing a landscape reminiscent of older, established Louisiana gardens," Jennifer says.
With such a talented team in place, it's no wonder the Strasners were pleased with the outcome of the building process. Viewed from the street today, the house has the gracious and welcoming look of one that's been here for many years.
Visitors soon learn that the interior includes many of the same historical details and finishes that made the Greek Revival era so endearing. But stagnant this place is not; instead of serving as a shrine to a time gone by, the house is filled with features that make it perfectly adapted to 21st century living. For every antique furnishing, there is a brightly colored contemporary work of art; materials like marble and oak are balanced by chef-quality kitchen appliances and playful rugs.
Every aspect of the house was designed with family in mind. "With three teenagers, we need to be prepared for last-minute, impromptu gatherings," Jennifer says. "No part of our home is off-limits. It's very kid friendly. We built it for our family and wanted it to be relatively indestructible and comfortable."
As the children grow, elements of the house continue to evolve. When daughter Helen was away on a recent ski trip, interior designer Julie Stander—who worked with the Strasners to complete their interior décor throughout the house—stepped in to transform her bedroom from a tween dream to a college-age young woman's retreat. And when Helen's sorority needed a place to celebrate Bid Day last year, 300 sisters showed up at the Strasner house for a rollicking pool party.
"Most of our entertaining now centers around the kids' activities," Jennifer says. "We host basketball and football team parties, pre-dance events, and barbecues by the pool with the kids and their friends and families. And the screened porch is a great spot to serve lunch or a casual supper."
Other parties center around Jennifer and Sheldon's love of cooking. "Our favorite room is probably the kitchen," Jennifer says of the space that houses such modern tools as a Wolf range, two dishwashers and an ice maker, not to mention the adjoining butler's pantry with its own wine cooler and "plenty of storage." A screen door leads from the kitchen down to a parterre herb garden, designed by Hopping to contain many of the fresh ingredients that the family enjoys using in their meals.
"I love being able to have the kitchen door open and just let the breeze flow in," says Jennifer. "I've always loved the idea of a slamming screen door—it lets me know that one of our kids is home, usually with welcomed friends."
That kind of nostalgia seems natural in a house like this one, where history is both respected and reinvented. As Jennifer says simply, "For us, it's a happy place."