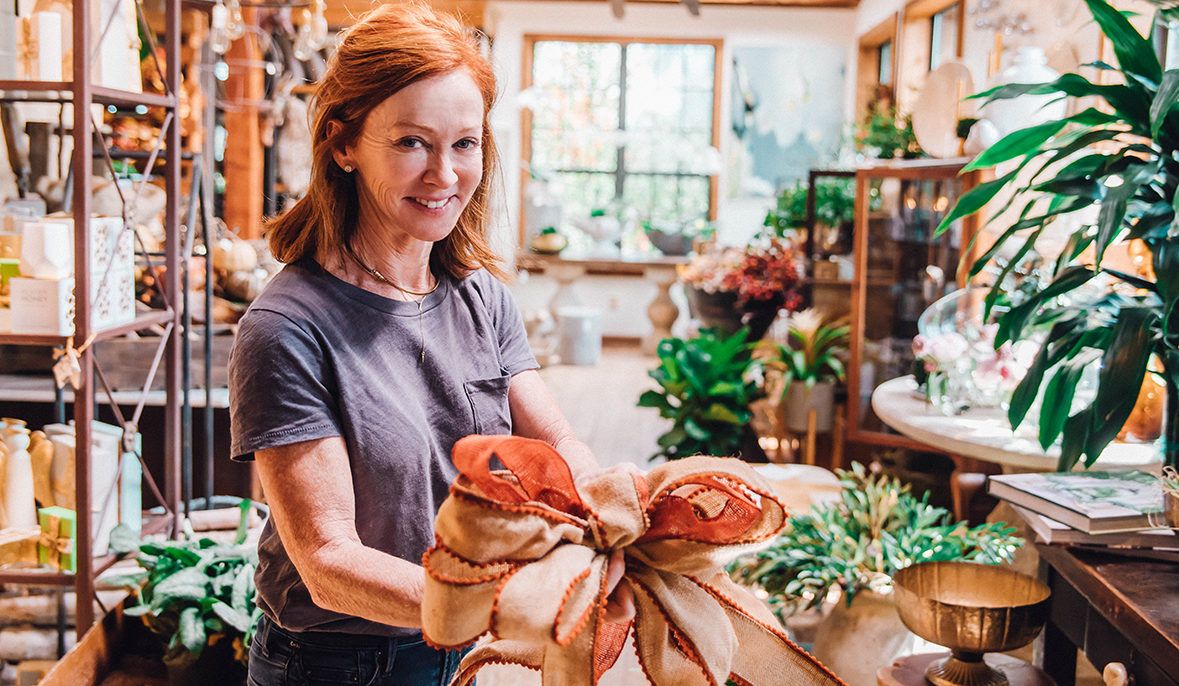 Spicing it up: Simple fall decor with Red Onion
Is that a chill in the air or just my sigh of relief as we finally pass into a new season during this never-ending 2020? OK, even though an actual drop in temperature may not happen in these Southern climes for quite some time, there's still ample reason to change up our home decor to give autumn a warm welcome—and it doesn't necessarily mean heading to the craft store aisles for plastics and trendy slogans you may not even like. According to Red Onion owner Brenda Goff, sometimes the best seasonal decor can come from a clever arrangement, a subtle addition to existing furniture or decorations, or even a scent.
"We get a lot of requests for entryway ideas that involve wreaths," she says, "and often, we'll do custom work for that, layering on pumpkins or what have you." Goff also leans into using Louisiana-esque rustic details like cornstalks and sugar cane.
"Even buying a ribbon in a fall color to wrap around an existing wreath—a magnolia wreath, for example—can be an easy way to change things up without doing much," she says.
As for doing almost nothing at all for a substantial impact? Goff recommends candles with seasonal scents, as the sensory change will update a space in an unexpected way.
https://www.instagram.com/p/CE4r3MklHh0/
Not to mention that large, in-your-face centerpieces may be out of fashion this year, says Goff. "Instead of huge displays, smaller or repetitive arrangements of smaller items or bud vases lined up along a table might do just as well, especially for kitchen islands where people might sit and eat and need more room."
Adding moss to an old planter or placing pumpkins around an old display might even be enough to do the trick.
"It's the big, bright orange pumpkins that go bad fairly quickly," she says. "I look for small heirloom pumpkins and gourds in white, frosty greens and peaches. They may cost more, but they'll last you well into the winter season."
Ah, winter. We can only hope that our will to beautify the present and anticipate the new year carries on for the next few months. For now, let's go hunt for some pumpkins.
---
What's your favorite way to decorate for fall? Share some inspiration in the comments below.