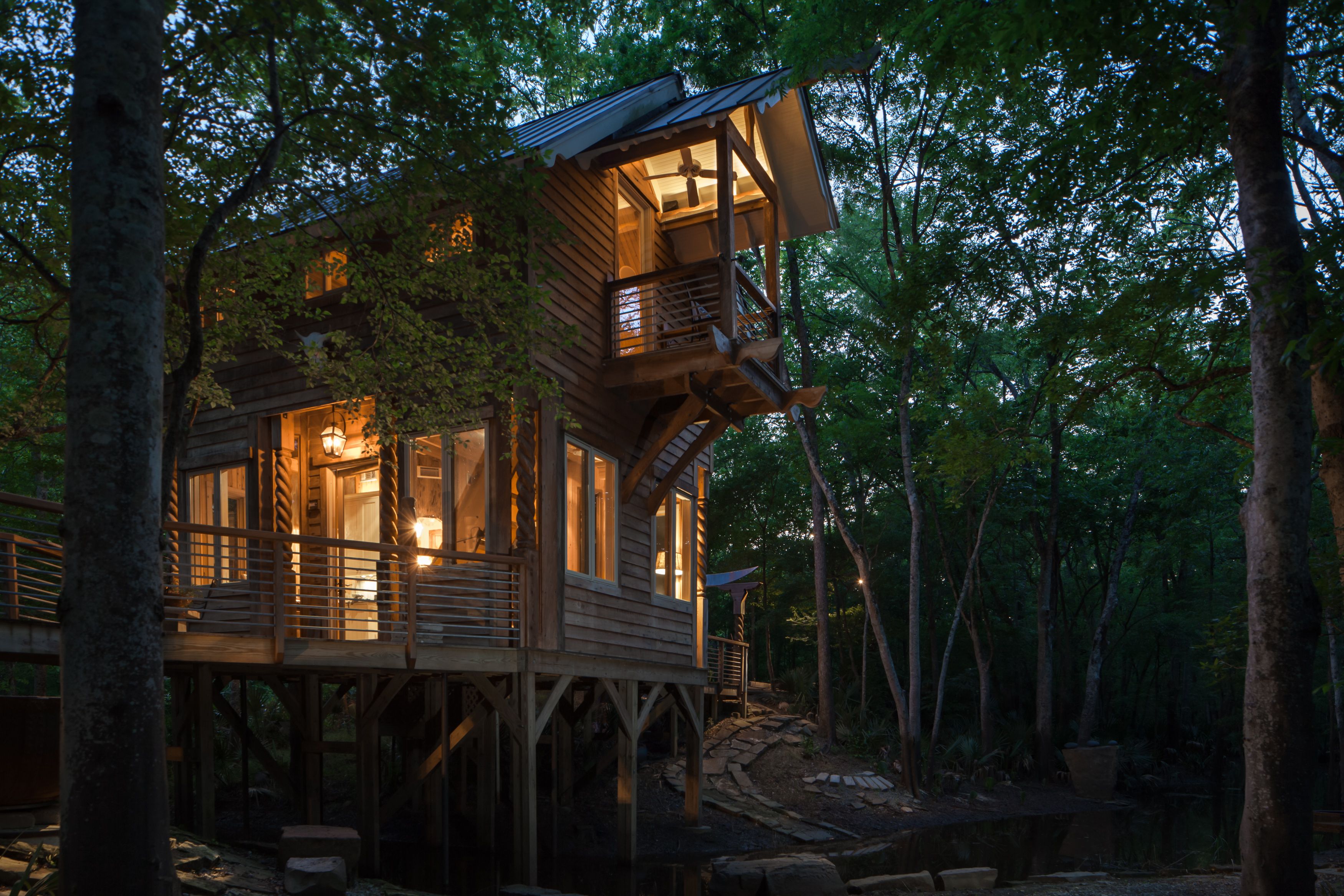 Palmetto paradise: Rigsby and Sarah Frederick's exotic hideaway
"It's Costa Rica by the bayou," says Rigsby Frederick of the guesthouse he and his wife Sarah call the Palmetto House. Set at the edge of Bayou Fountain, the structure has become a destination for visitors from around the country. Photos by Mark Bienvenu.
Rigsby and Sarah Frederick have carved out a living sculpture beside the bayou
A ceiling fan slowly turns as Sarah Frederick gazes over the balcony railing. Peering through a canopy of honey locusts and mayhaws, she gestures down toward the calm water of Bayou Fountain. "I love the way the sunlight reflects the shapes of the branches on the water," she says with a smile. "It's so peaceful and relaxing out here."
The lazy pace of the bayou water seems to encourage visitors to this handcrafted hideaway to slow down for a while, to block out the rest of the world and savor the silence. That's just what Sarah and her husband Rigsby had in mind when they first began sharing this unique dwelling, positioned a few hundred yards behind their own home in a neighborhood off Highland Road, with friends and family. And now the two-story guesthouse is available for short stints to anyone seeking their own Louisiana-style escape.
Rigsby's original plan for this space was a simple over-water seating area, a bridge set across a slough. The bayou-front land was the latest addition to the couple's property, which also features a dramatic sculpture garden and two dozen additional spots to sit and contemplate.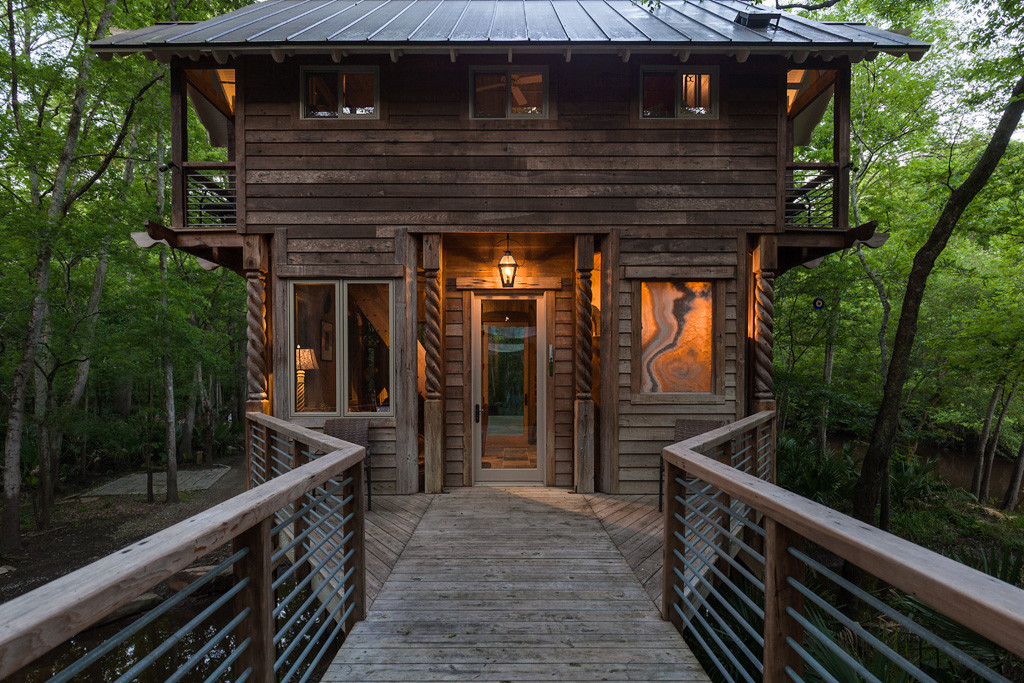 "Throughout the property, I used a feng shui and wabi-sabi approach to the design," says Rigsby, who in addition to owning an eponymous hair salon is also an artist. He dug out a pond—"to create my own view," he explains—and installed more than 80 lights so at night it becomes a reflecting pool. Acres were added slowly until he finally obtained the wooded area that backs up to Bayou Fountain.
"This land had not changed since 1956," he says. "Now, altogether we have a little over 12 acres of wildlife and nature."
Rigsby took on the roles of "architect, designer, builder, everything" when it came to constructing this waterfront structure. Controlling the whole process meant he could adapt the original bridge idea easily. "Once I figured out I could get power, gas, electric and Wi-Fi buried underground so we wouldn't disturb the natural habitat, the concept evolved," he says.
The Fredericks were insistent that their construction process not interfere with the environment. "I wanted to keep the natural habitat untouched," says Rigsby. "We are just visiting. This is a real ecosystem that will be here long after we're gone."
That meant that the elevation of the land was not altered at all, and that the entire building was created without a single truck backing up to the site. "Everybody walked in," Rigsby says. "I mixed 680 bags of cement by hand, two at a time. Do you want to know why I have no body fat? It was a crazy endeavor. It was intense."
Throughout the nine-month process, Rigsby worked with two carpenters to execute his vision for an eco-friendly retreat. "I fabricated most of the materials right here," he says. "Everything was hand-selected and hand-done."
The bones of the building are primarily salvaged cypress, sinker cypress and old pine. "There's no Sheetrock," Rigsby says. With an artist's eye, he employed details like swirly Choctaw cypress surrounding a main entrance door, twisted Douglas fir posts from New Mexico, and distinctly colored onyx windows.
Though the guesthouse is compact—its living area only encompasses 640 square feet—every inch is well thought out. Rigsby designed and built an open staircase of sinker cypress and old pine that rises from the living room up to the bedroom without stealing too much visual or physical space. Glass doors to upstairs balconies allow breezes to flow through and provide an essential connection with nature.
In such a pristine natural setting, no superfluous landscaping was necessary. A dense growth of trees including oaks, mayhaws, wild cherries, honey locusts, and hackberries surround the house, along with the fan-shaped palmettos that do so well in this damp environment. Their growth inspired the Fredericks to name this place the Palmetto House, a moniker that comes in handy now that they have opened it to outside guests. After several friends and family members spent weekends here, one friend encouraged the couple to list the house on Airbnb.com earlier this year. Bookings have come steadily from visitors around the country.
"I like the fact that we're attracting people to Baton Rouge," says Sarah, who has taken to enhancing guests' experience by providing snacks and local beers, laying out guides to local birds and fish, and offering dining and activity suggestions.
"We've become innkeepers without ever planning to, and it's a lot of fun, actually," she says. "I love meeting all the different types of people who have stayed here."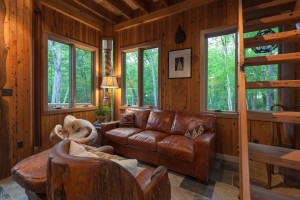 The guest list so far has included artists and writers looking for quiet inspiration; couples in search of a romantic getaway; film-industry professionals; and even one couple who got married in a private ceremony on the Palmetto House grounds.
The online listing also attracted the attention of Discovery Channel producers, who came calling only a few weeks after the house became available to rent. They swooped in with camera crews and even a drone to capture the residence for an episode of Ultimate Homes that aired in late June.
The treehouse will play host to two special events soon, allowing even more people to experience this little piece of paradise. An on-site art sale put on by Rigsby Frederick Salon and Gallery is set for July 12 and will feature Rigsby's most recent collections ranging from exotic-material clothing and furniture to photography and sculpture. And in the fall, a holistic Spiritual Day Retreat will be held here. But it's the quiet moments that bring the greatest joy to both the Fredericks and their overnight guests.
"Sculpture is not only something you look at, but something you live inside of," Rigsby says. "What Sarah and I have done is take what God gave us to enjoy and create an eco-refuge for both wildlife and people."
For details on overnight reservations and the upcoming Spiritual Day Retreat, visit thepalmettohouse.com. For information on the July 12 art sale, email [email protected]m.
Take a closer look at this home by clicking on the photos in the gallery below: