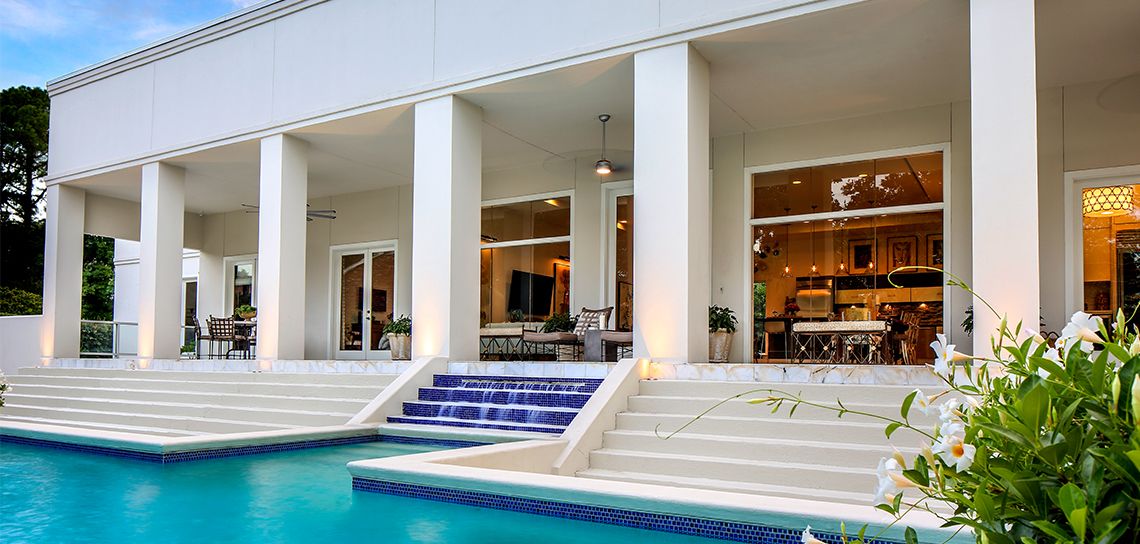 Outside the box: Bold architecture meets sophisticated style
---
What was behind the wall? James Baker wanted to know.
Every time he drove past the boxy building partially hidden by a tall vine-covered barrier, his curiosity grew. There was one thing he felt sure of: this home near the Baton Rouge Country Club was not like any of the traditional south Louisiana-style residences surrounding it.
James' curiosity got the best of him on a Sunday morning when he opened his newspaper and learned that the secluded home was for sale. There would be an open house that afternoon. As luck would have it, he and his wife Marsha had been talking about building a new home. But first, he wanted to see what was behind that wall.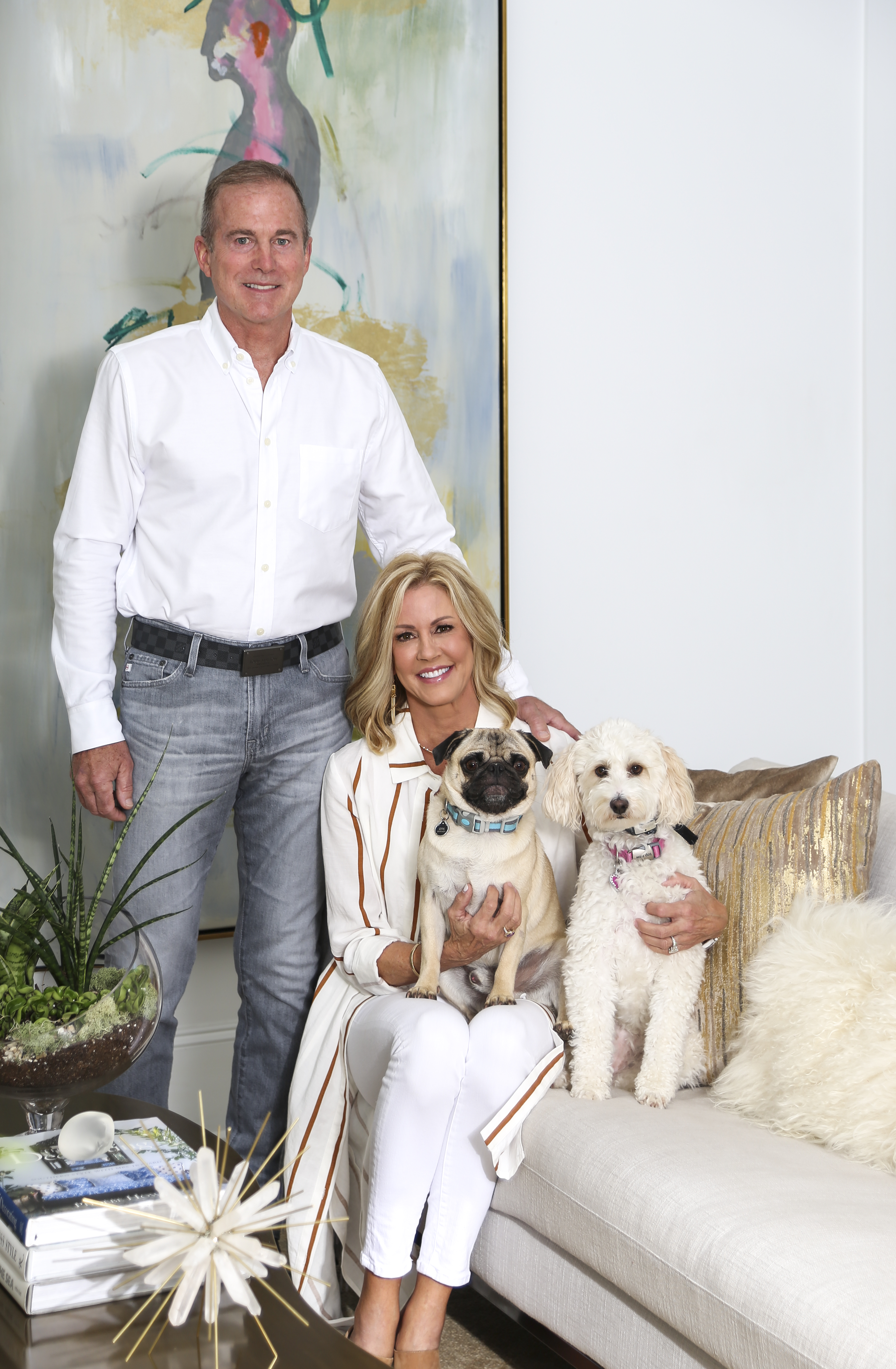 "We walked in that afternoon, and this was what we saw," James says, looking out the massive windows of the house toward a lush private garden and dramatically designed pool. "On Saturday, we were thinking we would build a house on the other side of town, and by Monday, we had made an offer on this one."
The features that made the Bakers fall in love with this home—streamlined structural details, an open floor plan, ample room for art, and an easy connection between indoors and out—are hallmarks of the tropical modern architectural movement made popular in Miami. In fact, this home was built a dozen years ago based on its original owner's interest in the south Florida aesthetic. As is common in tropical modern-style homes, tall and wide windows and doors provide views of the landscape and water features from nearly every room, while polished marble covers the floors both inside and out. Warmer than typical modernism, the overall effect is a Zen-like atmosphere filled with natural light and focused on laid-back living.
"We had never done modern before, so we were excited to try it here," says Marsha.
Though the couple's former residences—this is their fourth home in the past nine years—were more traditional in style, this contemporary vibe was well-suited to their ever-growing art collection, which is weighted heavily with bold and abstract works. Empty white walls became like gallery spaces for displaying art found during their travels and other pieces by Louisiana artists discovered through Ann Connelly Fine Art in Baton Rouge and Soren Christensen Gallery in New Orleans. "We were able to use every piece of art we had," Marsha says.
The Bakers called on builder Todd Normand of Bernhard Normand Construction to tackle the renovation of this home, which included moving a bar nook in the open main room to a separate living space, adding a fireplace and bookshelves to the opposite side of the room with the new bar area, and reimagining the master bath to include a sleek vanity alcove. Designers Helaine Moyse and Patrick Tandy, with whom the Bakers have frequently collaborated over the years, advised on the proper integration of the couple's existing classic furnishings with more contemporary new pieces. An example of their success is in the dining area, where an 8 x 8-foot abstract painting by Meredith Pardue is flanked by Venetian glass sconces and juxtaposed with a weathered antique Spanish dining table.
"It's a fun mix of antique and modern," says Marsha of the dining area. "Patrick and Helaine were very encouraging about not going over-the-top modern but instead mixing in a few antiques. I'm very glad we did. It still feels warm."
The existing kitchen—with its contemporary glass, metal and exotic wood cabinet panels—took a little more getting used to for Marsha. But a simple replacement of the dark granite backsplash with a new multi-hued linear version helped to brighten up this corner of the main open living and dining space. "Every kitchen we had before this was all white," she says. "I hated this at first, but I have grown to love it. And James loves, loves, loves to cook in here."
Finding all of the perfect finishing details for the home's design was both work and play for Marsha, who along with friends Stacey Davis and Stacy Johnson recently launched the local decorating firm Envy. What began as a focus on holiday décor has grown into a full-service venture, and for this house Marsha sourced window treatments, tables and more through the company.
"The house was great already, but Marsha really came in and put her own touches on it," James says.
Even with the interiors complete, the couple can't help but be lured to their lush outdoor space, where they enjoy working in the flowerbeds or perching on the porch with the doors flung wide open as three furry friends—Gracie, a standard poodle; Sadie, a Goldendoodle; and Otis, a pug—traipse in and out. The mystery of what was behind the wall has become a picture-perfect happy ending to this story.
"The porch is one of our favorite things about the house," Marsha says. "We love to sit in our chairs out here every night with a glass of wine and watch the sunset. We seriously live out here."
---
---
See more photos from this home in our gallery below: