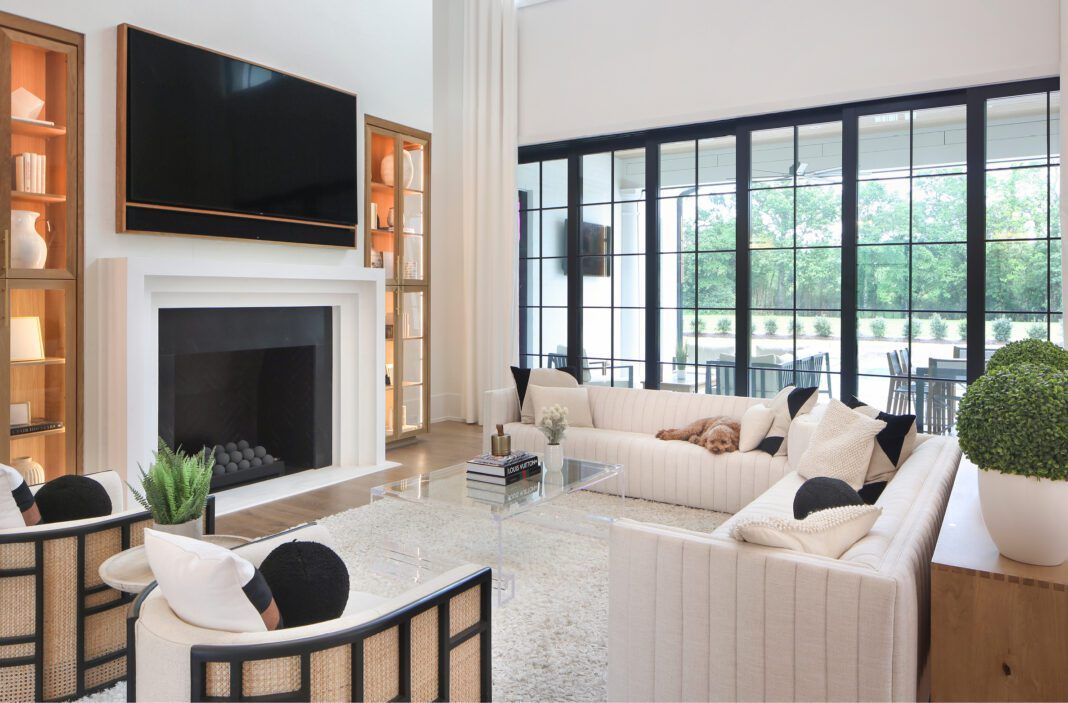 Forever Home: A family finds room to grow in a modern house in Laurel Lakes Estates
---
For 16 months, Brittney Fusilier drove to her future house every day.
It was a 45-minute trek from Central, where she was living at the time with her husband and three daughters. Braving Baton Rouge traffic was worth it. In return, she got to watch her family's dream home come to life.
As the seasons shifted from sticky summer to gray winter, her lot morphed from open grass to poured slab foundation. As spring approached, the house bloomed into a hopeful skeleton of framing, windows and brick.
By the fall of 2022, a year had gone by. Soon, the kitchen countertops were installed, and things were getting real. But more memories would unfold before move-in day.
In October, Brittney found out she was pregnant. Standing outside their soon-to-be home, she told her husband, John Dwight (JD). Weeks later, she brought him back to the construction zone with more to celebrate: They would be having a girl.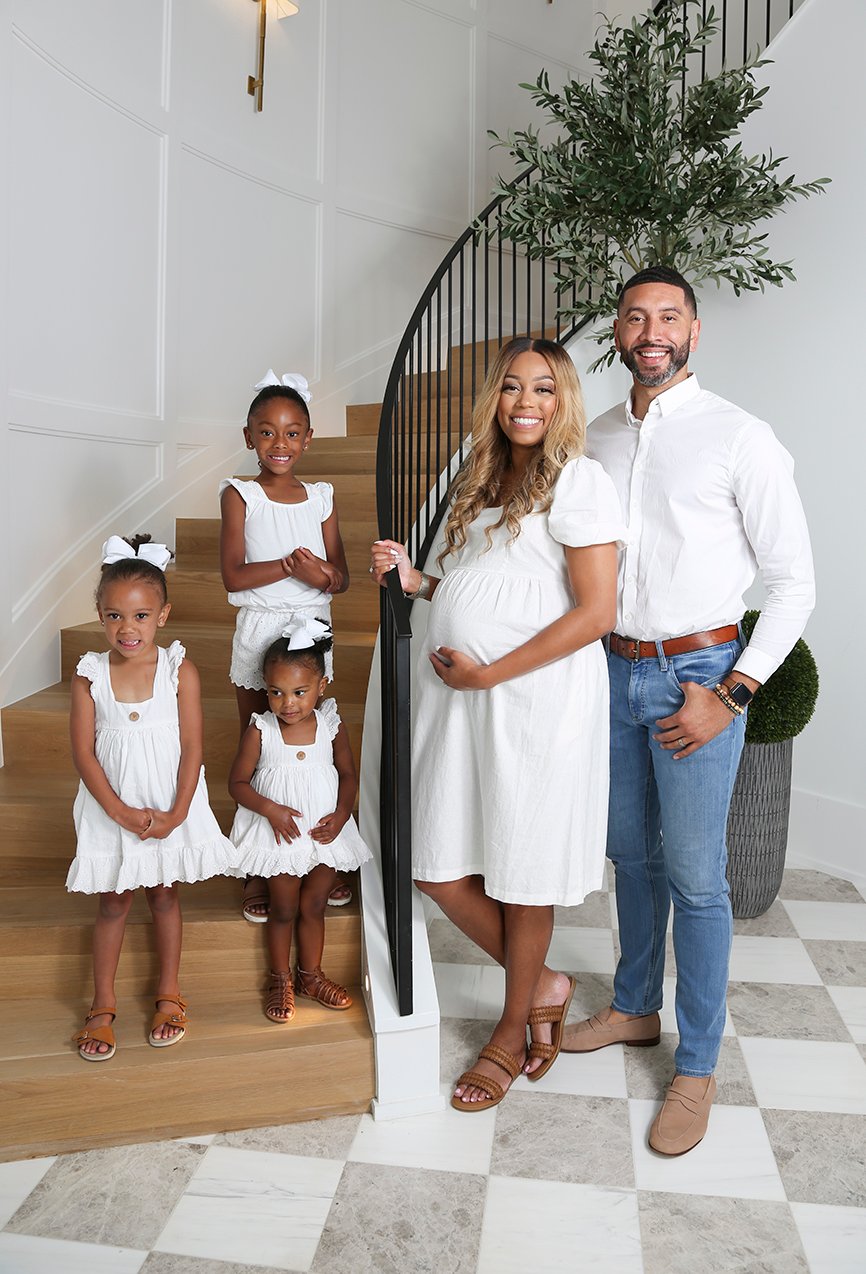 If not now, when?
Brittney and JD Fusilier have been doing life together since their first day of pharmacy school at Xavier University of Louisiana in 2011.
After graduating, they got married and entered what Brittney now calls their "season of babies." Their four spunky little girls, Madison Kate, Olivia Grace, Emily Claire and—as of last month, newborn Charlotte Jane—each made their entrance into the world.
For five years, the couple juggled their pharmacy careers with family life. But by 2020, Brittney realized her priorities were shifting. Her true passions were writing and photography.
During the pandemic, her lifestyle blog's audience grew rapidly. So she decided to take the leap into full-time content creation.
Around this time, she and JD made another life-altering decision: to build a house.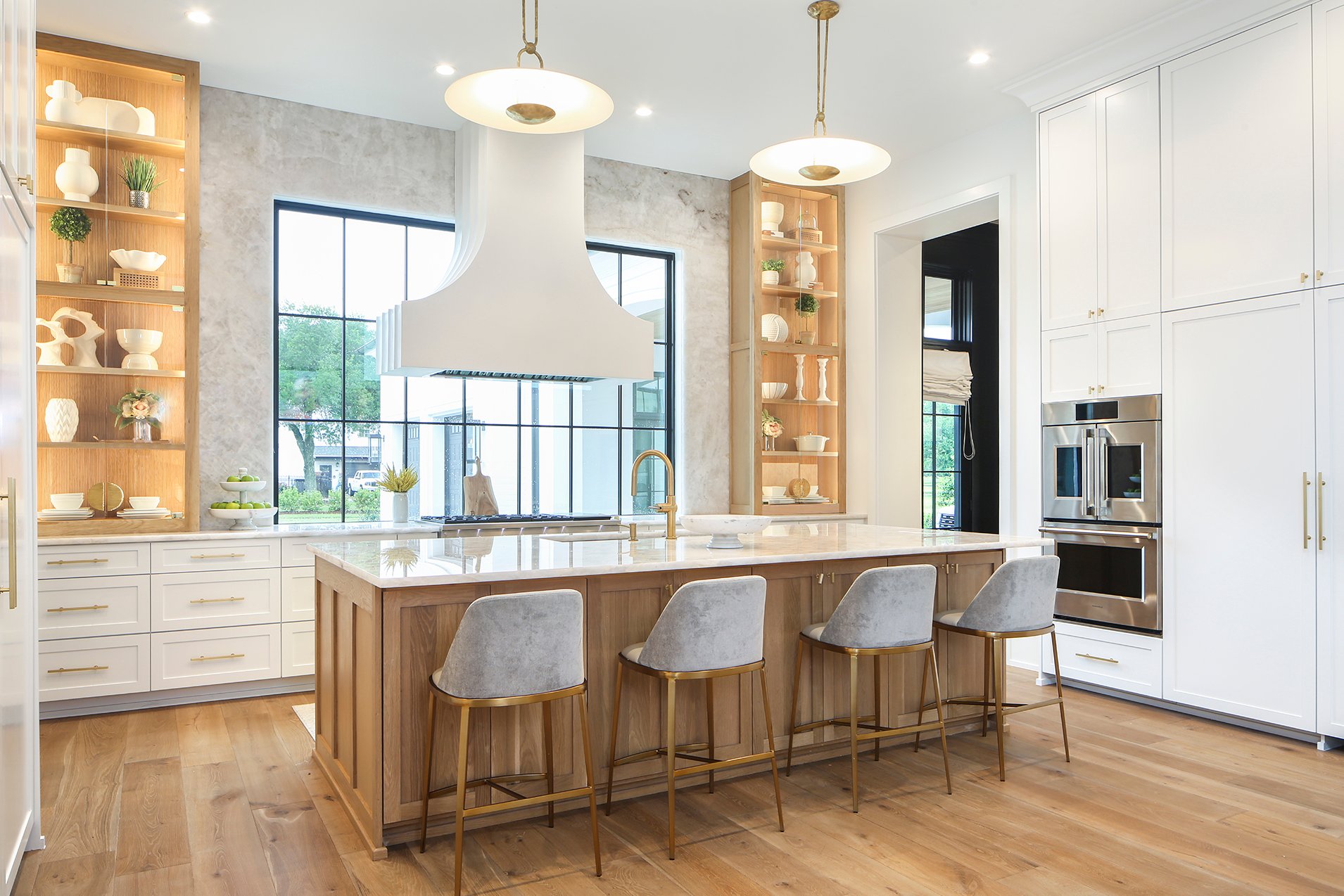 Every year since 2015, the couple had attended the Parade of Homes together. Eyes wide in awe, they'd tour as many homes as they could on the annual showcase of projects by local builders and developers. They drank in every detail.
They bonded over paint colors and flooring. They were drawn to modern and traditional homes—spaces that were light and airy but had moments of moodiness.
They learned what they liked. They took notes on what they didn't like. They wondered when it would be their turn.
"We always dreamed of building a house together, but saying it out loud was a little scary," Brittney says. "We thought: What will happen if we do? But, what if we don't?"
This must be the place
When she first drove to the back of the Riverbend subdivision and through the gates of Laurel Lakes Estates, Brittney was immediately at ease. The streets were quiet, and the sprawling, private lots were nestled between lush trees and lakes.
Finding the perfect plot of land had not been easy. The couple seriously explored two other lots on opposite sides of town. But when those locations fell through, it fatefully led them to the hidden, serene spot they were meant to find all along.
"JD and I are both from here, but we never knew Laurel Lakes existed," Brittney says. "When we drove down to look at the lots, we were like, OK—this is a place we could see raising our family. It's a very quaint community."
They bought 2.5-plus acres and assembled their dream team to build their five-bedroom, indoor-outdoor oasis. During past Parade of Homes tours, they'd always been drawn to the work of architect Hollingsworth Design and knew "without a shadow of a doubt" that the firm was a must-hire.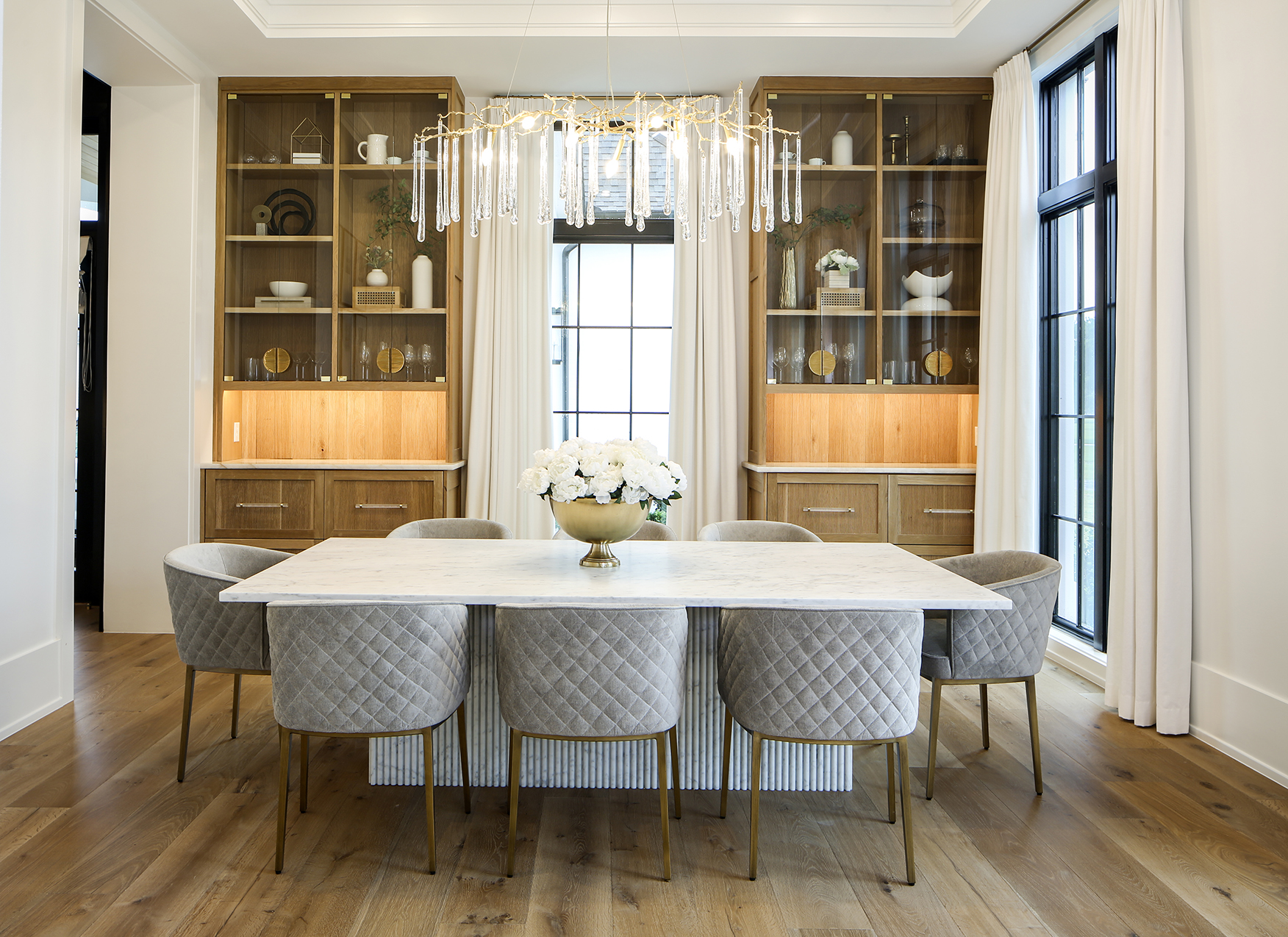 Next, they booked builder Russell Alleman of Manchac Homes for construction, and Jeff Taaffe Designs to design the interiors. "This is definitely our forever home, so we wanted to make it as perfect as we could," Brittney says.
During her daily visits, Brittney enthusiastically documented every moment of construction. In detailed dispatches on Instagram, @brittfusilier, she explained the whole process for her more than 350,000 followers. In over 500 clips now saved to her Instagram highlights, she wrote about the years of planning, the seemingly endless search for a lot and the journey from blueprints to finished build.
Last December, the Fusiliers got the greatest gift: their house keys.
Two days before Christmas, they finished decorating their tree and wrapping presents for their first holiday in the new house.
"You can have all the plans in the world, but you still don't know what it's going to feel like until it's built," Brittney says. "That was the ultimate surprise."
Walking in a dream
It's a spring afternoon, about six months since the Fusiliers moved in. Swinging open the glass front doors, Brittney steps into her entryway.
It's a dramatic space that sets the mood for the rest of the interior. Towering windows and 24-foot ceilings wash the room in golden light. Two-toned, marble tiles in a diamond checkered pattern lead toward a curved white oak staircase. A view of the backyard beckons ahead, framed by limestone pillars.
Brittney shifts into Instagram voiceover mode, gliding through the house for a tour. She points out the Phillip Jeffries patterned wallpaper in the powder room across from the staircase. In the dining room, she runs her hands over the fluted wood built-in shelving. The base of a marble dining table is also fluted to match. Brittney jokes that the table—which is made of heavy, solid stone and has room to seat eight—is not easy to maneuver a rug underneath.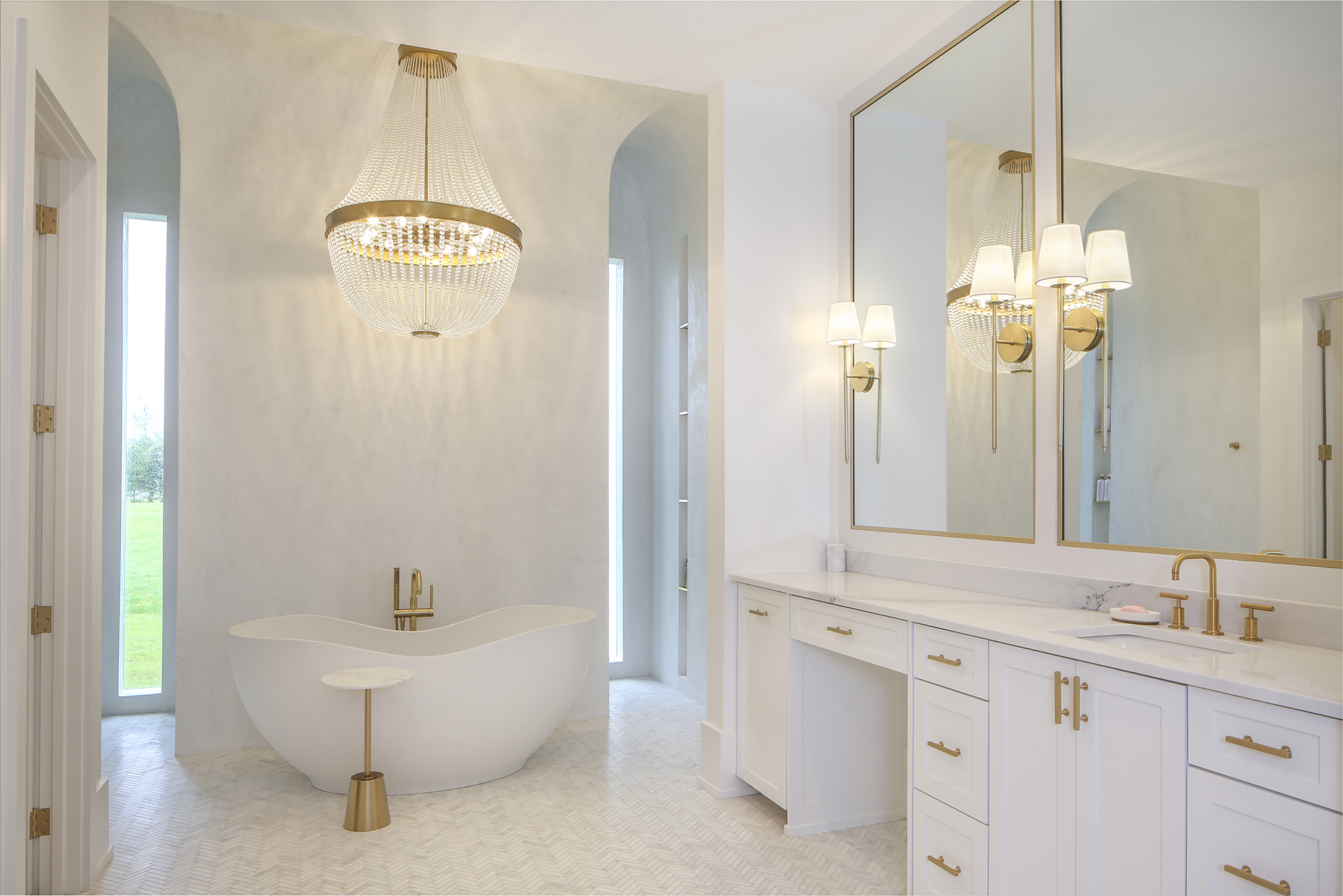 Past the dining room, JD and the girls are playfully chatting at the kitchen island. The Cristallo quartzite countertops and backsplash are durable enough for the girls' morning breakfasts of cereal and milk or brisket and eggs. The warm-toned stone complements the honey-hued built-in open shelving.
The kitchen opens to the family room, where Brittney perches herself on a creamy boucle couch.
Glass doors span the length of the room. They lead to the family's outdoor kitchen and pool, an oasis primed for crawfish boils and birthday dinners. When the weather is nice, the family can keep the doors open for indoor-outdoor entertaining.
In the primary bedroom, the bed and office are separated by a strategically placed wall, giving Brittney much-needed privacy to edit content and reply to emails.
The primary bathroom, though, is perhaps Brittney's favorite design in the whole house: a sanctuary with marble floors, a Venetian plaster walk-through shower, a stone tub and unlacquered brass fixtures. In the adjacent walk-in closet, a gliding library ladder provides easy access to the designer treasures stored floor-to-ceiling in the 12-foot high space.
The girls' bedrooms are outfitted with built-in bunk beds, toy kitchens and closets fit for mini-fashion-bloggers.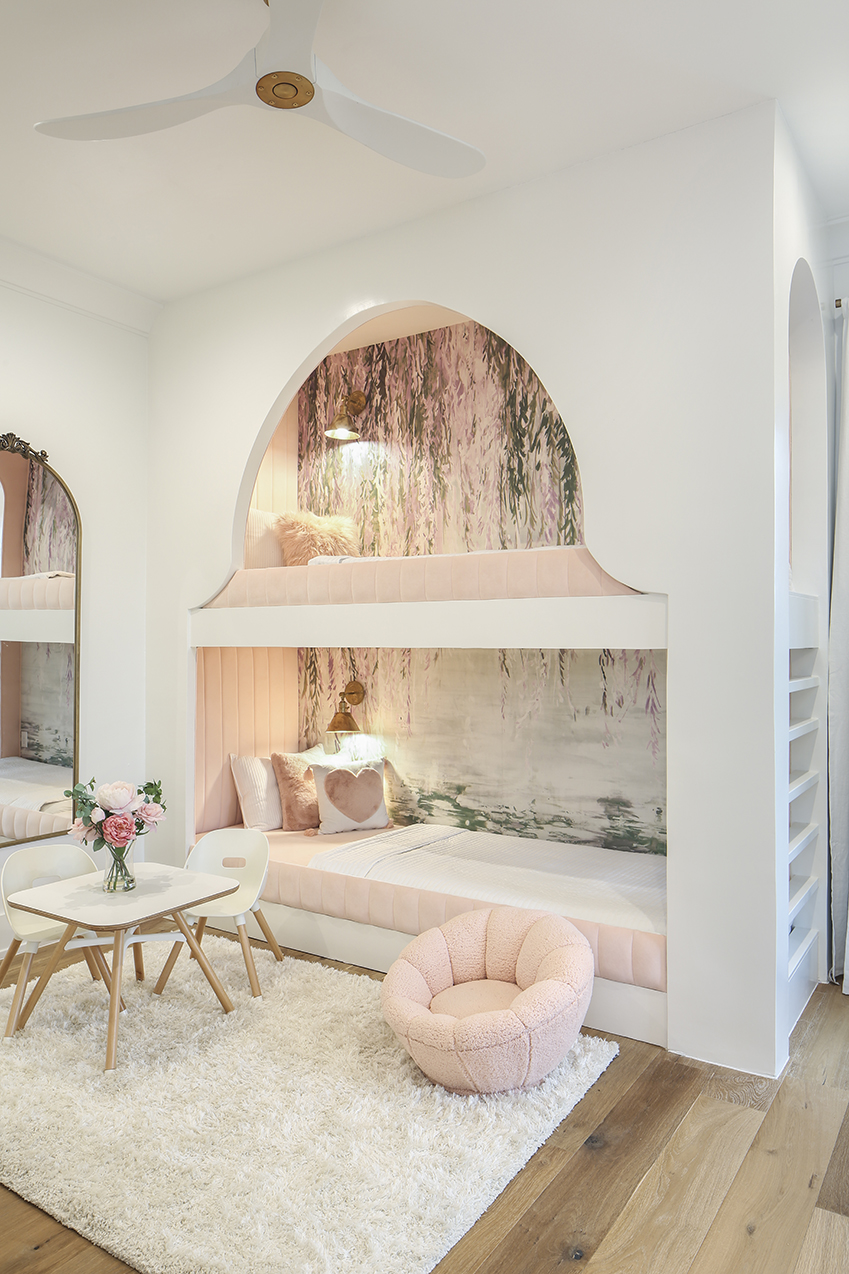 Now a family of six, the Fusiliers are already working on adding more bedrooms. Brittney divulges some plans. She's already working on a theater room with a popcorn machine, and she'd love to build an at-home hair salon for the girls.
"Family is everything to us. It's the core of who we are," Brittney says.
The day before this year's Parade of Homes, the Fusiliers' house was ready for its debut. In a full-circle moment, the family showed off their masterpiece to a new crop of attendees.
From their fully furnished, dream home, they finally got to experience the event from the other side.
"It was like walking in a dream," Brittney says.
And for the first time, they didn't have an itch to look at other houses on the tour.
They already have everything they need right here.
---
See more from this home in our gallery below: