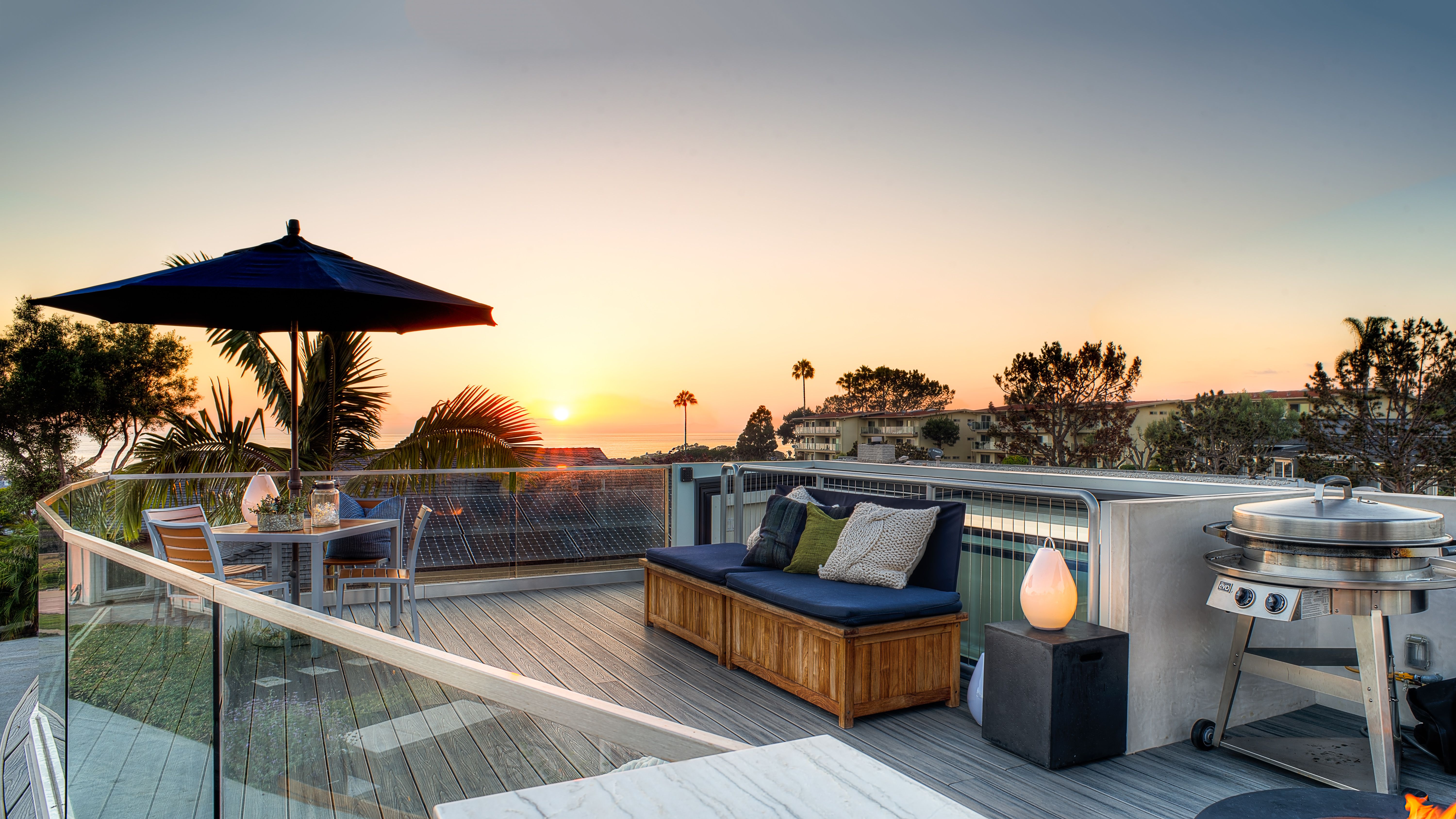 View from the top: A midcentury home overlooking the Pacific finds new life with help from local interior designer Caroline Flettrich
---
No backs to the ocean.
That was the paramount request of Caroline Flettrich's clients when designing the rooftop terrace of their new abode in Solana Beach, California.
Flettrich, a partner in Baton Rouge-based Richard-Renfro Designs, had worked with the couple a few years earlier when they were outfitting their home in The Settlement at Willow Grove. After retiring, they headed to the West Coast, where they fell in love with a midcentury modern home a short walk from the Pacific Ocean. Here they could combine their love of entertaining family and friends with the kind of relaxation that can only come when watching the sun set over saltwater.
Thus, the "no back to the oceans" rule.
"It really forced creativity to prevent every conversation area from feeling like a movie theater," Flettrich says. "However, we figured out how to drop in several different seating areas. Once they moved in, they started entertaining like crazy and would send me photos. Although jealous that I was not there—ha-ha!—it was very rewarding to see them enjoying their new home so much."
On the following pages, Flettrich shares some insight into this far-flung design project.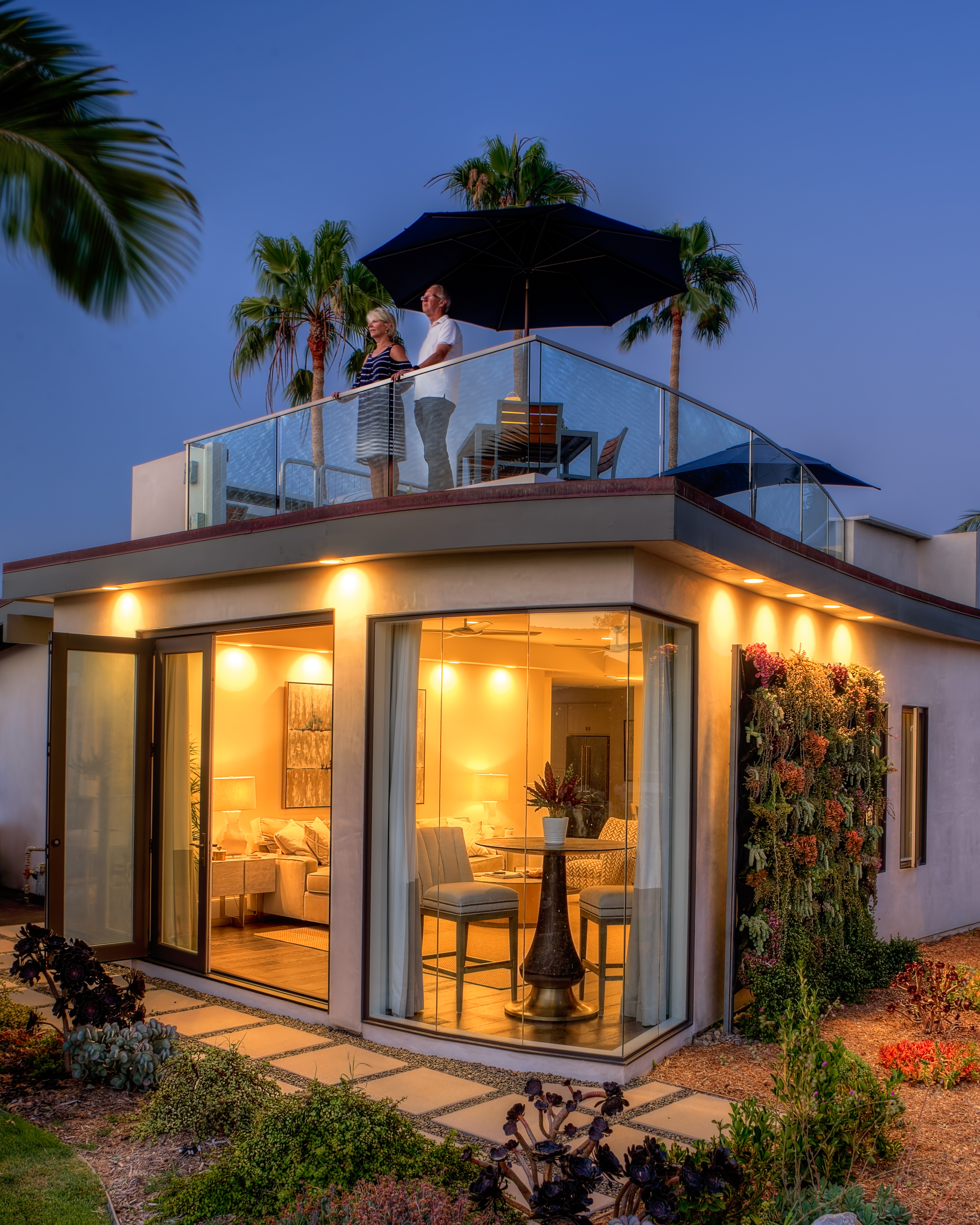 ---
How did this project differ from the previous one you did for the homeowners?
The style and size of the two projects were so very different; however, we made a point to incorporate things into each house that expressed their personalities and interests. They travel quite a bit and love to purchase interesting art, which we incorporated into both projects.
Their square footage was cut in half, if not more—which was a bit of a challenge. Maximizing this 2,000-square-foot home to comfortably accommodate as many people as possible was also huge priority. We incorporated a sleeper sofa in the guest room as well as the living room sectional to accommodate guests. We also selected case goods that were aesthetically pleasing and additional storage for them.
Were the homeowners very hands on, or did they turn over the reins to you completely?
Actually, a little of both! Final decisions and details were typically left up to me; that is always a wonderful result of having worked with a client in the past, where the trust is already established. Their main involvement was making frequent jobsite visits and additional research for the plant wall and rooftop hatch. I only went to the site one time throughout the entire construction and installation process. We did a lot of emails, texts and conference calls with the project manager. In addition, my clients went periodically to check on things with a long list of notes, questions and measurements from me in hand!
This home looks considerably more contemporary than most of what we see here in south Louisiana. Was your design guided by the architectural style at all?
Absolutely! I have grown up in south Louisiana so I do love the architectural style that we have here. However, it was so exciting to take on something so completely different.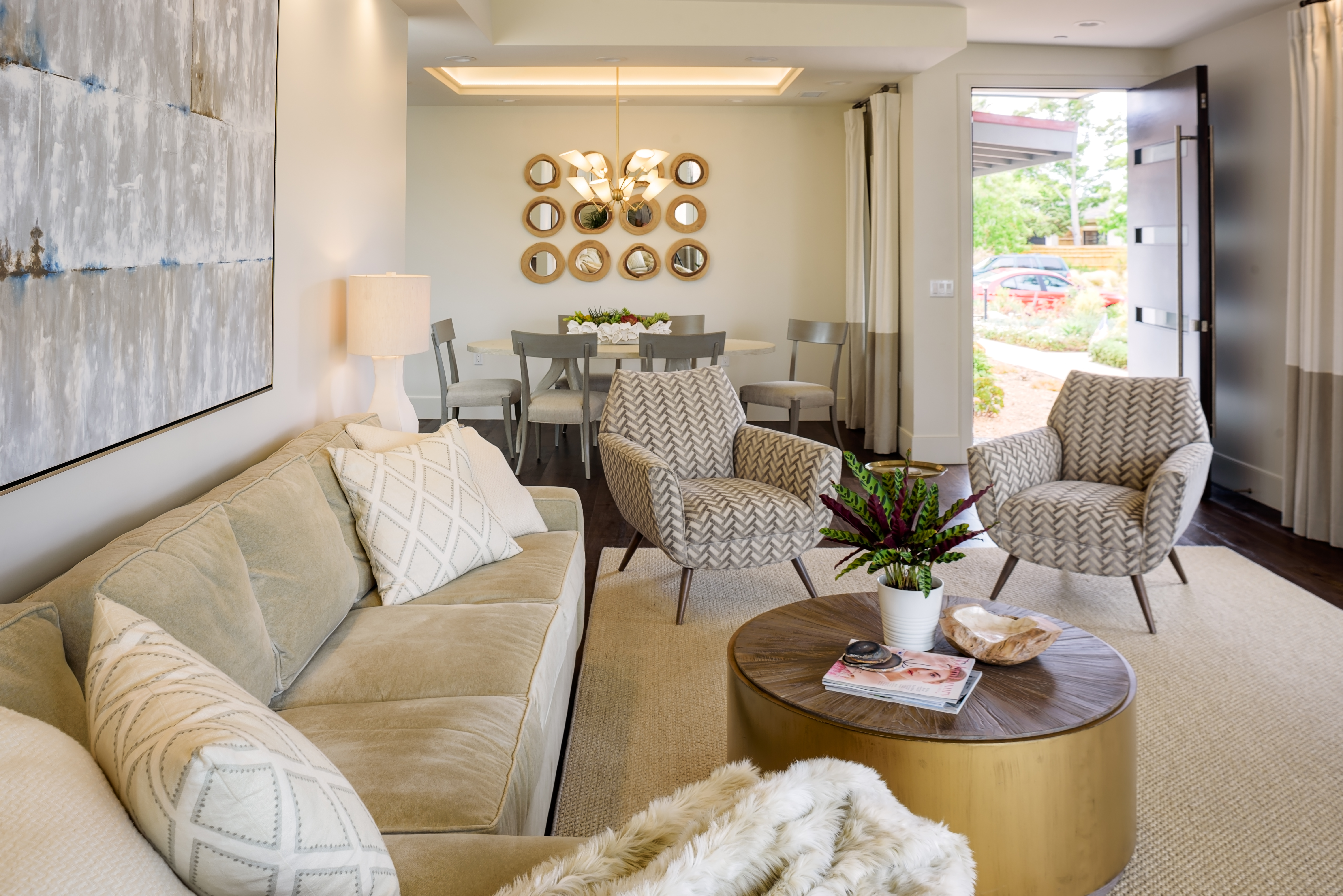 How did the home's proximity to the coast help to inform your choices for their interior and exterior elements?
It is amazing how that did make a difference in selecting finishes—even on the interior. For the furniture on the rooftop, we selected a sectional frame in a special aluminum finish guaranteed to withstand the saltwater elements.
Tell me about the layout of this house's main living areas.
The living room, dining room and kitchen are all very open, which is nice for entertaining and being able to take in the fabulous view of the Pacific Ocean. The guest bath has two entrances so that it doubles as the powder room, while having a private entrance from the guest bedroom. Furthermore, the guest bedroom is the larger of the two bedrooms so that it can house a sleeper sofa for extra guests. The master is a little farther from the main living area but does have easy access to the side entrance of the kitchen as well as to the back patio area.
Safe to say this was probably the first home you ever designed a rooftop lounge area for, right? Tell me about the process of planning the furnishings for that space.
Yes! My client's husband and I basically finalized the plan on a return flight from our visit and selected most of the furniture on the flight, thanks to Wi-Fi. We sketched it on a napkin, and I am pretty sure I kept it in their file somewhere, ha-ha! We let her husband call the rooftop his baby; however, I am pretty sure she is enjoying it just as much now that it is complete. I love getting texts from them having fun with a beautiful view in the background.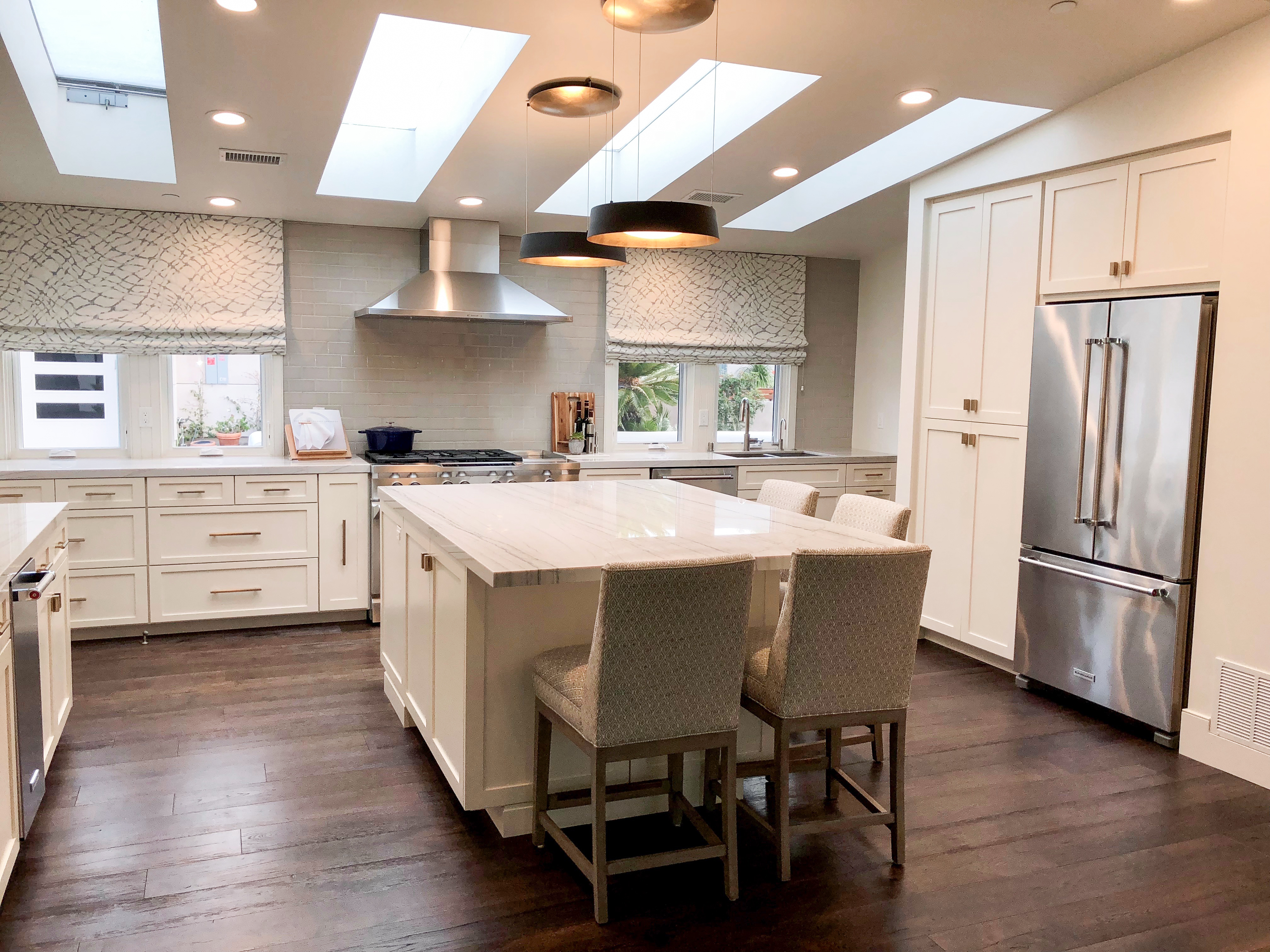 What was the biggest challenge you faced with this project?
I have been so used to checking on jobsites during the construction phase at least once a week. I could not have done this project without the use of phones, texts and iPads, for sure! The drapery installation was also a challenge because of the curved wall in the living room. I had the contractor send me detailed measurements, which I drew on AutoCAD. The drapery hardware was made locally and loaded onto their moving truck from Baton Rouge.
What are some of your favorite furnishings or accessories that you used here?
I absolutely love the dining table, chairs and chandelier. I think the finishes, lines, scale and design of the table and chairs suit the clients' style perfectly! Clean and classic with a little bit of edge. I even love the oval-shaped, gold-tipped bowl—it gives a coastal coral-like vibe without being too literal.
What Baton Rouge-area vendors or artisans, if any, did you bring in to contribute to this home?
I used Aimee English to do the drapes in the living room. The Iron Connection made the living room drapery rods, and there is a piece of Norma Kilgore's art from Red Onion in the guest bath. Most of the lighting, upholstery and case goods were ordered through my firm.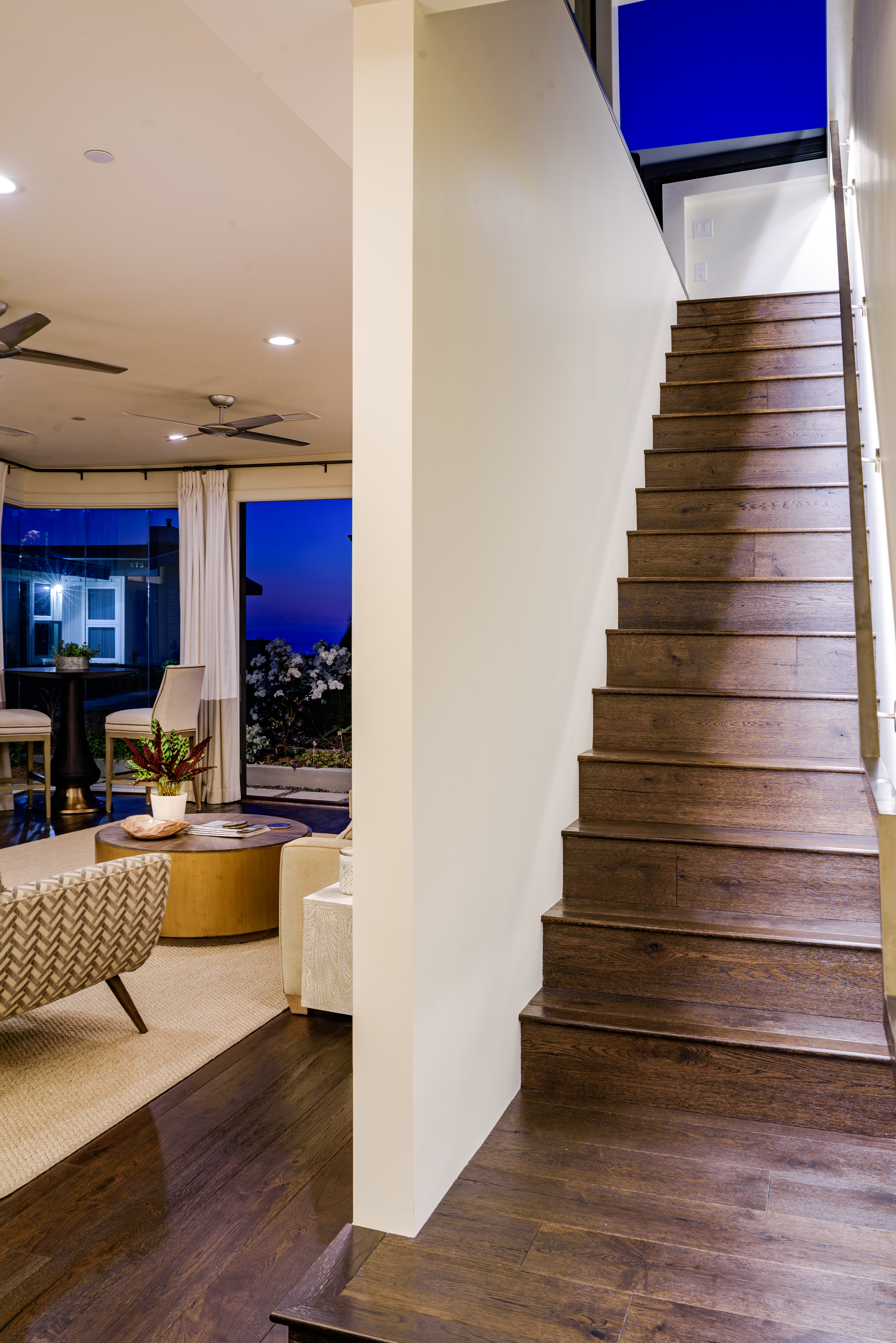 How did you tackle the logistical issues of working on a project far from your home base in Baton Rouge?
My client was really amazing about doing a lot of the "legwork." I also became best friends with the project manager, David Beat, via phone, email and text right away. There is no way I could have done this without his help—I called him daily (sometimes several times a day) for updates, accurate measurements and other issues. I have never felt as though I have an accent, but our daily joke was him making fun of my Southern drawl!
What is your favorite area of this house?
I really love it all! The living and dining combination has so many interesting elements in it, though. The front door pivots rather than using a typical door hinge and is almost 4 feet wide. The lines and hardware provide a fabulous first impression! The sunset view from this location is not to be beat, while I love the lines, textures and materials of the furnishings and lighting.
What was the most rewarding part of this project for you?
Seeing it finished. It took a village to get this one done, and there were many things that delayed the project: permits, the rooftop hatch, even furniture delivery. Having worked with them previously, I knew them pretty well already. However, tackling something like this remotely, our bond grew quickly. We have developed a beautiful friendship, and I feel as though we will keep in contact for a long, long time.
---