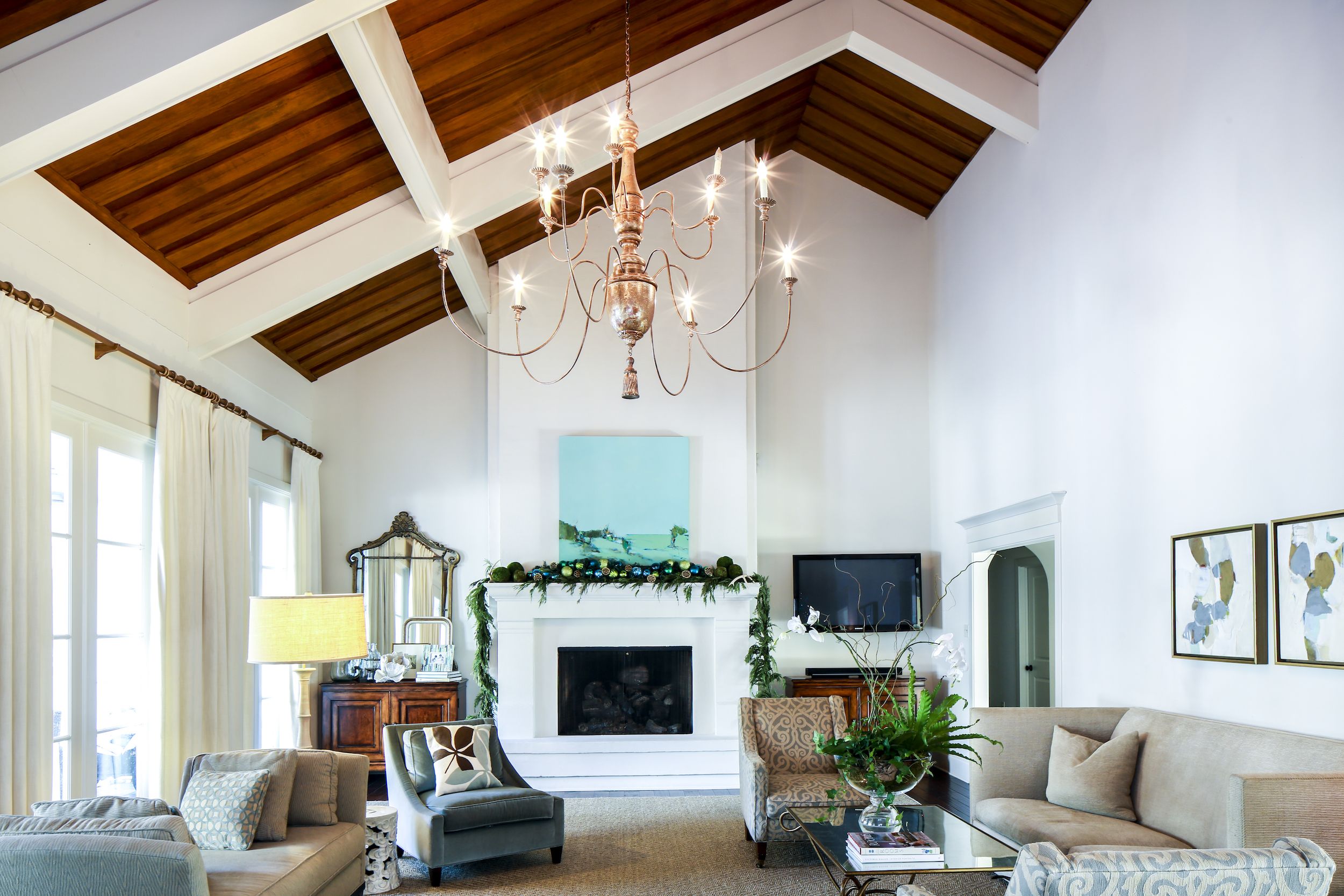 Merry and bright: Sunshine and Josh Willett's holiday home
---
Keeping calm and carrying on is more than a motto for the Willett family. It's the mantra behind their Bocage neighborhood home's overall aesthetic, with its soothing vibe dictated by cream-colored walls and furnishings in muted shades. The neutral palette provides a serene backdrop for cool-toned abstract paintings by local artists.
But come Christmas time, this subdued setting gets an unexpected boost of seasonal spirit drawn from the most lively shades plucked straight from the canvas.
"We designed our Christmas décor based on the colors of the Lisa di Stefano painting above our mantel," says Sunshine Willett, who along with her husband Josh and three children was seeking a punch of color that was a departure from the typical red and green. "Christmas is our favorite holiday of the year."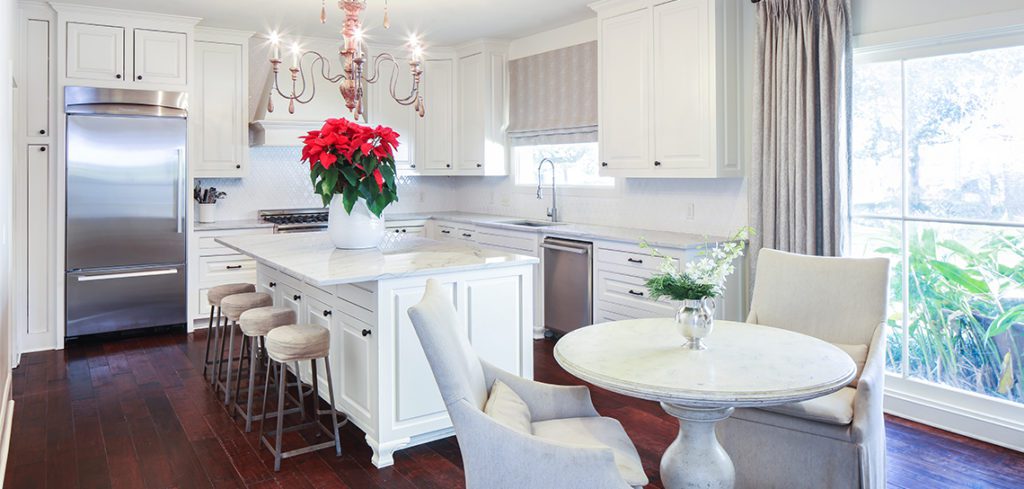 The Willetts called upon local designer Shane Griffin to capture their colorful vision. The starting point for the project was the family's collection of aqua- and turquoise-colored glass ornaments, many of which were decorated by Louisiana artists. "We love to support local small businesses and artists," Sunshine says.
Griffin filled the family's main Christmas tree, a 12-foot fresh fir in the living room, with those miniature masterpieces, and he completed the look with turquoise silk ribbon and clusters of ball ornaments wired into the tree "Layering is key," Griffin explains. "I like to use different textured items, along with items wired in, hanging ornaments and ribbons."
The vivid color scheme was carried throughout the vaulted-ceiling living room. Griffin tucked a grouping of ornaments in the large glass vessel containing an orchid on the coffee table, and he paired the main turquoise shade with apple green in a low-slung garland and ornament vignette on the mantel. In the adjacent dining room, he topped a whitewashed buffet with a simple floral arrangement and a reindeer decked in seasonal boxwood, but he kept the oval dining table clear to allow for unobstructed views of three wreaths hanging on the outside of this room's large windows.
"I like to keep things simple and tasteful," Griffin says. "My favorite spot is probably the garland on the stair railing, how it drapes along the iron with the satin ribbons. The turquoise and apple green contrasting with the black iron—love it."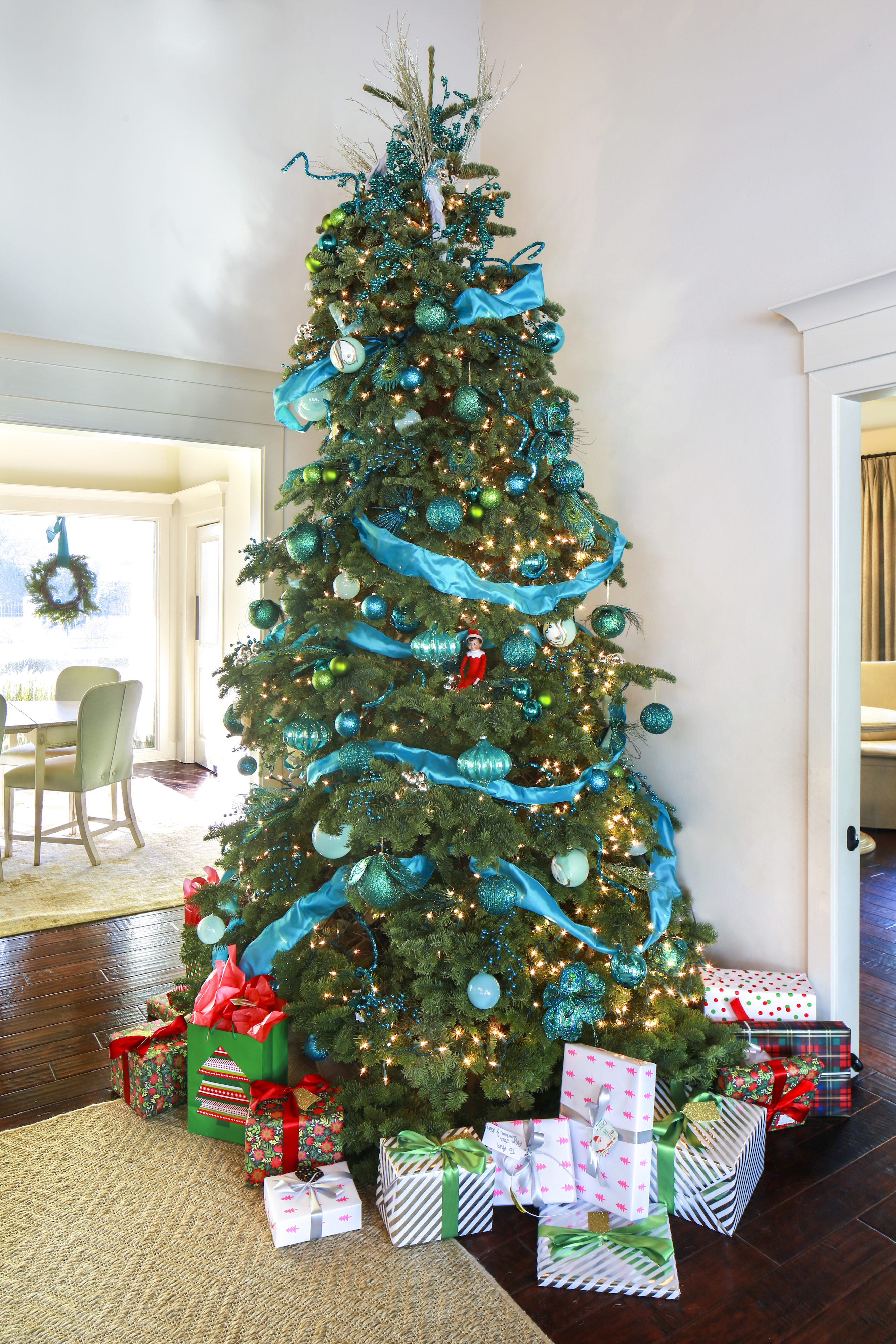 In the family room, Griffin topped a fireplace mantel with another simple fresh cedar garland and turquoise glass ball ornaments that hark back to the shapes in a painting by Chuck Voelter. This room is also home to a second Christmas tree filled with Christopher Radko ornaments that Sunshine and Josh have been collecting since they got married 18 years ago, along with precious ornaments handmade by their children, 13-year-old Hayden, 11-year-old Harrison and 7-year-old Harper. Another cherished holiday keepsake proudly displayed is Sunshine's grandmother's nativity set. "My dad had it shipped to her from Germany when he was in the Army," Sunshine says. "Since they have both passed away, it is even more important to have it be part of our Christmas decorations."
Griffin, who puts his holiday touches on dozens of homes around Baton Rouge each Christmas season, says his focus is on providing a "simple and tasteful" setting that varies in style from family to family. "My goal is to create a space that looks festive and well-executed without looking like they hired someone to do it," he says. "Growing up, my parents made Christmas such a special time, and I always loved helping them decorate our house for the holidays. I enjoy decorating homes for Christmas because everyone's happy and people light up when they walk in. Everything's festive—it's a very satisfying feeling."
That festive atmosphere is on full display at the Willett home as the family welcomes loved ones to gather and celebrate. "We entertain often during the Christmas season," says Sunshine. "One of our favorites is having friends and family over for the annual Bocage/Jefferson Place Christmas parade, followed by food and cocktails."
But perhaps the most meaningful moment spent surrounded by these colorful decorations will happen when the family wakes up on December 25.
"We love to see the kids' faces on Christmas morning," Sunshine says. "They still have that innocent excitement that I hope they never lose. Christmas to us means spending time with family and friends and celebrating the birth of Jesus."
---
See more images from this holiday home in our gallery below: