Making waves: A sleek sailing yacht sets a course for nautical style
---
She glides across the rippling water, cutting a striking profile in red, white and varnished teak against a Caribbean Sea backdrop straight out of a vintage postcard. Acadia, a 90-foot sailing yacht that grabbed the attention of the boating world even before it was launched last fall, embodies that European car-commercial ideal of power and luxury, speed and beauty. But to its owners, this vessel offers something more—an unhurried pace, a cocoon of comfort, a reminder of childhoods spent on the Gulf Coast.
A balance between classic marine style and sleek modernity is what keeps people talking about Acadia. Achieving such a status does not happen quickly, so even as layouts were being sketched and finishes were being selected, publications with names like MegaYacht News were taking cues from celebrity gossip rags to gush over leaked details about mast size and mahogany cabinetry.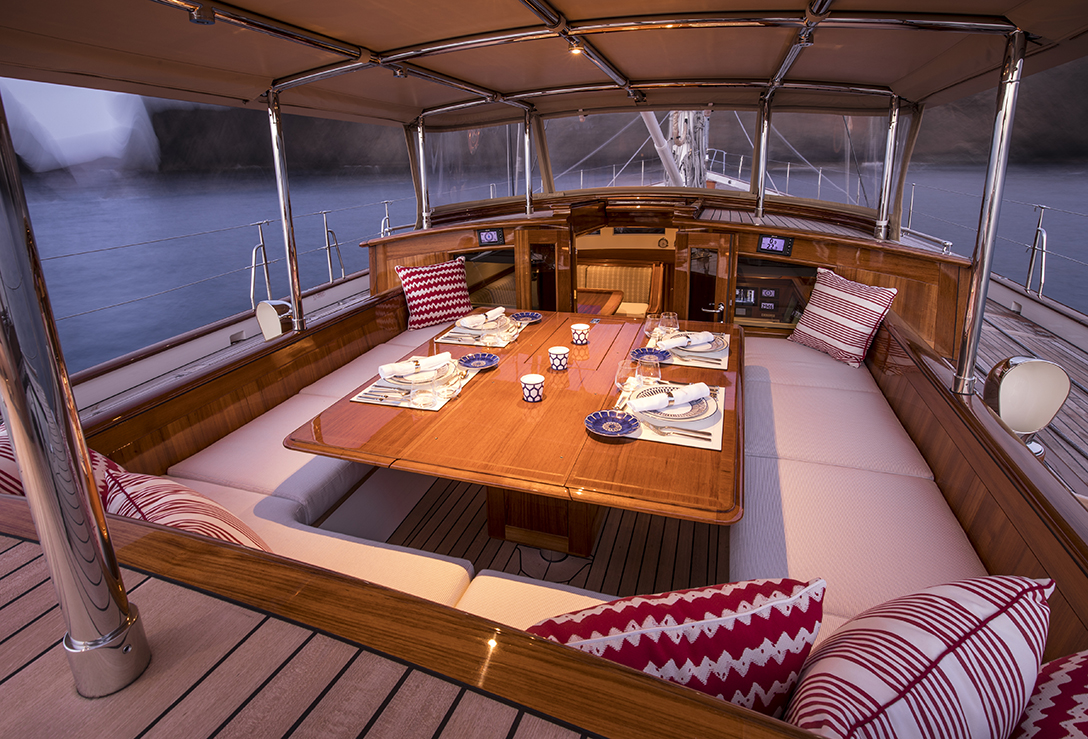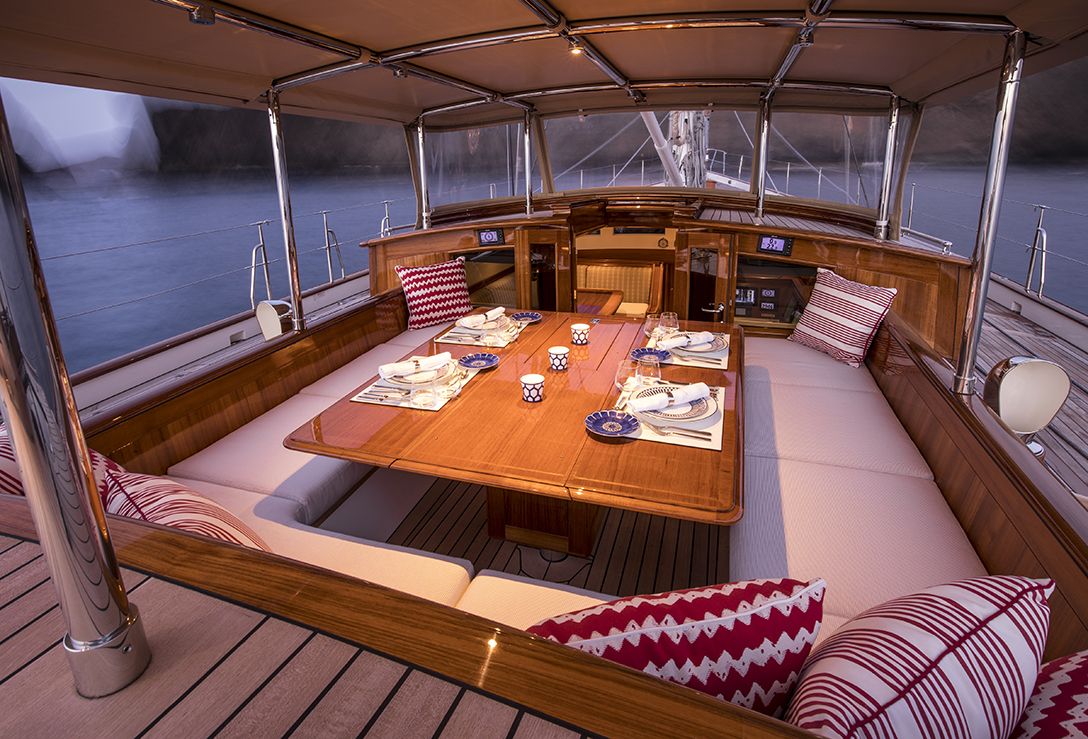 "It was an incredible team effort involving naval architects at Hoek Design in the Netherlands, Ezra Smith yacht designers in Rhode Island, and Claasen Shipyards near Amsterdam," says Baton Rouge-based interior designer Colleen Waguespack, who acted as a close advisor and design representative for the yacht's owners throughout the process. "I had done three previous design projects for this couple, so when they first called about the yacht, I was so excited. They had a very clear vision for what they wanted—a yacht that they could take an active part in sailing and operating, with only a couple of additional crew members."
Though Waguespack initially had visions of massive yachts "like floating hotels" with standalone furniture, she soon learned that the streamlined design of this watercraft would require a more exacting focus. "Every single solitary thing had to be built in," she says. "Nothing could be arbitrary—there was no room for tchotchkes."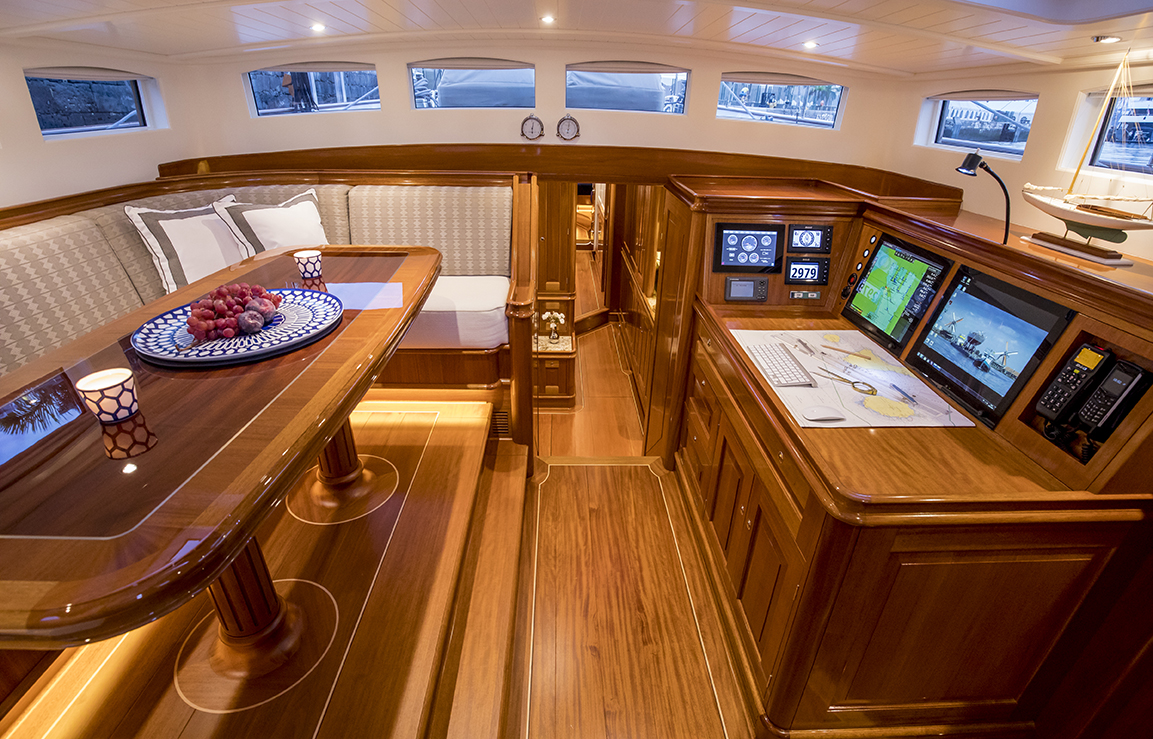 That meant that she and the owners had to painstakingly select and size each element of each space below and above deck, all the while keeping in close communication with the design and construction partners across the country and across the Atlantic. Three-dimensional models were created of each space to allow viewing from every angle. Busy lifestyles and disparate time zones made in-person or even frequent telephone conversations difficult, so Waguespack and her clients turned to a surprising tool.
"Pinterest was really fabulous for a job like this," she says. "I could pin every detail, right down to decanters and votives, and they could go in and make comments at their convenience."
As items like the Hermes "Bleus d'Ailleurs" china and Christofle flatware were chosen, yacht designers would finalize plans for cabinets to be built to fit them perfectly. "There can't be stacks of plates or silverware floating in a drawer," Waguespack explains.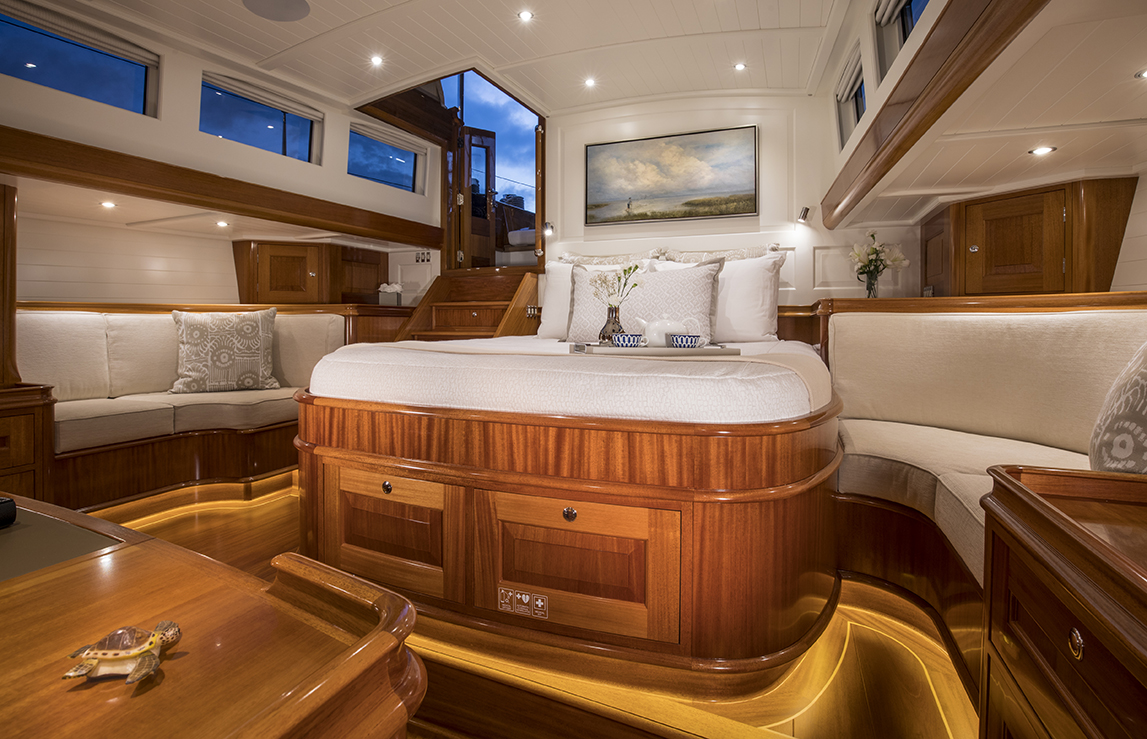 Another important consideration was the mix of varnished and painted wood throughout the yacht. "A boat like this is all about the woodwork and the detail," she says. "It was a challenge to incorporate the modern touches that the owners wanted. We spent time modeling which surfaces to leave as the beautiful high-gloss wood and which to paint in order to make it feel fresher and more up to date."
The list of design decisions ranged from the highly visible like those gorgeous woods to the more miniscule, including the stitching on leather trash cans and monograms on guest towels. Waguespack used a neutral color palette with classic blue accents below deck, while above-deck spaces were outfitted with red accents inspired by a brilliant red and white sail and the red on the hull.  Everyday placemats were sourced from Custom Linens in Baton Rouge. Meanwhile, the owners made multiple trips to the Dutch shipyard to monitor the building process. "Everything was thought through," Waguespack says.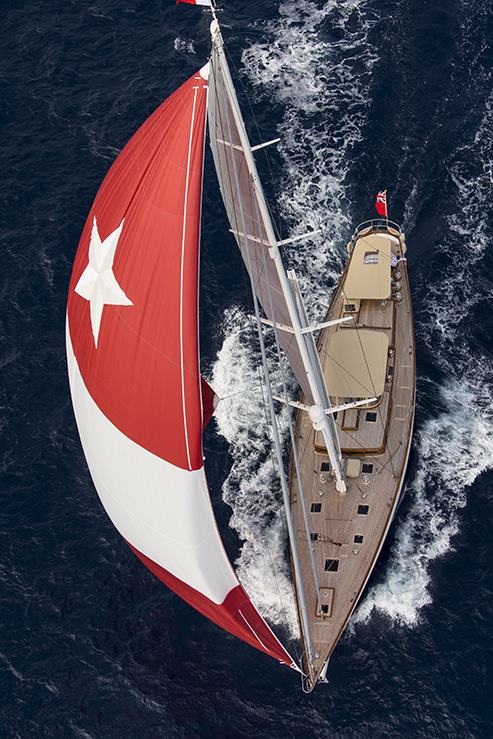 Though this yacht was designed to be able to sail in far-flung corners of the world, Waguespack sought to include decorative elements that would recall the owners' Gulf Coast roots. A silvery leaf-motif painting by Slidell artist George Dunbar was chosen to hang above a banquette in the salon, the living area adjacent to the galley. For the master stateroom, she commissioned a painting by Mobile, Alabama, artist Susan Downing-White that features a fisherman casting a net in a marshy landscape. Works by both of these artists also hang in the yacht owners' main residence, giving these pieces even more of a link to back home.
Now complete, the yacht is operated by a full-time captain and first mate, with the owners and their family members and friends sailing along as often as schedules permit. A chef prepares meals for the family and guests, with all menus and quantities precisely planned. But it isn't always about a life of languid leisure onboard. In February, Acadia's owners entered her in the Antigua Superyacht Challenge, and with help from a crew of experienced sailors, they earned second place in the weeklong competition. Streaking through the waves or bobbing in the breeze—this is the ebb and flow of life on the water.
"I think they're really having fun with it," Waguespack says, "both using it and sharing it with others."
For a closer look at the rest of this yacht, click on the photos in the gallery below: