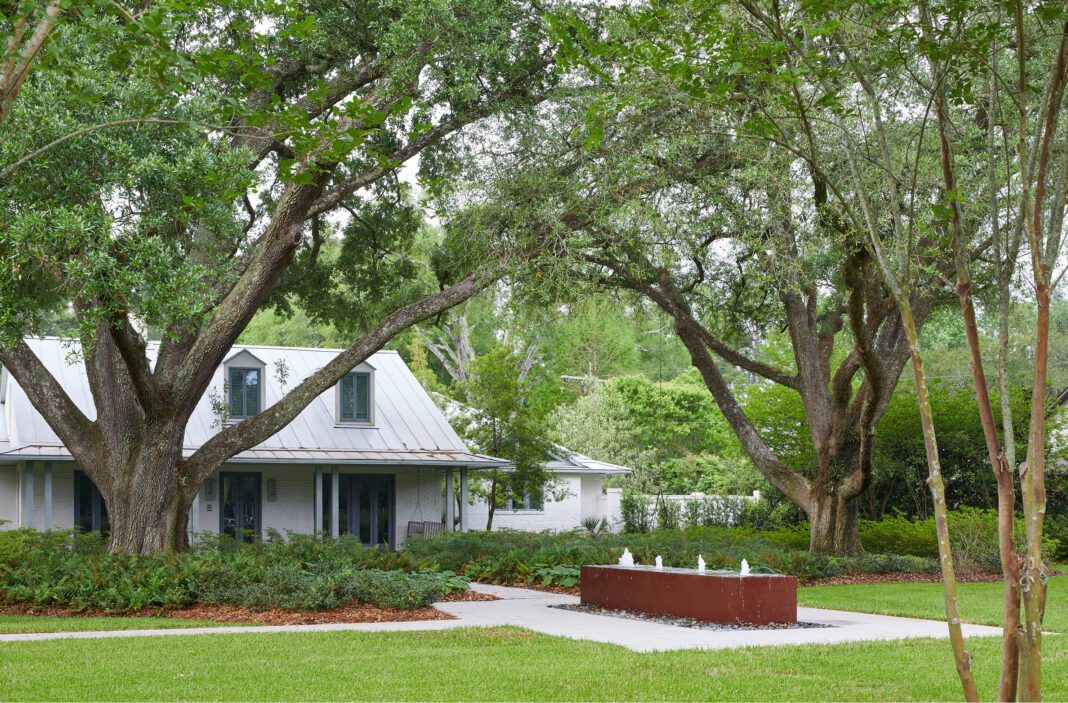 Thoughtful outdoor design creates connections between home and garden
---
The recipe for a traditional Southern landscape usually contains a few signature ingredients, ideally beginning with a tall live oak tree or two to wave its leafy branches over the whole scene. Add the fragrant white petals of a magnolia tree and sprinkle liberally with azaleas, and the yield is a gracious garden space that welcomes guests to gather.
The three-acre property on which this home sits already had the main ingredient in the form of an array of towering live oaks when the homeowners called on Ryan McKnight and his team at McKnight Landscape Architects to reimagine their landscape. The impetus was a home expansion that was happening at the same time, and McKnight was charged with helping his clients and their home feel immersed in their lush surroundings.
"They wanted to live within an environment that was lush and offered privacy from the street," says McKnight. "In the back, they wanted a pool that was a destination within the rear yard and not something that was immediately outside the back door."
McKnight set out to transform what had been what he calls the "typical suburban yard" of simple grass and trees into something that spoke to the homeowners' desire for a strong relationship between indoor and outdoor living areas. Using that traditional Southern recipe as a mere jumping-off point and leaving the live oaks in their proud places, the landscape architect developed a plan that would turn this simple yard into a contemporary Southern showplace.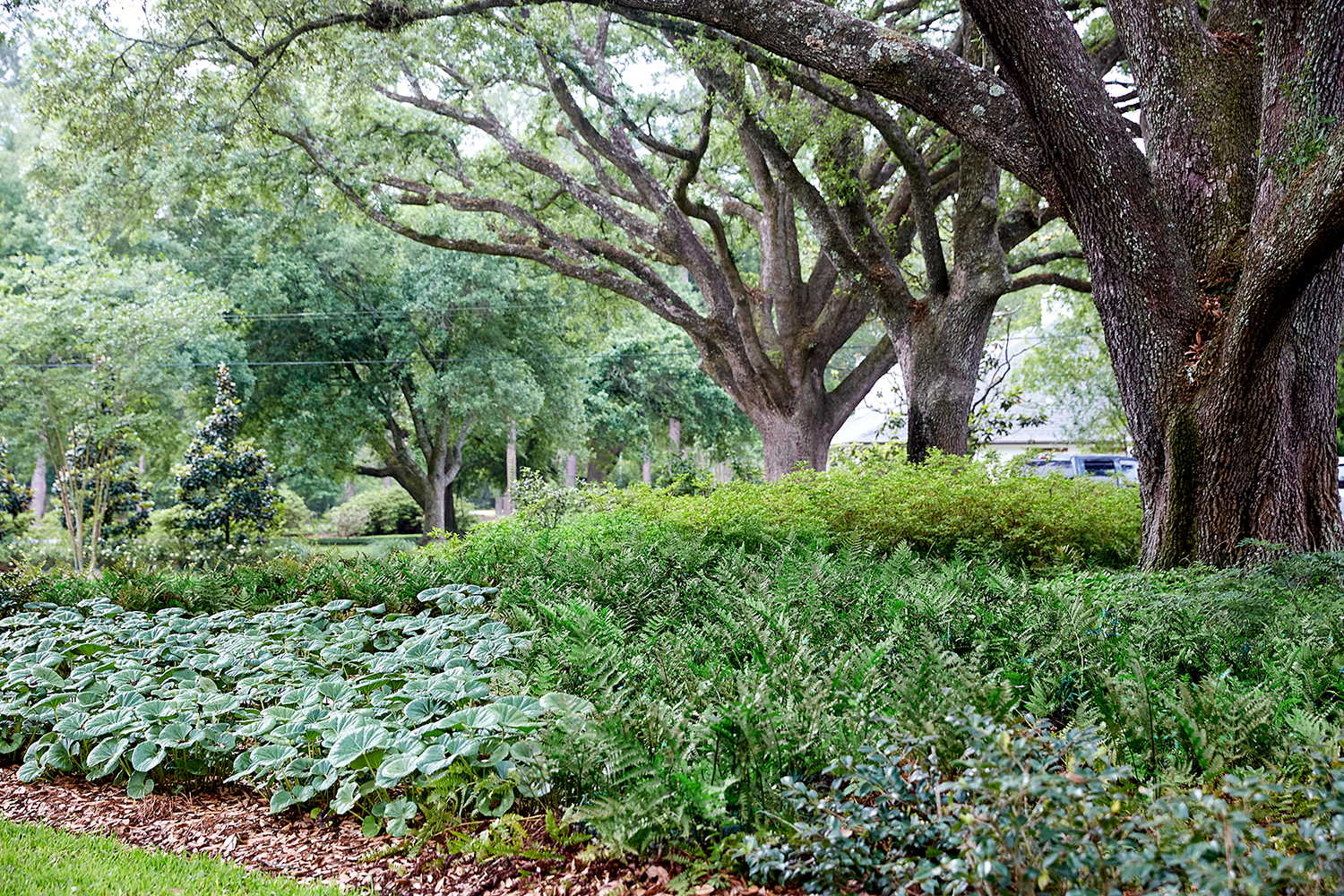 "They create a Southern character that defines the front landscape," McKnight says of the oak trees. "Their canopy protects and frames the house. Everything that we designed responded to them and keeping them healthy."
Visitors to the house today approach the house from a winding stained concrete driveway that directs their view first to a low rectangular fountain that is aligned with both the beginning of the driveway and the home's front doors. As the driveway curves, the live oaks become the next focal points, and then finally the house itself. "The big idea was to create an arrival sequence through landscape and views," McKnight says. "You don't just arrive and park. It's a choreographed experience."
Because the homeowners expressed an appreciation for specimen plants as well as a lush green lawn, McKnight gave them the best of both worlds. "We tried to balance the two and created a park-like landscape that is beautiful to look at and walk through," McKnight says. With the live oaks as the highlights of the front yard, lower-level plantings including sweetbay magnolias, azaleas, sasanquas, butterfly irises and palmettos to were brought in to serve in a supporting role. Shade-loving ligularia and autumn ferns add texture beneath the trees' canopies, and Gulf muhly grass brings in a pop of soft pink each summer.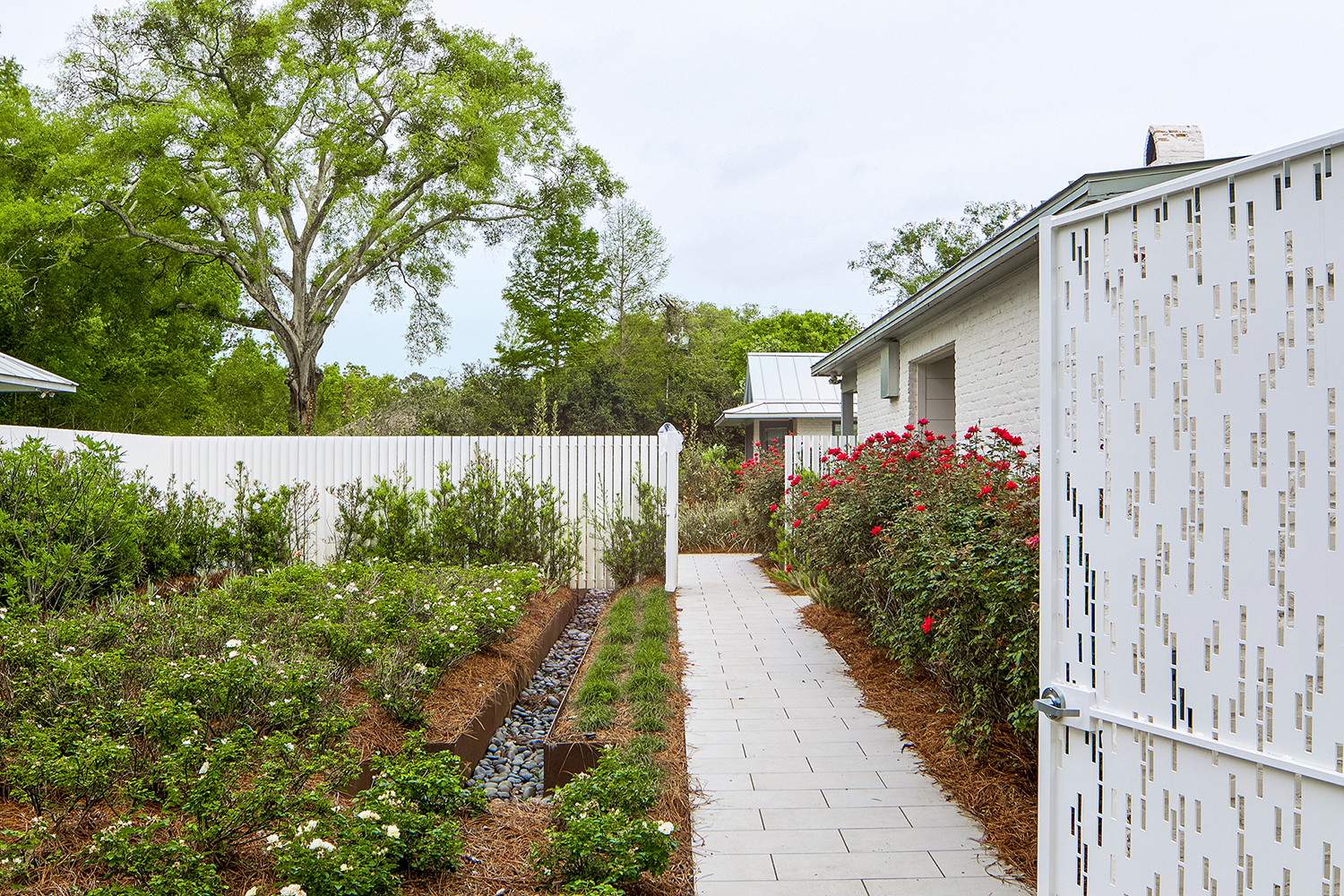 "It's a mix of plants that are typical of Southern gardens, as well as some natives that are more beneficial to wildlife," McKnight says.
The new backyard design is all about easy entertaining with multiple spaces for conversation and activity, from large porches and an outdoor fireplace to a sunken fire pit and a pool and spa. "The pool stretches back into the yard to pull your eye outward," McKnight says. "Everything is aligned with the architecture."
Within the garden areas of the backyard—which include a fenced rose garden and open beds with more sweetbay magnolias, vitex and viburnum—an interconnected series of shallow steel channels called runnels collect rainwater and direct it to hidden drains. "We wanted to design drainage as a fun and modern feature rather than hiding it underground or using typical iron catch basin grates," McKnight says.
Like any living landscape, this backyard is a work in progress, notes McKnight, with elements being adjusted as sunlight and other conditions evolve. "That is the beauty of long-lasting relationships with clients who value good design," McKnight says. "There is a mutual understanding that landscapes are never kept static; they evolve."
---
See more photos from this home below: