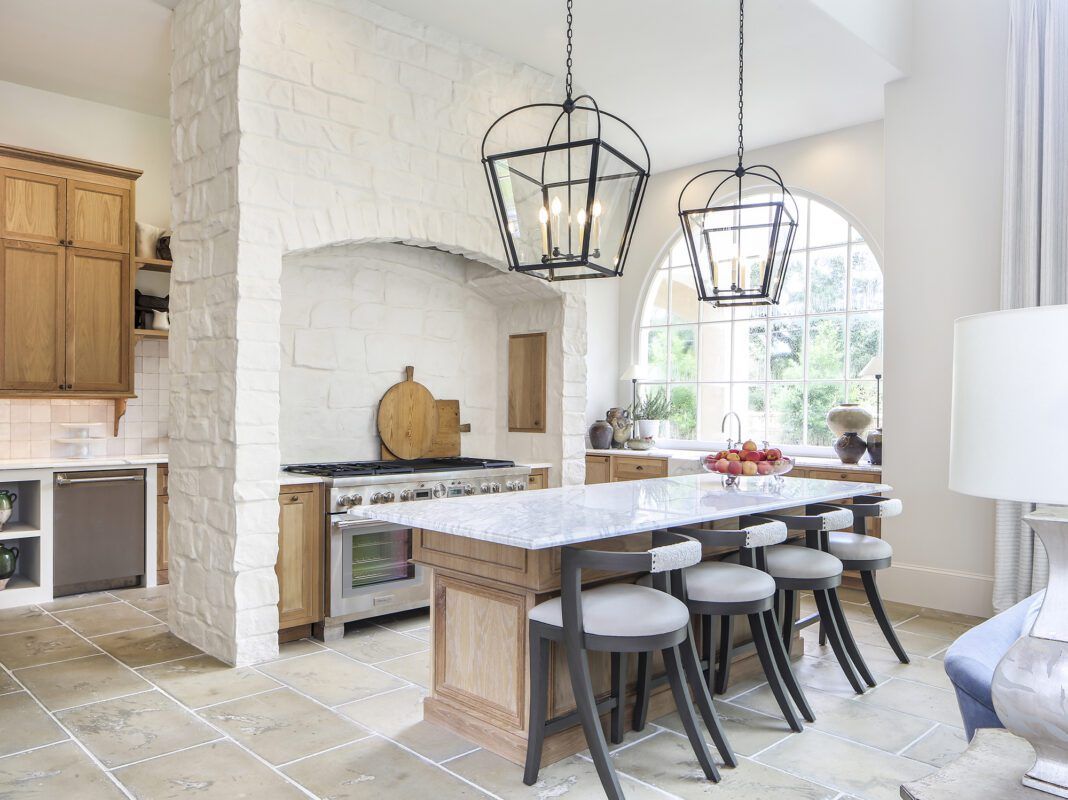 This painting technique has been trending for thousands of years
Long before Pantone began branding its swatches and "Millennial Pink" became the color of the moment, limewash paint graced the walls of ancient Greek temples and Egyptian sarcophagi. Boasting a simple composition of water and lime (the mineral, not the fruit), the light-catching brushstrokes both protected and decorated whole cityscapes of buildings. But how did this ancient paint technique manage to stick around for so long and reappear as one of today's trendiest interior design techniques?
Let's rewind to the days of togas and gladiator games. The Greeks and Romans turned to lime-based plasters and paints because they cost little, were readily available, and resulted in a uniquely complex, matte finish. Plus, the paint contained antibacterial properties, which helped to prevent the spread of disease. Then came the Middle Ages and the Renaissance, where, in Italy and England, the technique could be found in palaces and farmhouses alike, especially in its uncolored "whitewash" form. These days (and in the recent colonial past), the brushed-on finish can even be found in Louisiana, where it has appeared in places like the stone kitchen walls of the 2020 Ivy House Designer Showhome.
View this post on Instagram
"One reason it's become so popular recently is because its colors come from natural minerals, and it's completely VOC-free, or free from volatile organic compounds," says Ellen Kennon, founder of the St. Francisville-based Full Spectrum Paint brand. "The fact that it's the exact same technique used thousands of years ago in places like Italian frescoes is part of what makes it so beautiful. In fact, it's actually one of the reasons why I wanted to come up with my Full Spectrum Paints in the first place, because they're the closest thing I've found that has the depth and movement of limewash."
Those interested in transforming their south Louisiana home with the technique should note, however, that they need to put aside a bit more time than they would for a typical paint job. In other words: no rollers allowed. Kennon stresses that the chalky-textured layers must be applied with hand-painted and potentially labor intensive brushstrokes.
"One reason why you don't see it as much in Louisiana is because of the humidity, which allows mold and mildew to grow," she adds. "To use it here, you have to seal it, which lets it look a bit more like Venetian plaster."
View this post on Instagram
A preference for limewash may have faded during the Industrial Revolution when synthetic paints and coatings became more accessible to the masses, but those looking to use it in contemporary homes often opt for a rustic, aged look that reads as both chic and timeless. Minimalist, modern looks can also benefit from its all-encompassing visual interest, especially in rooms with plenty of natural light.
Suffice to say that limewash's century-long dominance has reigned for good reason. And while its synthetic paint counterparts may be the more popular option in today's convenience-driven world, its recent comeback as a natural and sustainable alternative to conventional paints may just put it back on top of our rustic-meets-minimalist interior design dreams, turning a simple wall into a time-tested work of art.
---
For more on interior design trends, follow us on Instagram @inregister.