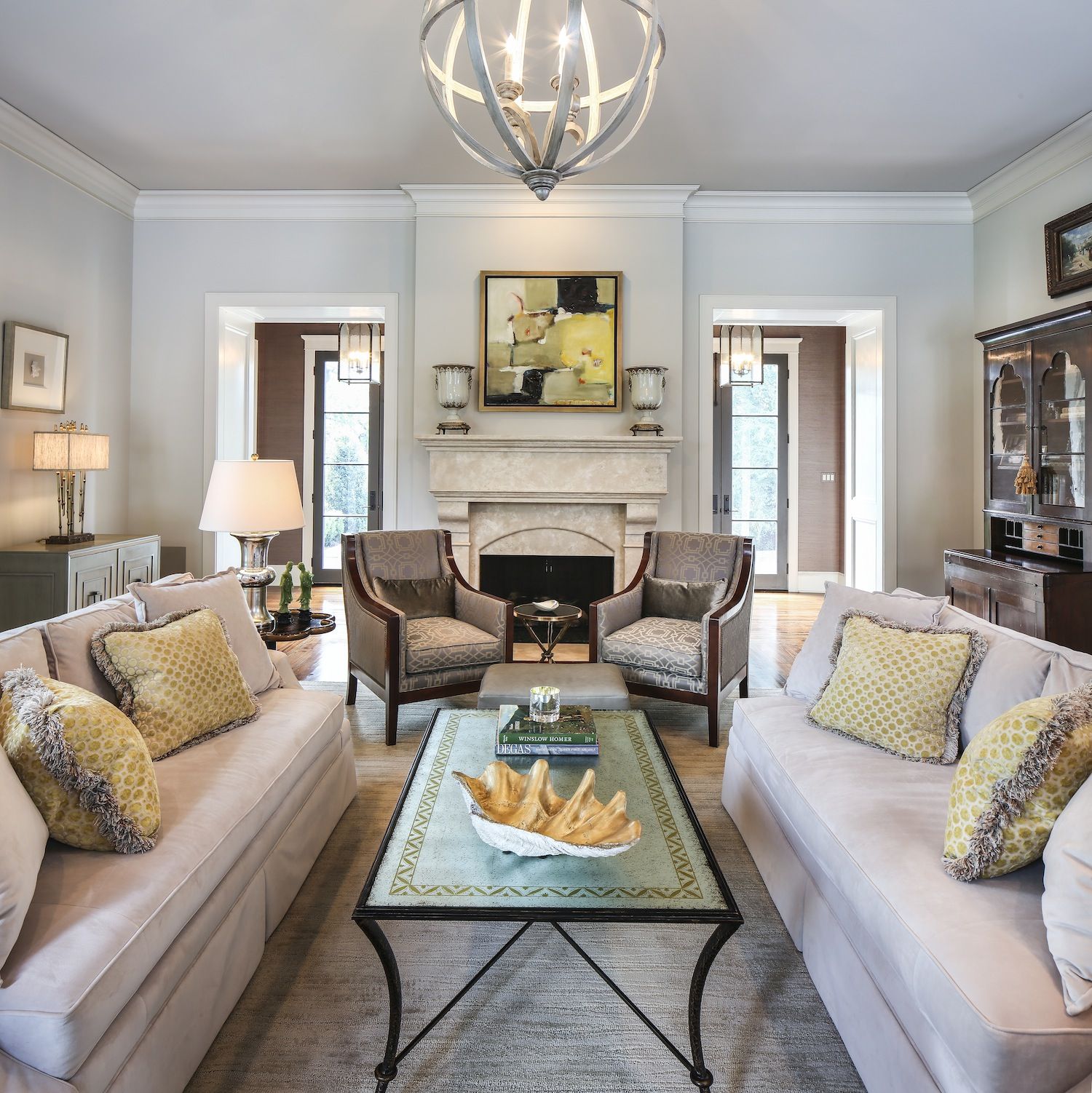 Contractor Stacy Dille's most challenging project was also her most personal
As she smiles for a photo, Stacy Dille jokes that her crew members probably won't even recognize her when they see this story. Hair and makeup have been done. Hard hat and boots are nowhere to be seen. For the residential building contractor, this look is definitely a departure from the day-to-day.
Home construction might seem an unlikely career for the mother of three, who graduated from LSU with a degree in quantitative business analysis and worked in project management at ExxonMobil for more than a decade. But construction, it turns out, was in her blood. Several family members back in Lake Charles are in the business, and Stacy ultimately felt the tug to join their ranks. She launched her own firm, Briggs Development, in 2008, using her maiden name to honor the family tradition.
"I build one house at a time, and I give that house my undivided attention," she says.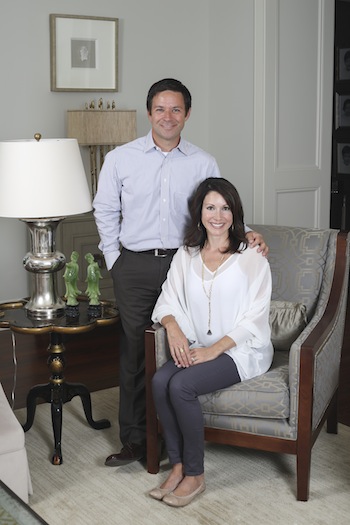 Stacy turned that attention to a very special undertaking after she and her husband Rob discovered a hidden gem of a lot tucked away in The Highlands neighborhood. The couple had admired the quiet development off Highland Road ever since attending a party at a home there more than 20 years earlier. "We were struck by the beauty of the neighborhood, and we never forgot it," she says. "We loved the serenity … the hills and lake, the beauty of the mature trees, the privacy provided by the large lots, and the diversity of the architecture. It just felt like home."
So the newly discovered empty lot, bordering on a wooded area at the rear of the subdivision, was destined to become the site of the Dilles' new domicile. "I wanted our last house, the one we were going to stay in forever, to be on a larger piece of land where we could have our own space," says Stacy, who adds that she and her husband envisioned having ample room for their children to "run and explore the way we had when we were kids."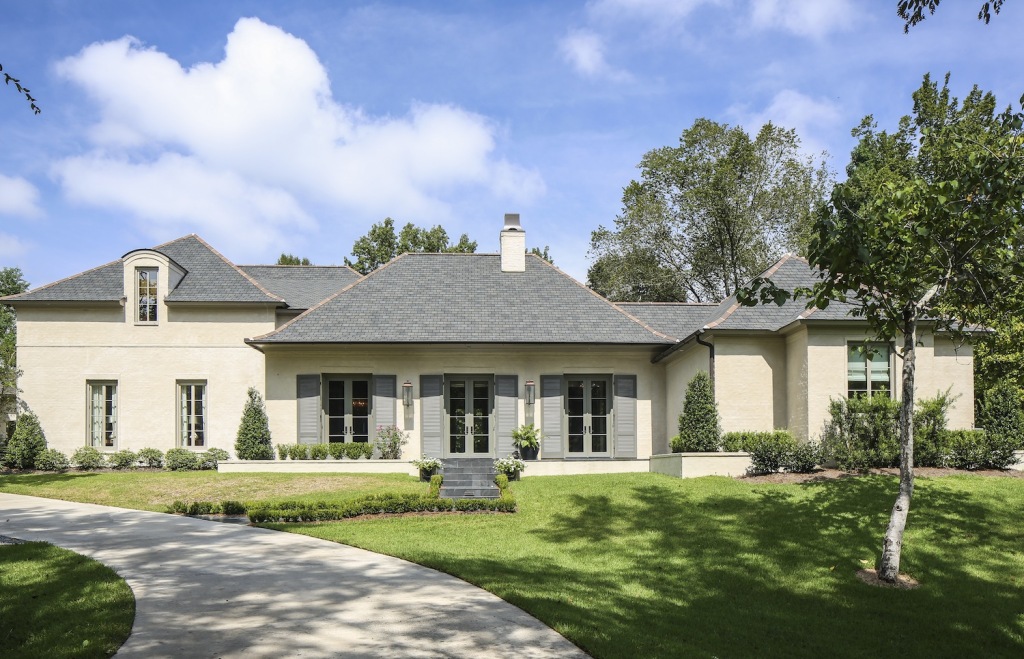 The 1½-acre lot, full of steep slopes and tall trees, was perfect for childhood adventures, but getting it ready for laying a foundation "involved careful engineering and changes to the topography," says Stacy. While dirt was turning outside, she and Rob collaborated with architect Cynthia Stewart and interior designer Jerad Gardemal of Beth Claybourn Interiors for more than a year to perfect the design and layout of the home. Their wish list was specific: They wanted "lots of French doors," a gallery-style foyer, high ceilings, and a combination of salvaged and new materials. The couple's vision also included rooms with expansive views of the surrounding landscape and an easy-flow floor plan conducive to entertaining.
Stacy says she expected building her own home to be "much easier" than building one for another family, but it wasn't so. "I actually found it to be more difficult," she says. "I think part of it was that since we wanted this to be our forever home, I felt the weight of every decision. Would we still like it in 20 years?"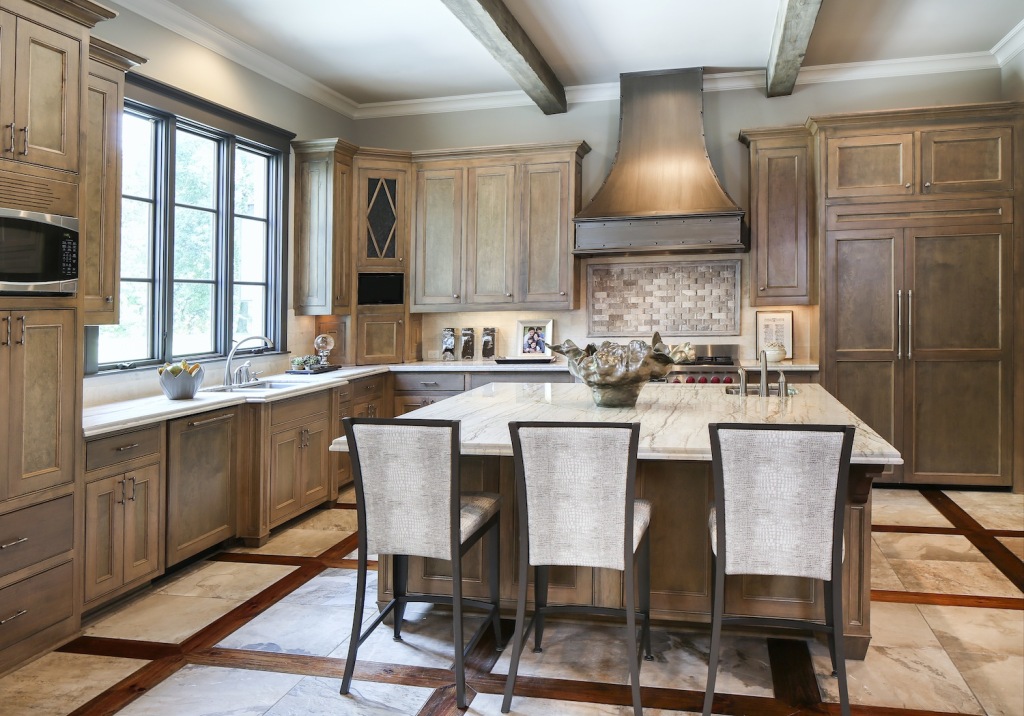 Easing this weight was the reassurance that everyone in the family had a hand in the process. "The kids were my construction cleanup crew and worked most weekends on the job site," she says. "Rob and I worked closely on difficult decisions and issues along the way. We all feel tied to it because we all had input."
The look they all settled on reflects Stacy's professional style—"transitional and current but warm and unique." Arched doorways lead to hallways with curvaceous ceilings. Walls feature finishes that catch the sunlight that spills in through large windows. Antiques share space with more modern art and accents.
But the things Stacy and the rest of the family love most in their house are those that make it even more personal—treasures discovered while traveling, artwork created by the kids, pieces handed down by beloved family members. Items like a sugar kettle fountain from Rob's grandparents and a framed blessing that once hung in Stacy's grandparents' house are given prominence of place in the streamlined setting, and these priceless objects "are just a few of the things that make our house a home," Stacy says.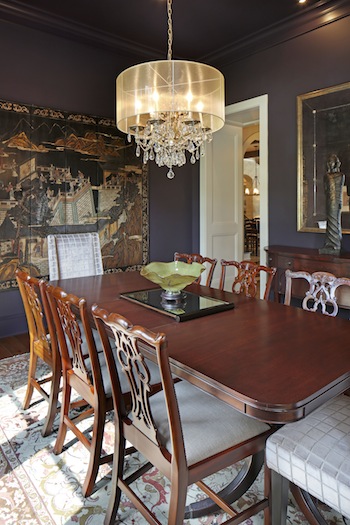 Now that her own home is complete, Stacy is back in her boots and working to bring another family home to life, this one in the Settlement at Willow Grove. Once that house is on the market in the spring, she will move on to the next, in another quiet neighborhood off Highland Road.
Back at her own home, the hard work is done. Stacy and Rob savor sunsets out on the back porch as the children splash in the pool, explore the woods, or kick a soccer ball.
"The kids occasionally tell me how special our home life is to them and that they want this home to stay in our family forever," says Stacy. "This home really has a piece of their hearts. That makes me very happy and proud."