From the July issue: Subtle luxury in Willow Grove
Interior designer Caroline Flettrich knows that a well-decorated home functions as a work of art, from the texture of furniture to the color of walls, and how spaces can be amped up or dialed down to suit the needs of their tenants. So when she teamed up with builder Brandon Craft and architect Michael Hogstrom of Onsite Design to create a dream home for a family of five, she kept the big picture in mind.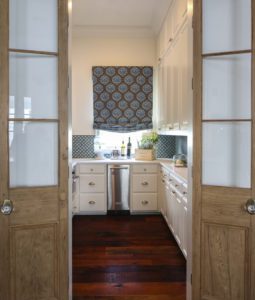 Combining subtle antique touches with an overall crisp and classic interior ensured that the home retains its style as the couple's three daughters grow up. Pieces like an oversized mirror built by the homeowner's father also add the personal detail needed for emotional flair.
But this family was careful to avoid overpopulating their Willow Grove house with clutter; with three children running around, open spaces can become a home's most valuable asset. So they opted for a sunny, white kitchen, a second-story playroom, and outdoor patio with plenty of room to breathe.
To see more photos of the Bennett home and learn more about its building process, check out our article from the July issue of inRegister, available on newsstands now.