Inside out: A home embraces the sights of summer

---
This article was originally published in the July 2019 issue of inRegister.
---
One of the most memorable episodes of the sitcom Seinfeld is titled "The Bizarro Jerry." The plot: Jerry's friend Elaine has a new boyfriend, Kevin, and he and his two friends are strangely similar to Jerry, Kramer and George—yet they are actually their polar opposites.
Now this may be the first time a house was compared to a Seinfeld episode, but stick with me: just like Jerry and Kevin, the indoor and outdoor living areas at the home of Angie and Toby Courville are remarkably alike but at the same time stand in stark contrast to each other. Positioned on opposing sides of a long set of folding glass walls, they are the yin to each other's yang.
Each features comfortable seating in cool neutral colors and a fireplace to warm up chilly nights. Each is situated next to an amenity-filled kitchen ready for whipping up something savory for family and guests. Yet while one is high-gloss and glamour, velvet and linen, the other is rugged and ready for whatever weather—or wild pool party—may come its away.
This tale of two spaces suits the Courvilles just right, especially as they transition from a previous home that embraced traditional style and warm colors while still holding onto their love for the outdoors. Flinging the NanaWall folding doors open wide, they can host hordes of guests at their new abode while seamlessly moving from the dressed-up interior to the casual poolside space just outside.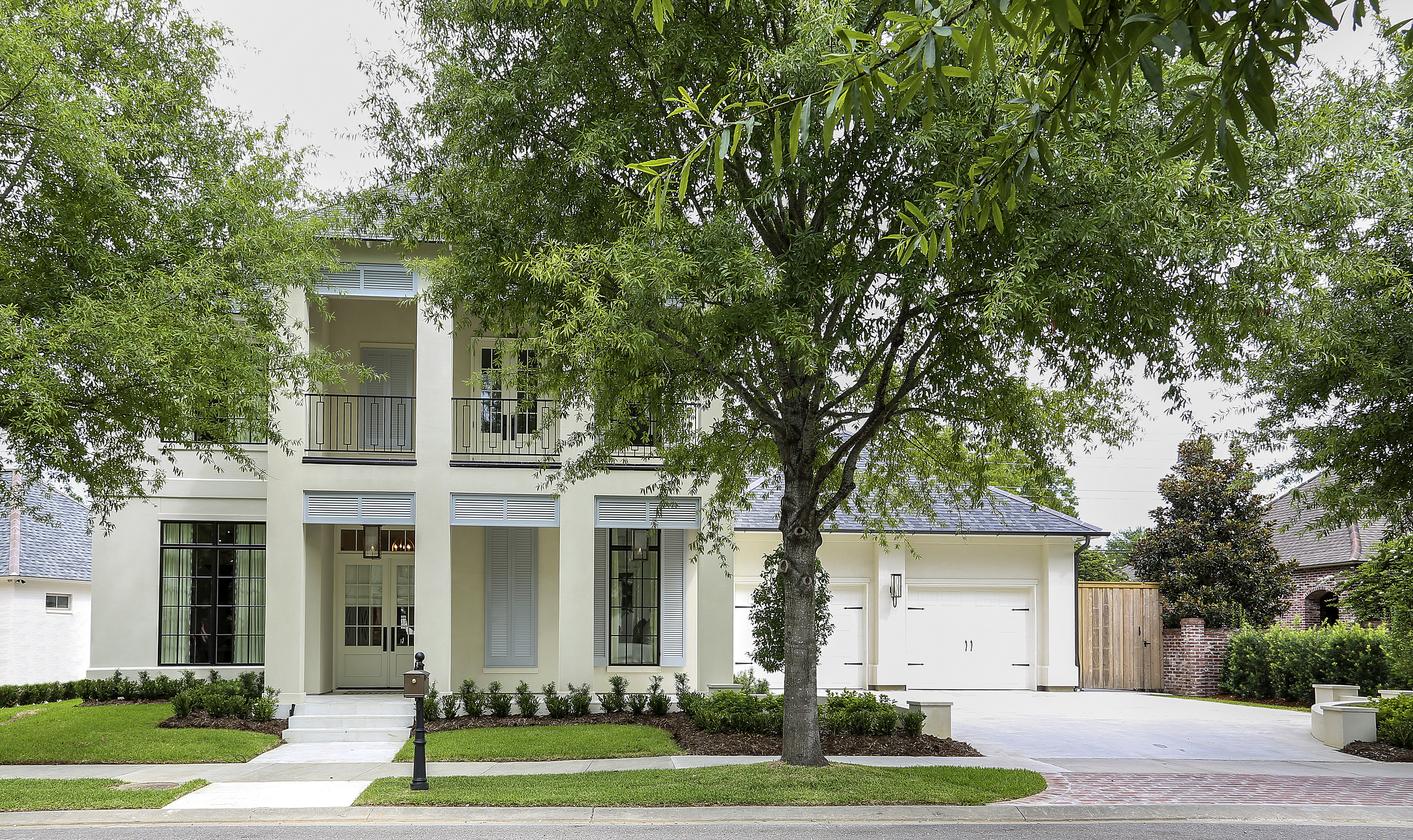 This is a story that never would have made it off the page if not for some clever preliminary work. The Courvilles, then living in a neighborhood off Tiger Bend Road, had long admired The Settlement at Willow Grove, not just for its clean and modern aesthetic but also for its proximity to The Dunham School, where their son Reagan is a student. Daughter Jordyn had recently graduated and headed off to LSU, so it seemed like an ideal time for this family to make a fresh start. But finding an available lot in Willow Grove on which Toby, the owner of TJC Home Builders, could construct his own family's dream home was a challenge. The couple eventually found a well-placed lot in the neighborhood and did some digging to find out who the owner was. They convinced him to sell, and the land became theirs.
The next phase was fitting the home they had in mind on the lot they now owned. Armed with initial plans by Onsite Design, Toby and interior designer Karen Giffel—with whom he had worked on some of his professional projects—slowly molded the layout to suit the Courvilles' needs.
"I had a vision of what I wanted," Toby says. "But we needed to make that work with the lot. The pool actually had to be done first, because we didn't want any transition from the house into the pool area. We had to get the elevation just right."
With such a priority placed on the pool, it was only natural that the interior spaces be designed to capture the exterior views from almost every angle. The living room was a natural place to start. "The intention with this room was to have the outside and the inside reflect each other," says Karen.
The large living room is open to both the kitchen and dining areas, allowing for unobstructed sightlines to the backyard from almost anywhere in the room. The design also ensures that the family can spend quality time together. "In our last house, there was a keeping area and a living area, a formal dining room and a breakfast room. We were always divided," says Angie. "I wanted a space where none of us would be divided. When the kids are home, they're with us. I love the unity of this house and how it brings us together."
The Courvilles only brought along a few favorite furnishings from their former home, instead allowing Karen to find the perfect pieces to fit their new spaces. Artist Jennifer Poe was called in to bring new life to certain carryover items, like a refinished console table from Italy that is now featured prominently in the dining area, as well as a refinished mirror in the guest bedroom. Poe also created a large painting for the entry hall, using soft colors that draw from the palette Angie chose for the home's accessories.
"I wanted clean lines and lots of interesting details," says Angie. "I was just ready for something completely different from what we had before."
When selecting stones and hardwoods to use throughout the house, Karen needed to look no further than Toby, who also owns Best Buy Flooring and Countertops. His three decades of experience in construction helped him home in on the details that would achieve the look he and Angie desired. "We had so many options of what to put in," Toby says. "Karen's designs are elegant and eclectic, and that's what my work is all about, too—blending the old world and the new world. We see eye to eye."
Angie also trusted Karen to find resolution for the couple's sometimes disparate ideas. "She knew my style," Angie says. "I'm an accountant—I'm very conservative and reserved. Toby's a little more out there. But Karen was able to combine it all and make it work."
After eight months of construction, the Courvilles settled into their new home earlier this year. "I enjoyed the building process," Angie says. "I know a lot of people struggle with it, but I really enjoyed it."
As summer stretches on, the family is taking full advantage of their outdoor and indoor living spaces, always with an eye on the deep blues of the pool just beyond. Turns out this inside-out life is not so "bizarro" after all.
"The water is so calming," says Angie. "It's nice to have that as the centerpiece of the backyard and something that we can see and enjoy, no matter where we are in the house."
---
Take a tour through this home in our gallery below: