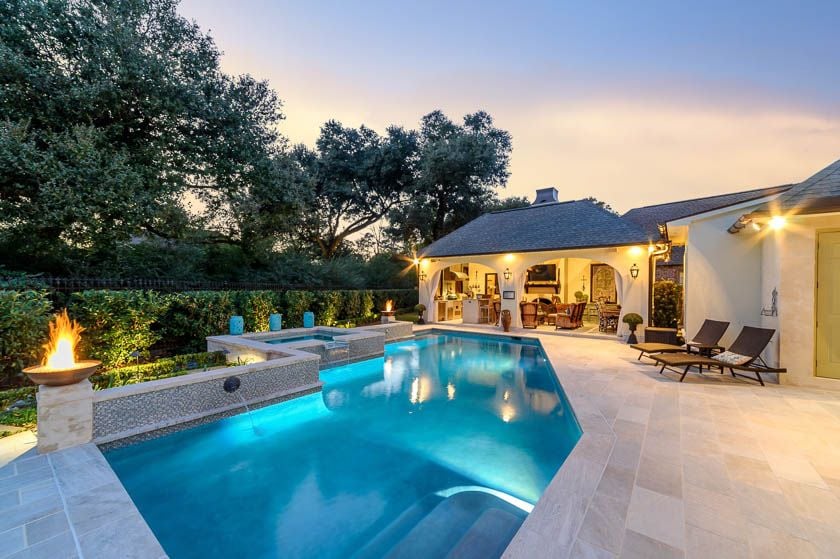 Hottest Pool Trends to Keep You Cool This Summer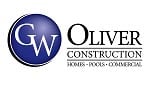 Grab the SPF and the floaties — it's almost summer and that means pool time!
If you're looking to add a new pool to your home or redesign your existing one, there are a few hot trends you may want to consider. Newer designs are sleeker than in years past, and fire and water elements can be combined to create a unique look. That chlorine smell everyone used to take for granted? Consider it gone.
Here are some hot ideas to craft your backyard into a mini oasis.
Embrace the Overflow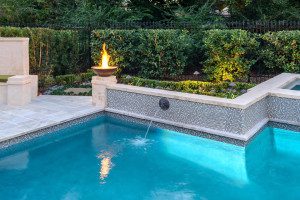 "Knife-edge or perimeter-overflow pools are the ultimate in modern swimming pool luxury," says Joseph W. Moore, pool and outdoor living designer for GW Oliver Construction. A knife-edge design, which consists of a small slit at the edges of the pool that water disappears into, levels the entry of your pool with the surrounding surface. From afar the pool looks like a mirror laid onto the ground. Close up, it appears the pool is filled exactly to capacity.
These pools do pose special challenges to build. Pool engineers have to get everything perfect to build a proper knife-edge pool. An error of more than 1/16th of an inch can throw off the level and ruin the sleek effect, so make sure you work with an experienced builder.
Mix Things Up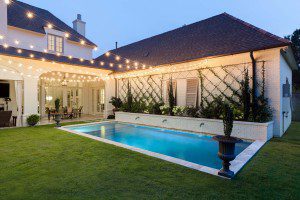 Today's pool designs create a fun mix of classic and modern decor by including different, even seemingly disparate elements.
Travertine is often used for the coping and decking of the pool, since it doesn't hold heat. (Your feet will thank you!) "The tile is readily available, reasonably priced, and comes in a variety of colors," Moore says.
Glass tile works well along the water line and is available in bold colors and patterns. "The glass tile has an iridescent quality that cannot be achieved with a porcelain tile, or natural stone," Moore says. Glass adds a modern look to the outdoor pool area, and is especially great for any vertical wall or water features in the pool.
In addition to mixing the materials used to construct your pool, you can also mix other design elements, including water and fire features. Fire urns around the pool, fire pits and even full masonry fireplaces can add a homey touch (and marshmallow roasting opportunities!) to your outdoor space, says Kristin Stafford, decorator and owner of Kristin Stafford Designs.
Bring the Inside Out
Pool trends often follow interior design trends, and this year they're focusing on lighter tones, simple repeating patterns, bold accent colors and furniture, or garden elements that make the space more inviting. There's a more holistic approach to pool decor these days as people are putting a stronger emphasis on using the pool to promote a healthy lifestyle as well as provide entertainment, Stafford says.
Think of your pool as the centerpiece of your own backyard resort. A full outdoor kitchen or living room, Stafford says, can create a flow between the indoor and outdoor entertainment spaces. Throw in a comfy daybed with some outdoor fabric and you may never go inside again.
Think Beyond Chlorine
Chlorine pools are less expensive than other pools in the beginning, but the chlorine and chemical prices can add up, Moore says. Also, if purchasing a chlorine pool, be prepared to devote time to maintaining the chemical levels in the water … and dealing with occasional red eyes and bleach smell.
A great alternative is a UV and ozone combo. "We have moved toward a combination of UV plus ozone with a back up chlorine drip,"  Moore says. Because the UV and ozone can't eliminate all contaminants, a chlorine drip is used in addition to the two products. Even with the drip, without tablets, the chemical costs are dramatically reduced.
Another option is saltwater. You'll spend more in initial construction but save money on chemicals. Because salt water generators produce chlorine internally, there is no need for additional chlorine tablets, Moore says. The salt water is also easier on the skin and eyes.
Want to turn your backyard into a summer oasis? Contact GW Oliver Construction to learn how their team can make your dream a reality.