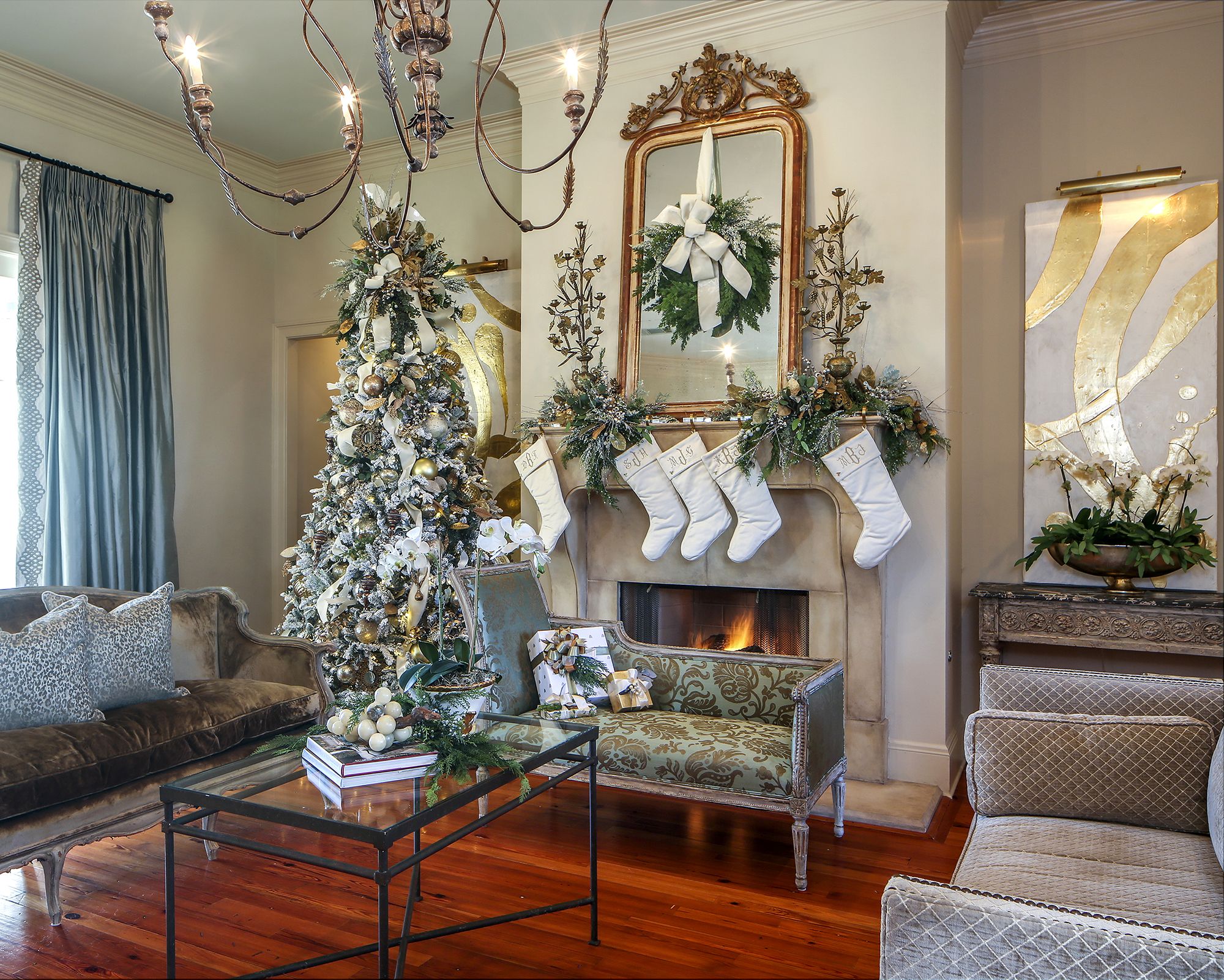 Home for the holidays: Tradition trumps trends in the Beauboeufs' University Club home
---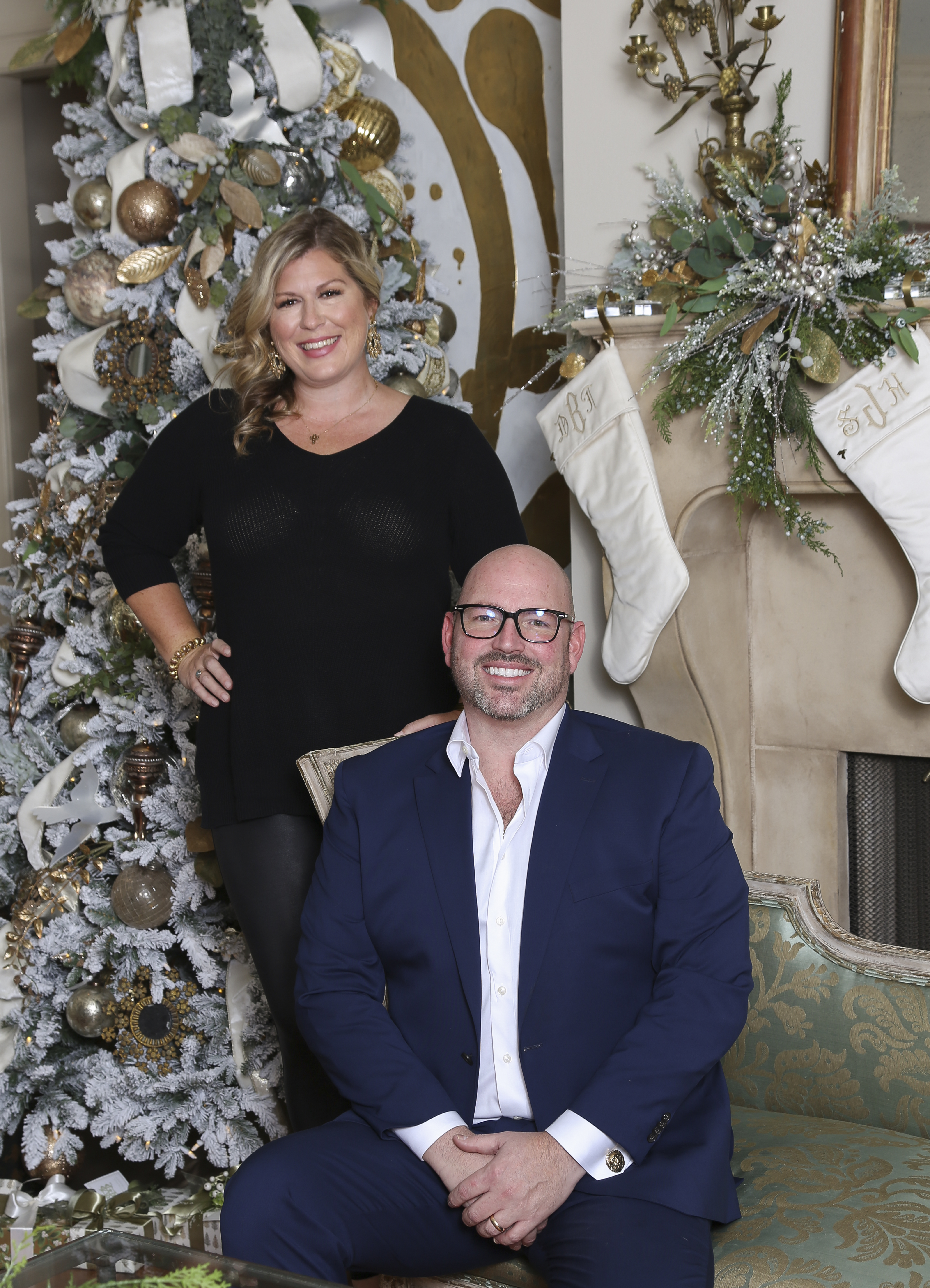 One by one, mask-clad women filter into Towne Center stationery store The Queen Bee long after business hours. Taking their seats in distanced rows of wicker chairs, they smile as Champagne is served and Christmas tree-topped pens are passed out. The stage is set for holiday decorator, florist and creative visionary Thomas Hebert to take his place front and center, surrounded by the glow of LED string lights.
"There's no one right way to do holiday decorations," he explains before running through his go-to tips for tree lighting, bow making and garland hanging. "The special thing about Christmas and everything that goes with it is the traditions that are created every year—whether those include a decorator, just family or both. I love being part of that and becoming family with my clients."
One family that Thomas has become an integral part of over the last few years is The Queen Bee owner Michelle Beauboeuf's. After first establishing a relationship through the store—Hebert has decorated the windows and interior of the store for the holidays since Michelle purchased it in 2011—Michelle and her husband David now call upon Hebert to decorate their own home for the holiday season each November.
"Usually, Michelle and her family leave the Wednesday before Thanksgiving, and as their bags are making their way out the door, mine are coming in," Thomas says. "I stay at their house and decorate while they're gone."
"When we come back, it's like elves have been in the house," adds Michelle with a laugh. "It's magical."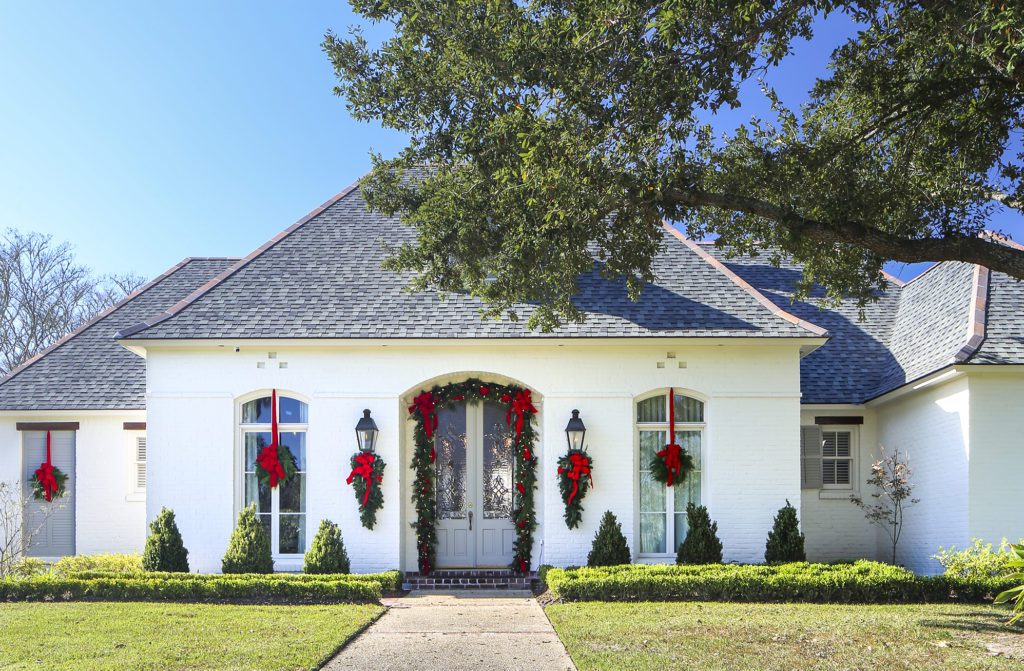 On par with the rest of 2020 though, this year has been different. With travel plans on pause for the foreseeable future, the Beauboeufs' University Club abode was transformed into a winter wonderland with the family still inside it. For days, Thomas and his team toiled away creating a fresh but warm look that encapsulates the home's design, as well as its inhabitants.
"It was actually during the Christmas chaos that we first put in the offer on this house almost eight years ago," explains Michelle. "We completely renovated, and I think we have touched everything in this house—or at least we plan to."
Drawn to the home's spaciousness, as well as its traditional details, Michelle says her main goal in the renovation process was to bring light to outdated, dark spaces without sacrificing character. Washing the exterior in Benjamin Moore's "Ballet White" and the interior in "White Dove," the neutral backdrop allows a collection of French antiques to work in harmony with new finds like the living room and kitchen chandeliers that Michelle and Thomas find together on market trips for The Queen Bee.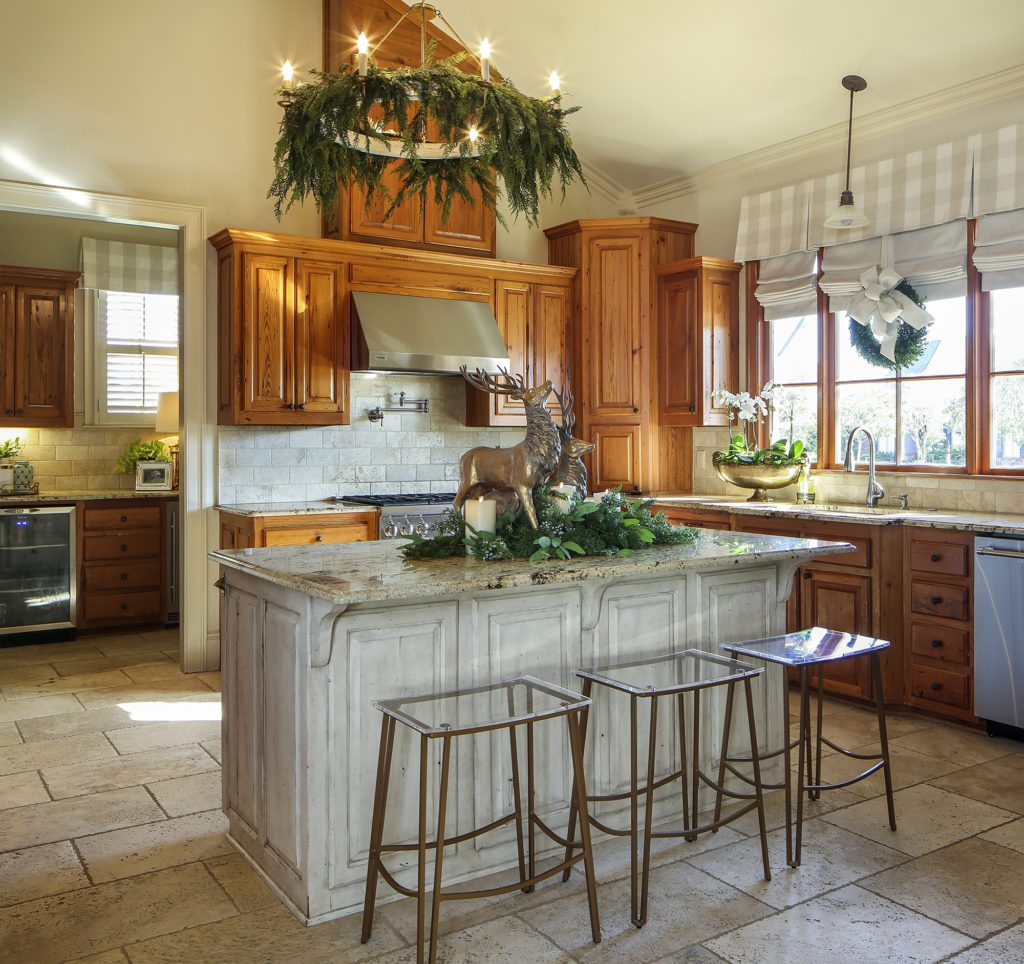 "We have a lot of fun together at market," Michelle says, noting that Thomas' design influence extends far beyond Christmas decorations. "We spent the January market buying outdoor furniture and the barstools in the kitchen."
Rather than tackle the entire house at once, Michelle is taking her time collecting the pieces that will fill each space. For her, the stories that each furniture item or piece of art holds are just as important as the way they look in the room. In her dining room, she can't bring herself to part with a demilune console table that she got from Kirkland's almost 20 years ago. In the sitting area off of her kitchen, the Ashley Longshore masterpiece over the mantel was commissioned by her and David after seeing one with a similar background in the home of Drew Brees. "Part of the fun is the collecting process," she says, "and I want to enjoy it instead of buying a bunch at once."
She has the same mindset when it comes to her holiday decorations. With what her husband says is something like 28 boxes in the garage, the store owner considers each year an opportunity to see her heirloom pieces—like her Fig & Dove stockings and tree topper—in a new way alongside fresh finds like this year's newest additions, a flocked artificial tree and a pair of gilded nutcrackers.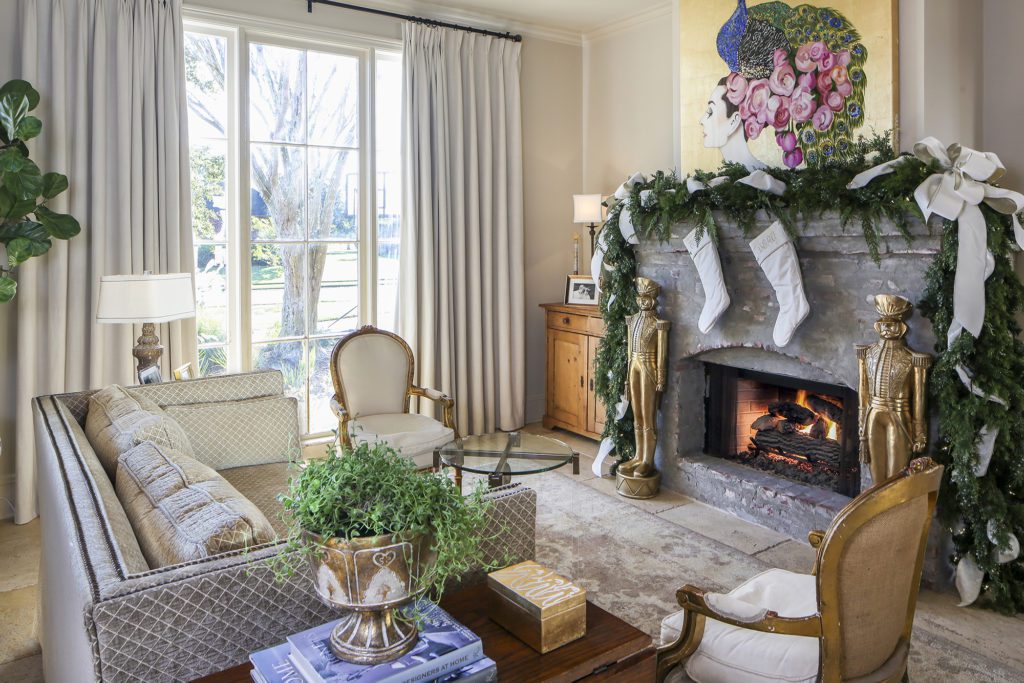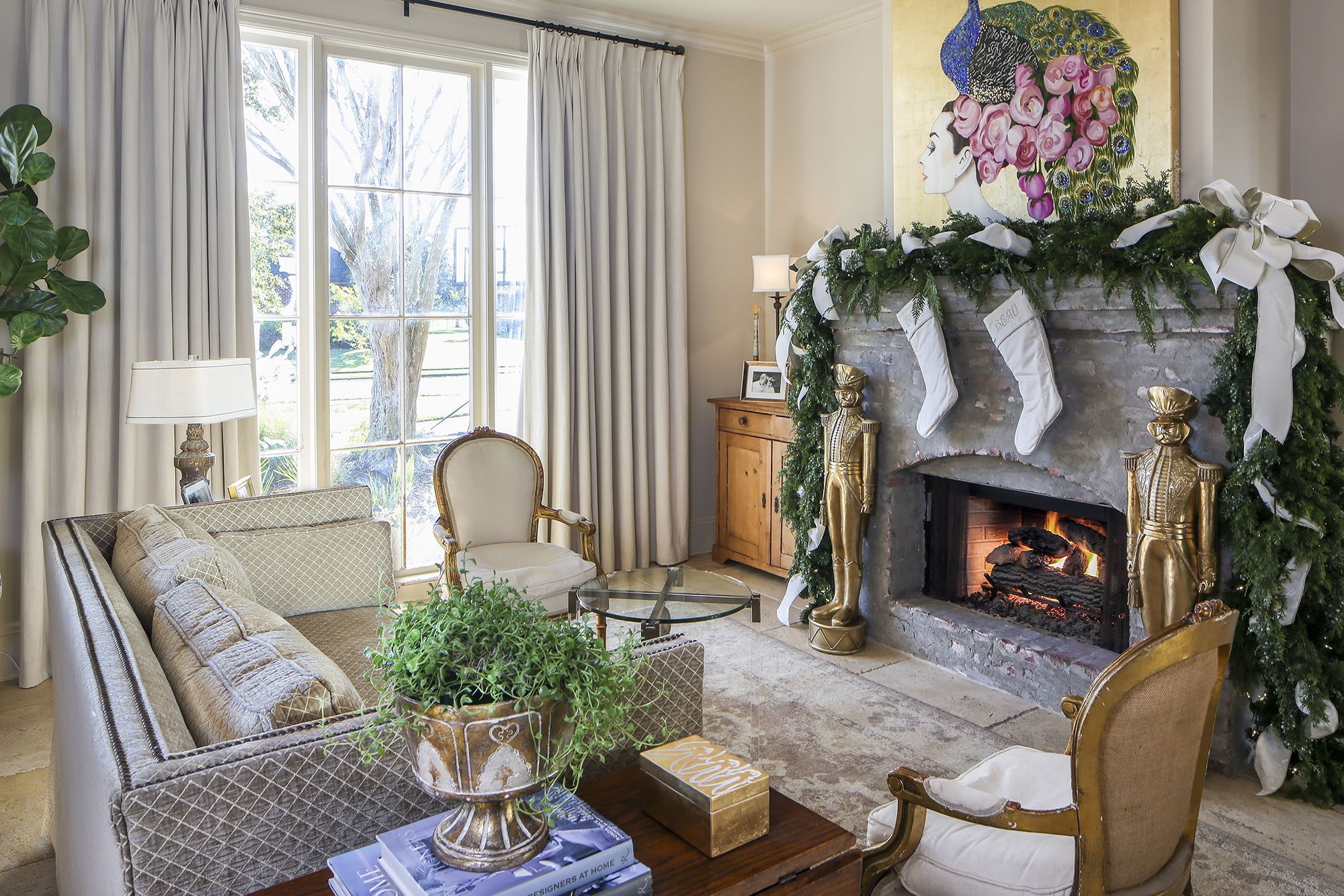 "I'm always looking for something different," she notes. "I don't want things everyone else has, but those things take time to find."
However, Michelle is content to do the searching while her customers reap the rewards. Items like the nutcrackers in the keeping room and the life-size nativity in the Beauboeufs' side yard are available at The Queen Bee each holiday season. In addition, the store's holiday class offerings are continuing to expand from early gift wrapping classes taught by Michelle herself to holiday decorating master classes with experts like Thomas.
"That's what we're about," Michelle says, "spreading the love and the joy that we find in these creative outlets. That's what makes the holidays special, right? Sharing them with the ones you love."
---
See more photos from this home in our gallery below: