A collection of historic homes and antiques in Pointe Coupee Parish has renewed potential in the hands of new owners
Just a half hour from Baton Rouge lies one of Louisiana's most exquisite hidden gems: the incredible assemblage of centuries-old homes and antiques that has been a passion project of Jack and Pat Holden for 50 years. And now the 1700s-built Maison Chenal and LaCour House, along with the rest of their "tout ensemble" of treasures in Pointe Coupee Parish, have been entrusted to new owners who share the Holdens' love of American history.
Sam and Nori Lee hail from the West Coast, having spent most of their lives in the San Francisco Bay Area and now residing in Reno, Nevada, but the couple felt an immediate connection to the Holdens' property—which was the subject of an inRegister cover story in 2015—when they spotted its real estate listing online and then visited in person last year. "When we first stepped foot through the front door, I was blown away," Nori recalls. "I couldn't believe my eyes when I saw it—just being here and feeling the love that was put into it."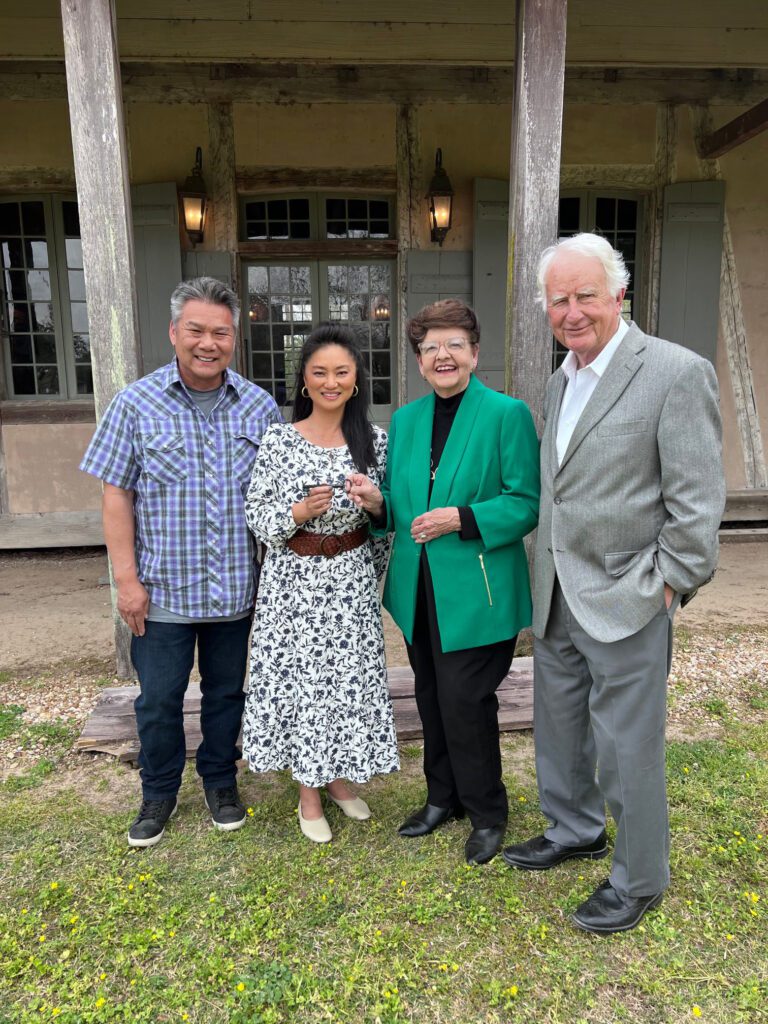 The purchase fit right in with the couple's love for their country, having both emigrated to the United States from Hong Kong as young children. "Sam would tell you this: America has been so great to us as people coming from another country, and we feel so blessed that we have had so many opportunities in our lives," Nori says. "And as we traveled across the states in our RV before the pandemic and especially during the pandemic, that kind of deepened our love for history. When you actually see and walk the road that George Washington walked or see Abraham Lincoln's home—things like that just really made us appreciate American history even more."
Nori says the Lees plan to make this site into an educational research center and, perhaps later, a living history museum such as the one at Vermilionville in Lafayette. She says Sam also envisions building a standalone visitor center that would house rotating exhibits on the varied cultures that played such a part in this area's history.
As for Nori, she dreams of turning the land itself into a botanical garden, which taps into her own love of flowers. "Even the grounds have historical significance, and the plants," she says, noting the parterre garden in front of Maison Chenal, the kitchen garden out back, and the other plantings around the property. "There's just so many little ecosystems here to appreciate and to learn from."
Also on the couple's list of long-term ideas is turning a portion of the property into a working historical farm that would generate crops and show what people here used to grow and eat centuries ago. "We have an almond and pistachio farm in the Central Valley in California," Nori says. "So we love creating food, and we would love to be able to actually generate food here, to make use of the land in a positive way and to tie it in historically."
Nori says she and Sam plan to eventually move to Louisiana full time, drawn by the hospitality they have experienced in abundance during their short time here—from neighbors bringing welcome bouquets of flowers to the way they have felt embraced by the community. "We love it so much," she says. "This is our main project right now. It's just the lifestyle that I think we both fell in love with—this countryside. We grew up in the big cities, and there's just so much to appreciate here."
And the Lees heap much of their appreciation on the couple who assembled this grand collection in the first place. Without them, Nori says, the new owners would not have been able to slip so seamlessly into their new roles as caretakers of this special part of American history.
"We're friends with the Holdens and we love them so much, and we don't want them to go away, because they're such an integral part of this place," Nori says. "We love when they come here to spend time with us and to pass along whatever knowledge they can. The Holdens' dream was to keep everything together, and that is what we want as well. We want to keep everything as is—right down to the teapots, the plates and of course the gardens. There's a story behind every item here."
---
See more of these properties in this story from the inRegister archives.