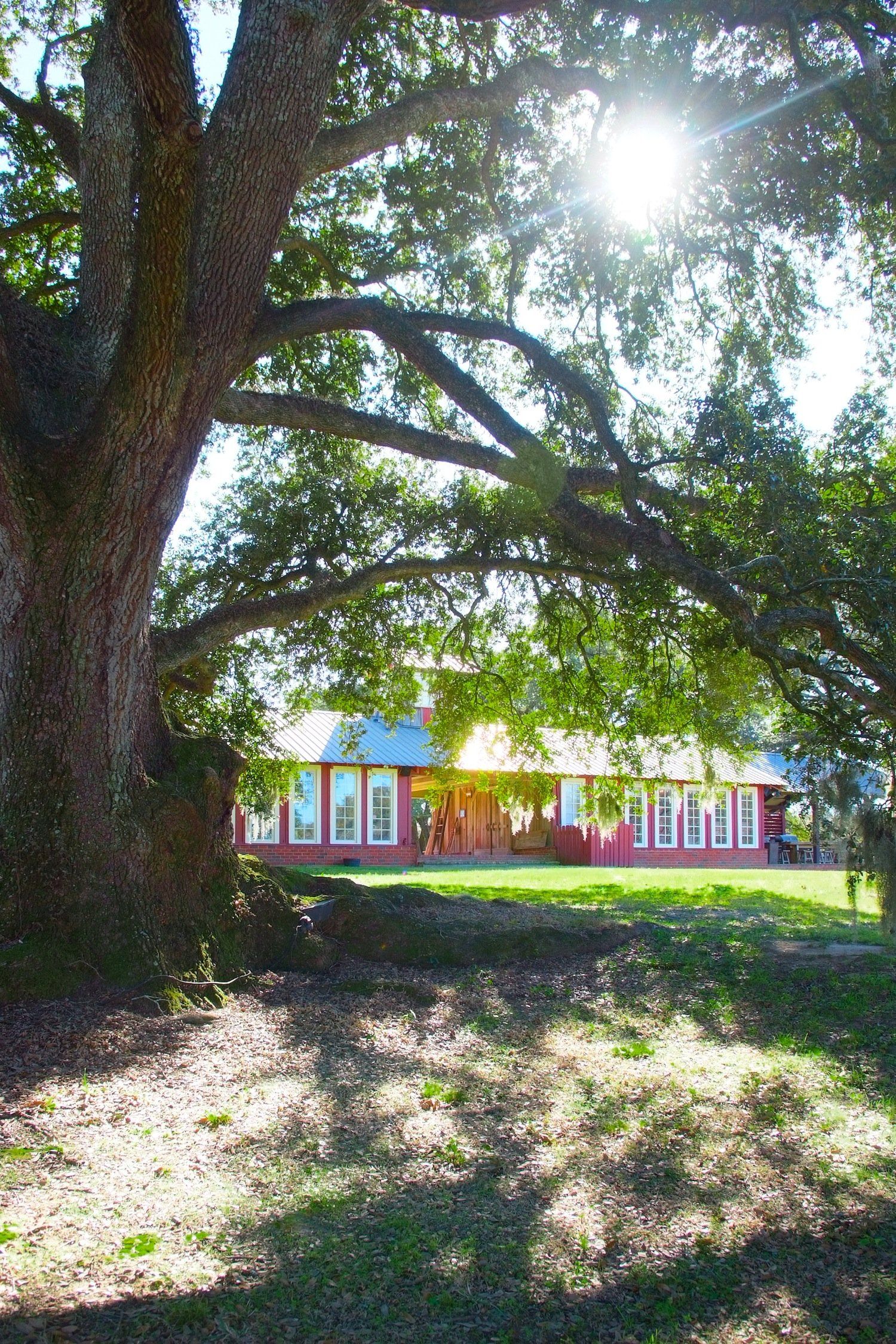 Artful adaptations transform an old dairy barn into a rustic abode for a family of five
If walls could talk, the weathered planks that support this former dairy barn would have plenty to say.
They would speak of days when this hilly Highland Road farmland held a thriving milk-production operation half a century ago, when cows ambled inside to relinquish their bounty, enjoyed by families all around Baton Rouge.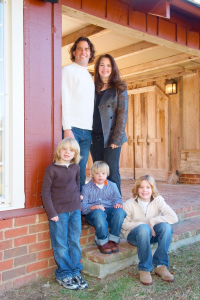 They would whisper secrets from the dozens of Louisiana-made antique furnishings that began to fill these rooms when Chanler Holden boldly made this old barn her home in the mid-1990s.
And they would surely giggle and squeal as they told of the building's latest inhabitants, three spirited little boys who have embraced their unique living quarters as a life-size playhouse with adventure around every corner.
"Living in an older structure and surrounding ourselves with old materials links us to the past," says Holden. "It provokes thoughts about history that we can't get when everything is new."
Since moving into the barn in 1994, Holden has made many new memories of her own here. Her creative vision guided the building's renovation, and she "took part in almost all the labor—from floating Sheetrock to painting walls and floors and doing the insulation," she says. All the while, she carefully preserved the barn's rustic charm by holding on to old materials and adding old furnishings befitting its age and ambiance.
In 1999, she and Major Mittendorf were married under the old oak tree just behind the house. At first, they used the detached "milk room" as their bedroom, which necessitated walking outside and then back into the main barn to reach the living area and kitchen.
"But that proved to be a bit more challenging when our first son, Holden, was born," Major recalls, "so we connected the two structures so we could stay out of the elements."
As the family grew, Chanler and Major decided it was time to expand the original 1,800-square-foot space. Again, they designed the addition themselves and brought in contractor David Dansky to fulfill their vision. The hard part, it seemed, would be to make the new part of the house blend seamlessly with the old, but they soon learned of an old house in Paincourtville that was being torn down.
"For two months, we helped disassemble the home and transport all the old materials to our home," Major says. "Using the cypress flooring, beams and doors, we added 1,600 square feet to the existing barn."
Today, this home is a custom fit for this family of five, including 10-year-old Holden and his younger brothers, Wiley, 9, and Sawyer, 8. The well-worn building perfectly fits the family's "relaxed rustic" style and is an ideal showcase for the many primitive artifacts and Louisiana antiques that Chanler and Major have collected over the years. Acadian coton jaune blankets are draped over sofas, and Louisiana-made baskets are perched in the trusses. Indian pottery is arranged inside the china cabinet, and old property plans from the New Orleans Notarial Archives recall other historic buildings.
Several of the furnishings that enhance the homey appeal of this dwelling were actually discovered by Chanler's parents, Jack and Patsy Holden, who themselves live in a house with plenty of history—Maison Chenal, built by Julien Poydras around 1800 in Pointe Coupee Parish. When Jack, who has become known around the state as an authority on Louisiana-made furniture, penned the book Furnishing Louisiana, he included the side table now found in Chanler and Major's bedroom.
Colorful artworks by Louisiana talents are also featured prominently throughout the house. Longtime friend Saliha Staib created a painting of Chanler's mother that hangs in the main living area, as well as others found elsewhere in the house. A Lisa diStefano painting of that wedding-day oak tree hangs in the hall, and the kitchen is home to two Michael Guidry works.
The latest addition to the house is a studio and sitting area that opens to a large outdoor deck. With its fireplace, cozy seating and proximity to the lake, this al fresco space has quickly become the family's favorite room.
"We love to make fires almost all year round," Chanler says. "S'mores are a must! And the view is amazing—it almost feels as if we're in a tree house."
Of course, the surrounding terrain is suited for plenty of playtime fun as well. "We're so lucky to have been blessed with three boys," Chanler says. "The hill provides great entertainment for the kids, from rolling down it to 'mountain skateboard riding' to pumpkin rolling and downhill racing with the dogs. We feel lucky to have the feeling of being in the country in the middle of Baton Rouge."
Adding to the idyllic nature of the property is the fact that Chanler's sister, Wendy, and brother, Derrik, also both live on the same parcel of land with their own families. "It's such a joy to live next to family," Chanler says. "Once a week, my mom and dad come in and we all get together for a family night. This is something I cherish about living close."
That sense of togetherness is just another reason this one-of-a-kind home is wonderfully suited for this one-of-a-kind family. They put heart, soul and sweat into transforming yesterday's functional structure into a home for today and tomorrow filled with stories anew.