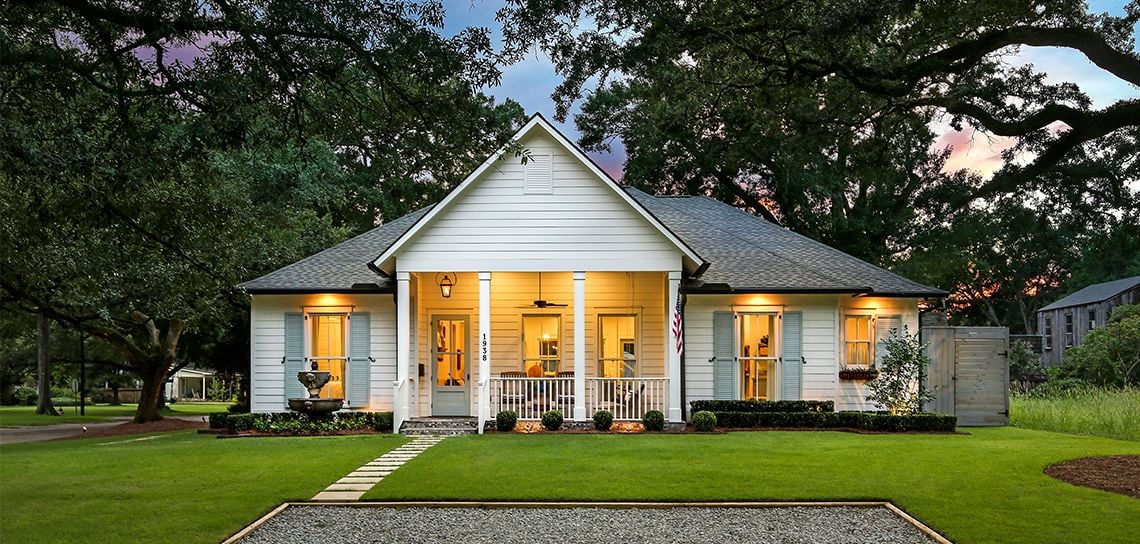 Divine design: A Walnut Hills cottage captures the spirit of a bygone era
---
Through a blur of green beads and shamrocks, Leslie and Ronnie Doyle fell in love with the Walnut Hills neighborhood.
The Doyles were riding on a St. Patrick's Day parade float in 2017 when they were wooed by the area's charms: mature oak trees, wide avenues and eclectic architectural styles dating back to the 1940s and '50s.
By parade day 2018, the Doyles had found a gem of an empty lot, sold their former home in another area of town, designed and built their new abode, furnished it in period-perfect style, and moved in just in time for the revelers to roll by once again.
"She doesn't let grass grow under her," says Ronnie of his wife, who served as her own general contractor on the construction project.
It seems appropriate that a holiday honoring a Catholic saint was the starting point of this new adventure for the Doyles, since their son Brad is a priest with the Diocese of Baton Rouge. In fact, this new residence is frequently blessed with Father Brad's presence.
"His congregation is in Vacherie, so he sometimes uses our house as his Baton Rouge office," Leslie explains. "He does marriage prep on the back porch, and he records his podcast, The Quizzical Papist, at our dining table."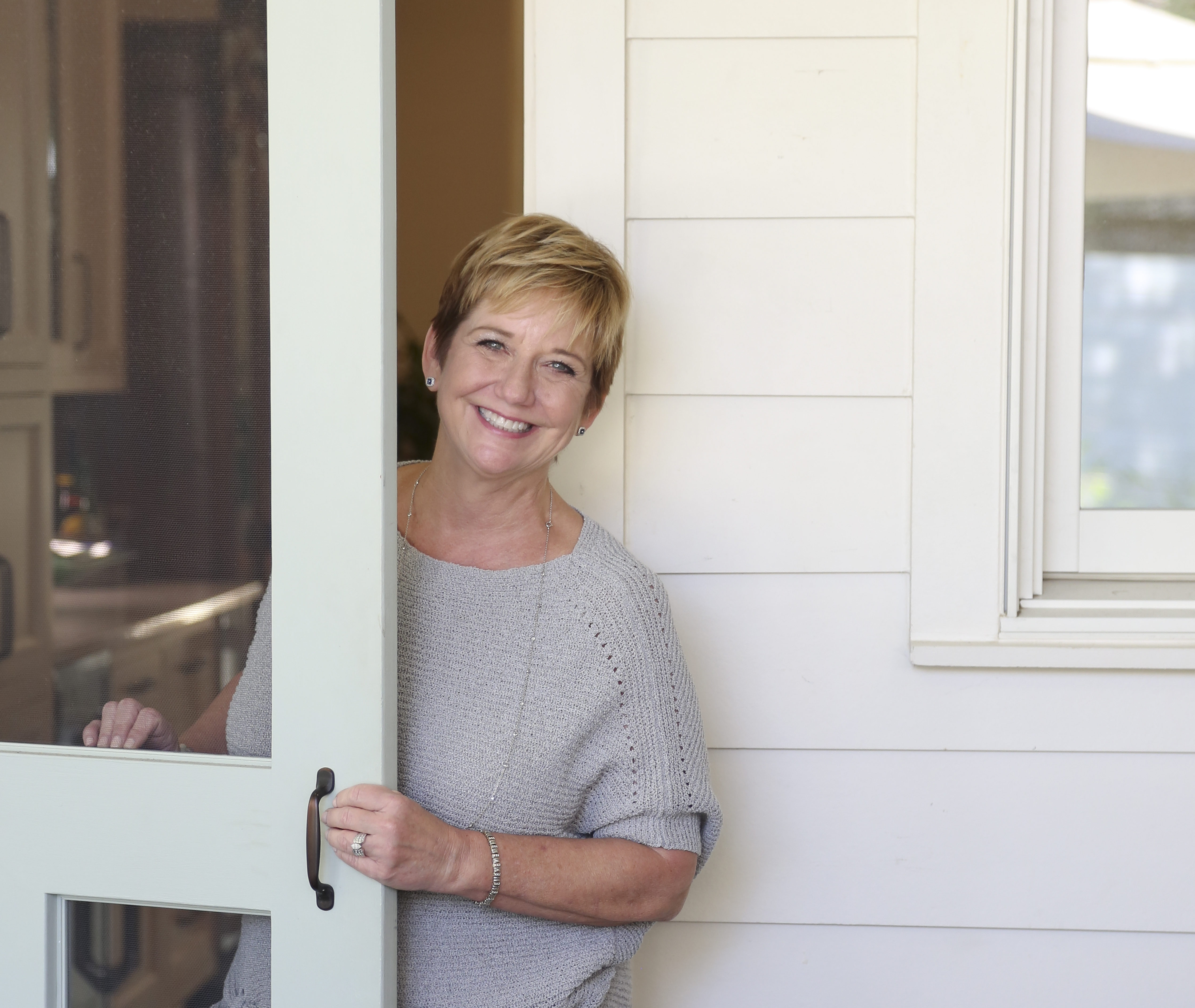 Brad and his sister Alexandra, who lives in New York City, were their parents' biggest cheerleaders as the couple made the decision to start from the ground up with their new home. Ronnie, however, needed a little convincing at first that the time was right for such a big move. "He said, 'We live in a perfectly fine home,' and we did," Leslie says. "But I really wanted to take everything I had learned over the years and put it all into practice in a new home just for us."
A Realtor with a background in interior decorating, Leslie had seen and worked with enough homes over the years to refine her own personal preferences. But her primary inspiration for this Walnut Hills house was a tiny Florida cottage she had seen in the pages of Southern Living magazine. The featured cottage had only 800 square feet of living area but oozed classic Southern style with its central front porch, exterior lap siding, interior shiplap walls, and a spacious main room that combined living, dining and cooking areas. Leslie adopted all of these ideas but amped up her own layout to take in 2,200-plus square feet, with help from draftsman Lou Ravasio of Lawrence Design. Drawing another bit of inspiration from her new home's street address, 1938, Leslie vowed to make the design details hark back to that year.
"I strategically and personally designed and planned every square foot of this home to fit our lifestyle as entertainers and empty-nesters," says Leslie. "I wanted it to be full of Southern charm."
Building their own home without an outside contractor was far from an isolating experience. The Doyles drew on the experience of many friends and professionals in Baton Rouge and beyond to perfect their plans. Some shared lists of trusted subcontractors. Others offered advice that turned into key elements of the design, including oversized windows, a fresh color palette, and a combined master closet and laundry room.
"This house is us," Leslie says, "but it's also a representation of everyone we worked with. They all helped to make it what it is. Ronnie and I were in awe of the knowledge, skill, talent and patience of each and every person who helped us."
The heartbeat of this home design is its multipurpose central room. The same soft white hue was used on ceiling, walls and trim to visually enlarge the space, and Leslie combined a few strategically placed antiques with soft seating and colorful accent pieces discovered during her travels. An old pine beam above the dining table helps to separate "this big shoebox of a room," Leslie says.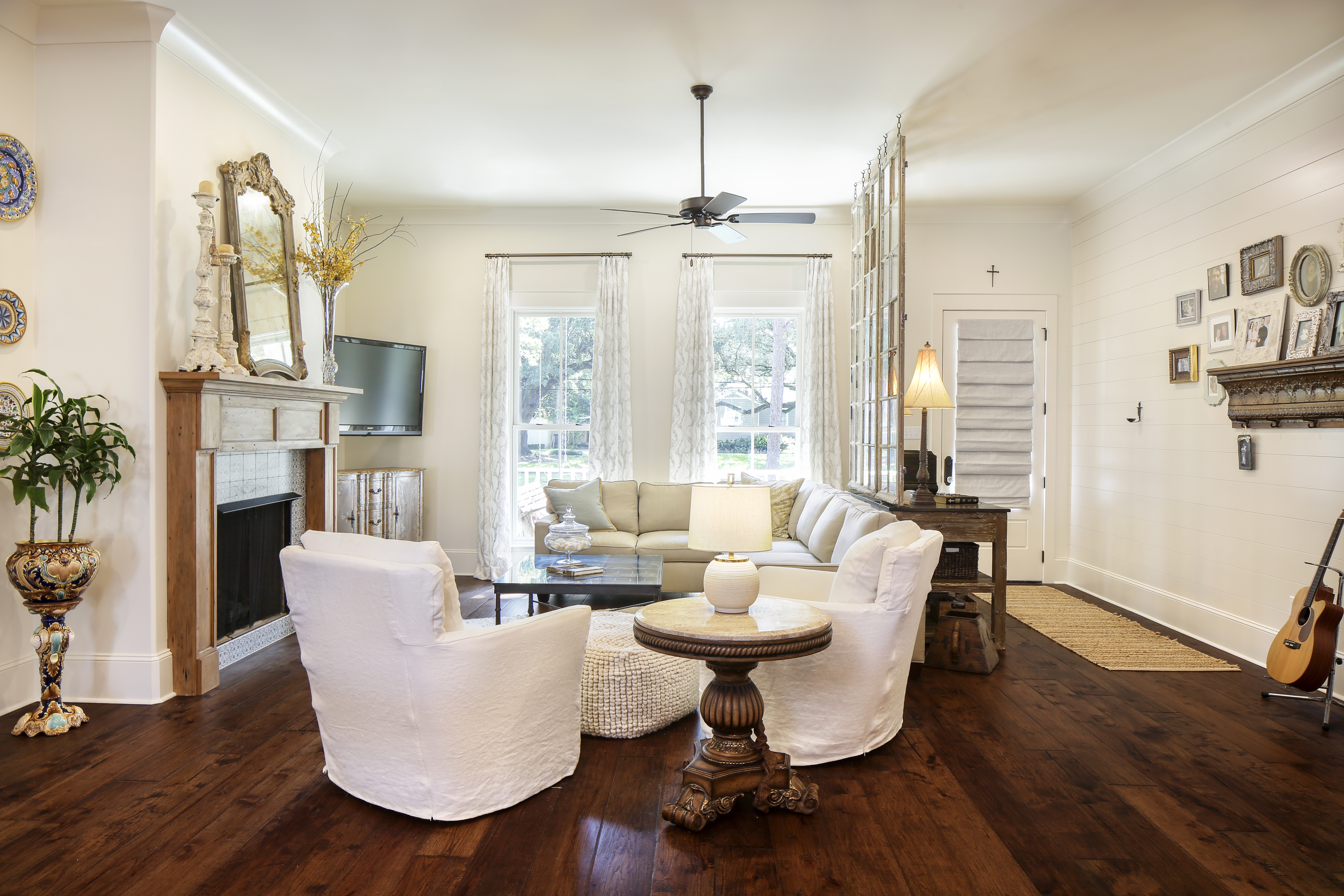 "I wanted the house to look warm and welcoming," Leslie says. "I didn't want it to be too stark. I want people to be able to put their feet up and feel comfortable."
The kitchen is anchored by a 10-foot-long cypress-topped island and features details including open shelving and leaded-glass cabinets in the bar area. It's here that Leslie shares her love with family and friends through meals, including a family-recipe Creole seafood and andouille gumbo that she and Brad plan to enter into the Greater Baton Rouge Association of Realtors' Cajun food cookoff this month.
"I love to cook," Leslie says. "My son cooks with me. We believe it's more fun to have friends over and cook with them than to go out to a restaurant."
The large main living space makes it easy for the Doyles to host any size gathering, especially when the party flows out the back door to a second deep porch, this one decked out with a built-in grill, a fireplace, and dining and seating areas, all overlooking the new pool. When they aren't entertaining, Leslie likes to use the sofa-style swing as a place to research properties for work.
"It's always been a dream of mine to have big front and back porches," Leslie says. "Basically, we're going to be living outside from September through May."
Now that they've been bitten by the construction bug, Leslie and Ronnie have plans to begin renovating other homes for resale. "I'd love to be able to go in and redo a space from the ground up," Leslie says, noting that their new hobby will be another chance to build on what they have learned. In the meantime, she looks forward to welcoming more friends—and a few Catholic quiz-show contestants—to her beloved new neck of the woods.
"This area is just lovely," Leslie says. "It's a funny thing about this neighborhood: people don't move out. They just move around. They think it's the best place to live in the city, and now I'm one of them."
---
Get a closer look at this home by clicking on the photos in the gallery below: