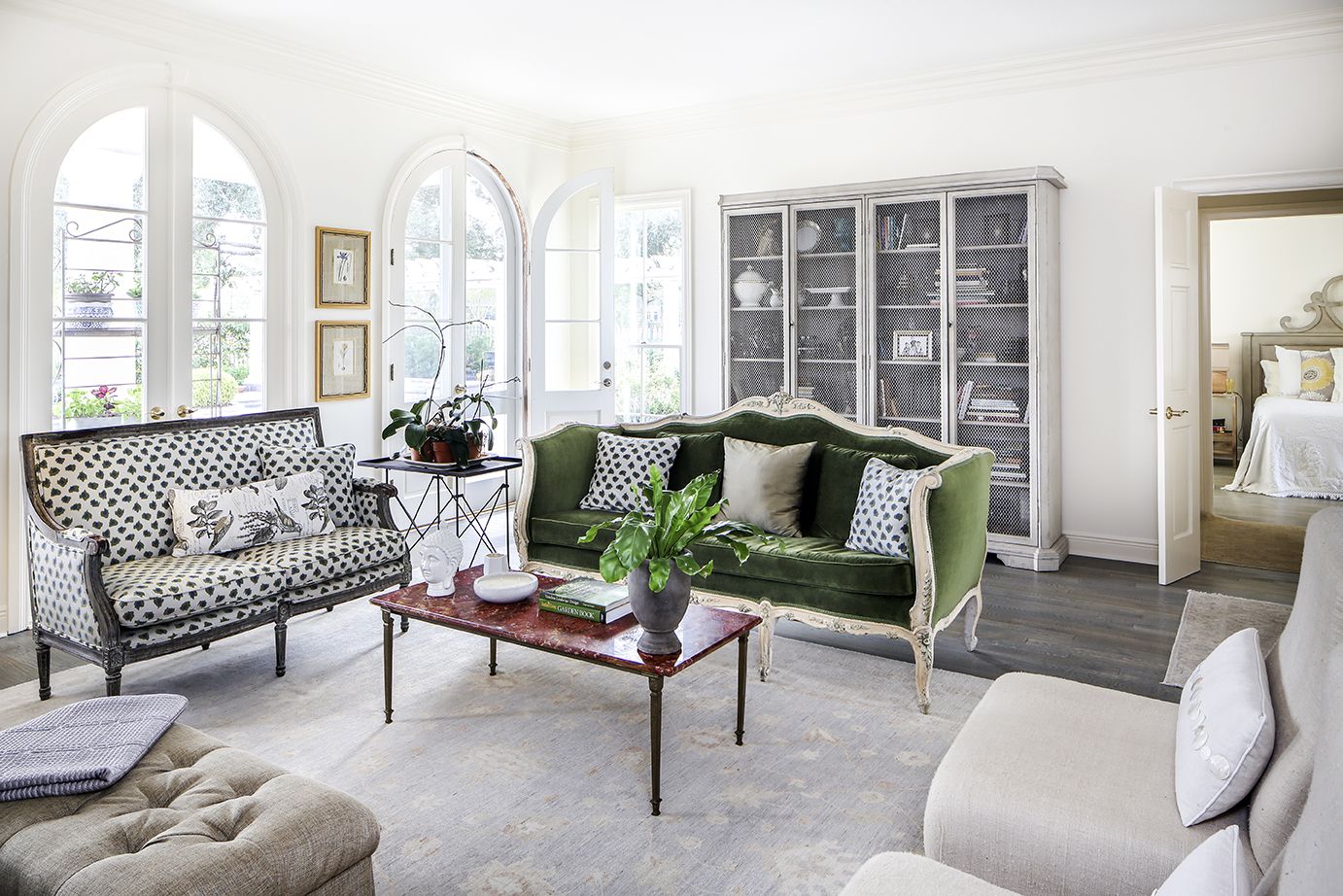 Diamond in the rough: The Ponsons find a fantastic fixer-upper beside the fairway
Fifteen colorful koi swim in languid circles in the fountain in Jan and John Ponson's backyard. Life is good for these not-so-little fish, watched over by a verdigris-covered statue and surrounded by boxwood hedges on the terraced patio.
But it wasn't so long ago that this fountain was filled not with gently rippling water but instead with, as John tells it, "four feet of mud." When the Ponsons purchased this home in the Country Club of Louisiana, there was much work to be done both inside and out. But its location—with expansive views of the golf course—and classic architecture convinced them that it would be worth digging through a little muck to unearth a gem.
Longtime Baton Rouge residents, Jan and John were living in Fairhope, Alabama, when they felt the pull to return to their south Louisiana roots. "We have five grandchildren who live here, and we wanted to be able to spend more time with them," says Jan.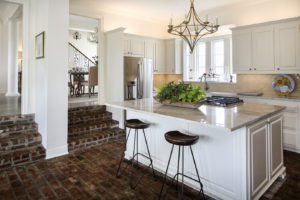 They had lived in the Country Club neighborhood decades earlier, so when they found this home on the market, they decided to take a closer look. As it turns out, they knew the home's original owners, who had purchased this prime lot near the 11th fairway from famed golfer Jack Nicklaus when the course and neighborhood were first developed. But as the house, which was designed by architect Tommy Cockfield, had changed hands over the years, it had failed to keep up with current styles. John and Jan saw beyond dated color palettes and patterned wallpapers to a place they could personalize.
"It had been on the market for a long time," John says. "But we loved the bones of it, and we saw the potential."
The couple moved in just before Christmas in 2014 and immediately embarked on a renovation project. When Jan went to Brooklyn for a month to stay with her daughter Caroline, who had just had a baby, John took it upon himself to make some dramatic changes. "While she was gone, I did the whole downstairs," John says. "I was in here with a sledgehammer tearing things apart. I had about 15 different colors on the dining room wall. I didn't even tell her until about the third week."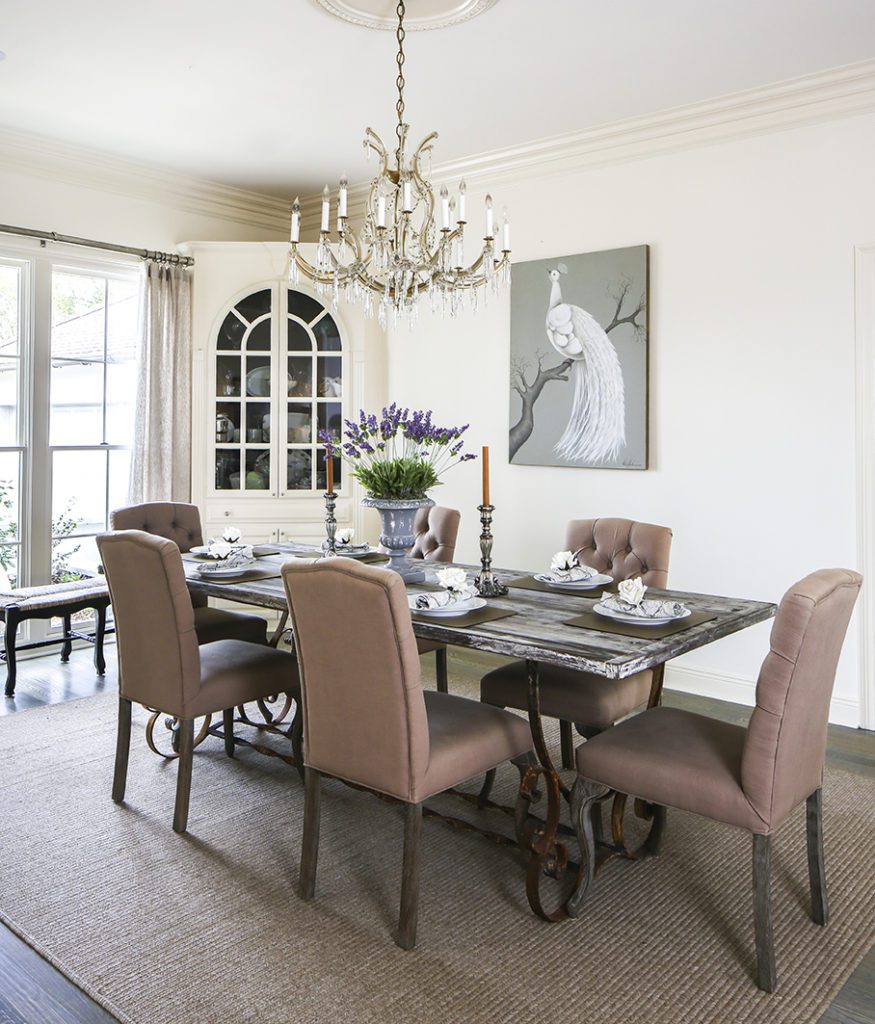 Besides picking paint colors, John's solo scheme involved removing carpets and wallpaper, adding a stair runner, and stripping and refinishing the white ash floors in the living and dining room. Finding the perfect stain color for the floors proved as challenging as finding a wall color, but this time John turned to the Internet for help. "Pinterest was my lifeline," he says. "That's where I found the formula for creating this gray shade—ebony plus white."
Updating the kitchen would require expert assistance, so the Ponsons turned to designer Michelle Livings of Kitchen to Bath Concepts. "They wanted to give it a facelift to refresh and tie it in better with the adjoining areas," Livings says. "The existing dark countertops on white cabinetry created a hard contrast that did not reflect their personal taste, which leans toward a soft, monochromatic color scheme."
Working within the room's existing footprint, Livings first removed the island, which had a raised seating bar that she says worked against the room's open feel and limited usable countertop space for cooking. She designed a new single-level island that provides seating as well as accessible storage from all sides, and above it she hung an airy gilded iron chandelier. Cabinets were repainted, and new countertops in light Taj Mahal quartzite were installed, along with a horizontally placed tile backsplash from Walker Zanger.
Outdoors, the couple set to restore the landscape to a style suiting its course-side setting. They brought in Keith Russell of Russell Pool Company to replaster the existing multi-level pool, along with Steve Rowley of Hydro-Scapes to tackle some daunting drainage issues and handle landscape design and installation. John himself got down and dirty in the mud-filled fountain to clean it out and repair the statue. "I rassled that lady out of there and had to replumb her," he says with a laugh. "I gave her a colonoscopy."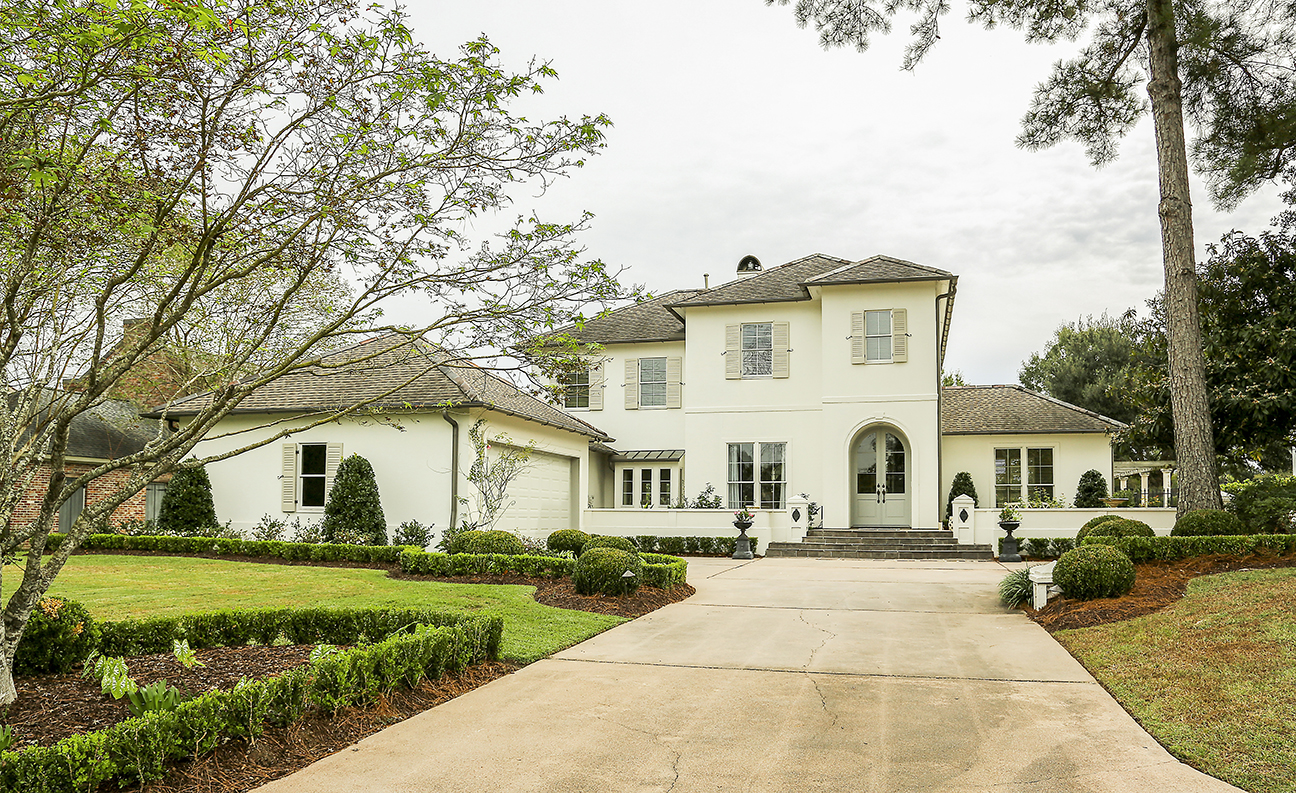 Once water was again flowing, the couple introduced their brood of bright orange and white koi, including one John has dubbed "Donald Trump" for its wild orange hue. Feeding these fish has become a favorite pastime. "It's therapeutic for me," John says.
Jan finds her sanctuary in the nearby rose gardens, which replaced beds of azaleas and crape myrtles. Here she cultivates David Austin roses that have been grafted onto Southern rootstock to withstand the sultry summer heat and resist pest damage. "I'm a big rose enthusiast," she says. "They're so beautiful when they are in full bloom."
The grandchildren who inspired this move back home are also enjoying the landscape. "They love playing hide and seek up here with all the different levels," John says. "And we enjoy having them over to swim in the pool."
John says his favorite aspect of the house is the view of the golf course, where he likes to play about three times a week with longtime buddies, while Jan favors the open-concept downstairs space, with arched doors and large windows that allow in plenty of natural light.
"Some houses go out of style and take 30 or 40 years to bring back," John says. "This house will always be in vogue—and that's the sign of a good design. We updated things, but the integrity of the home is still here."
For a closer look at the rest of this home, click on the photos in the gallery below: