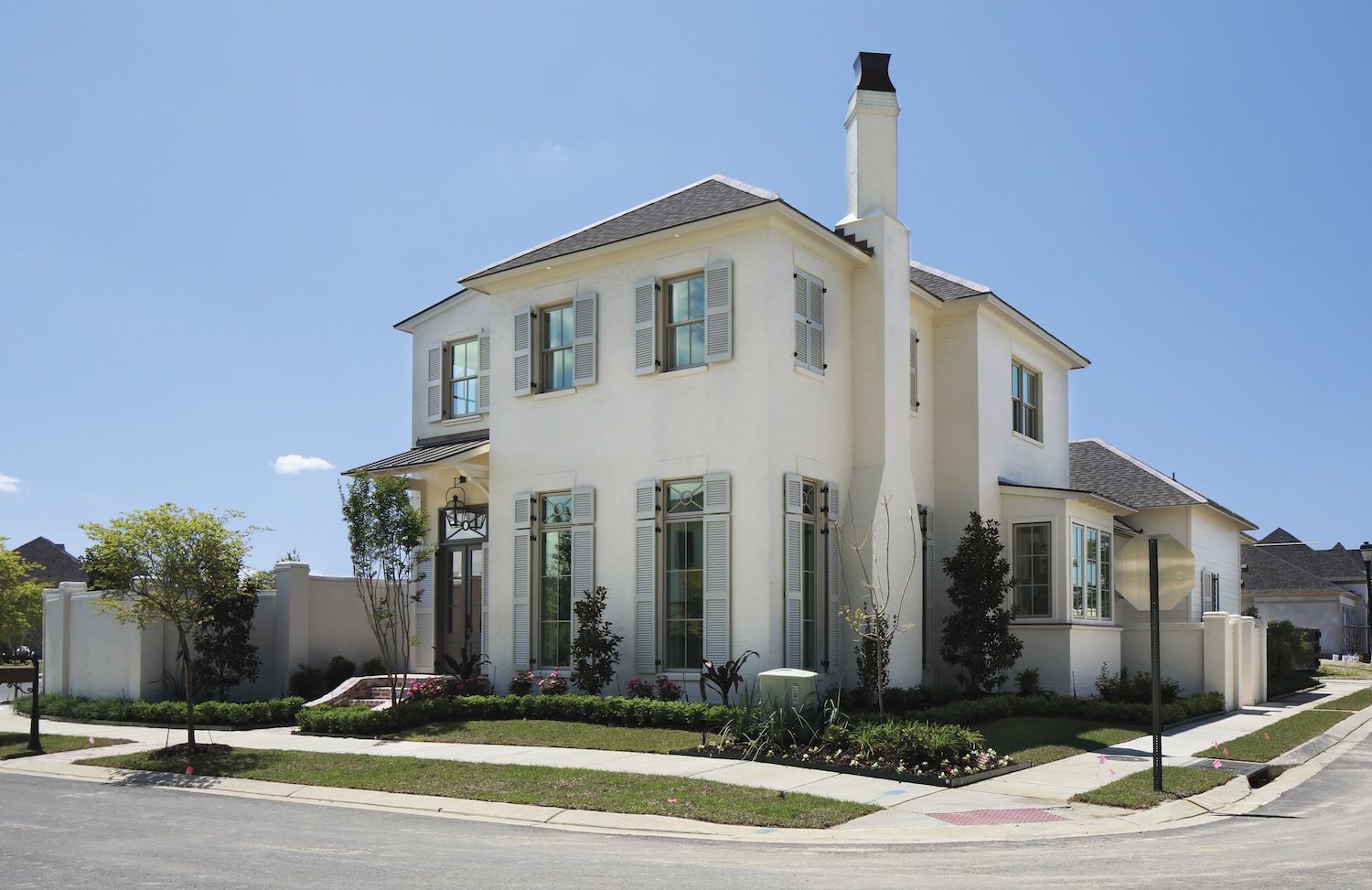 Contractor Mike Telich focused on the small stuff when building the home he now shares with his new bride, Kori
Mike Telich discovered a passion for intricate interior work when he mastered the art of trim carpentry in his early 20s. He devoted countless hours to sanding, honing and perfecting every inch of molding or millwork that would make a home complete. Eventually, that enthusiasm led to a new career as a builder, where Mike's eye for detail could guide him through a complete custom home project.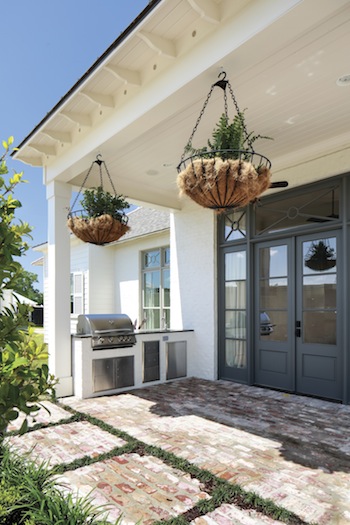 But minding the details assumed a whole new meaning when Mike took on the most personal job of his careerbuilding the home he would share with his soon-to-be wife, Kori, all while planning the wedding of their dreams.
Mike and Kori chose a lot in the Settlement at Willow Grove on which to construct their first house together. Among other attributes, the location would mean a quick commute for the contractor. "I was already building homes in this neighborhood, and we loved its central location," Mike says.
The quickly growing neighborhood also called out to the couple with its old-fashioned charm. "There are always people walking dogs or walking with their kids," Mike says. "Everyone's super friendly. There's a good mix of older families and younger people with children. And there's a nice mix of architectural styles as well."
That melting pot of home styles would be a good fit for the Ohio-native builder, who acknowledges that his own design aesthetic has evolved over time. "Up north, I was all about the Craftsman influence," he says. "I've gradually moved a little away from it, but some of that has carried over to what I like to do now, with clean lines and attention to little details."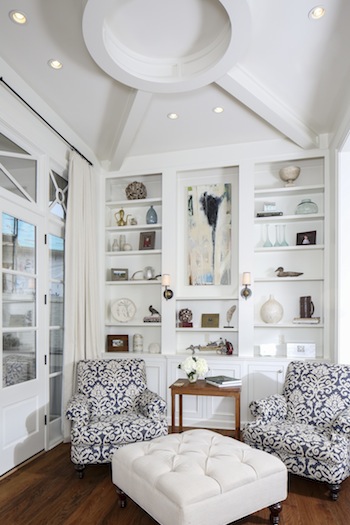 The couple first set out to design their home themselves but "eventually realized we weren't architects," Mike says with a laugh. Months of trying to arrange rooms on graph paper had only led to frustration, so they brought in architect Chuck Oliver to solidify their hazy vision. They knew they wanted to capture the pastoral views from their corner lot, and they also wanted to have a spacious area where their two rescue dogs, Cash and June, could roam without fear of dirt or damage. The collaborative process with the architect continued until all were satisfied that the plans would be perfect for this new family. Then it was time for Mike to get to work adding his own personal touches.
"Essentially, Chuck baked the cake, and we put the icing on it," he says.
Applying that icing meant Mike spent every spare moment between his other building projects hard at work on his own home's unique finishing features. He designed a distinctive pattern for window transoms and later repeated it on the ceiling of the keeping room. Together with his foreman, Jamie Taglienti, he painstakingly sanded and installed panels on walls in the foyer and master bedroom and even in unexpected spots like beneath crown moldings and in doorways. He added interior brick accents and antique doors that recall the warm wood of his Craftsman style heritage.
Midway through the construction and wedding-planning processes, Hurricane Isaac happened, flooding the LaPlace home of Kori's parents and sending them packing for Baton Rouge. Kori knew she had to let go of her own house-related worries. "I had to just trust Mike with a lot of the decisions here while I dealt with the other factors in our lives," she recalls.
Eventually, the couple came up with a clever tool for resolving minor design disputes between them: a square block of wood with "yes" written on one side and "no" on the other. Any time they reached an impasse on a design question, they simply flipped the block for their answer. "It really worked pretty well," Mike says. "I still have that block today."
The construction process was completed in spring of 2013, leaving behind a home that is a harmonious blend of old and new elements. "I wouldn't say it's so classic that it's like sitting on your grandmother's sofa covered in plastic, but it's not so contemporary that you walk into a room and see a white lacquered square and you're not sure if it's a table or a chair," Mike says. "We like classic, but with a modern twist."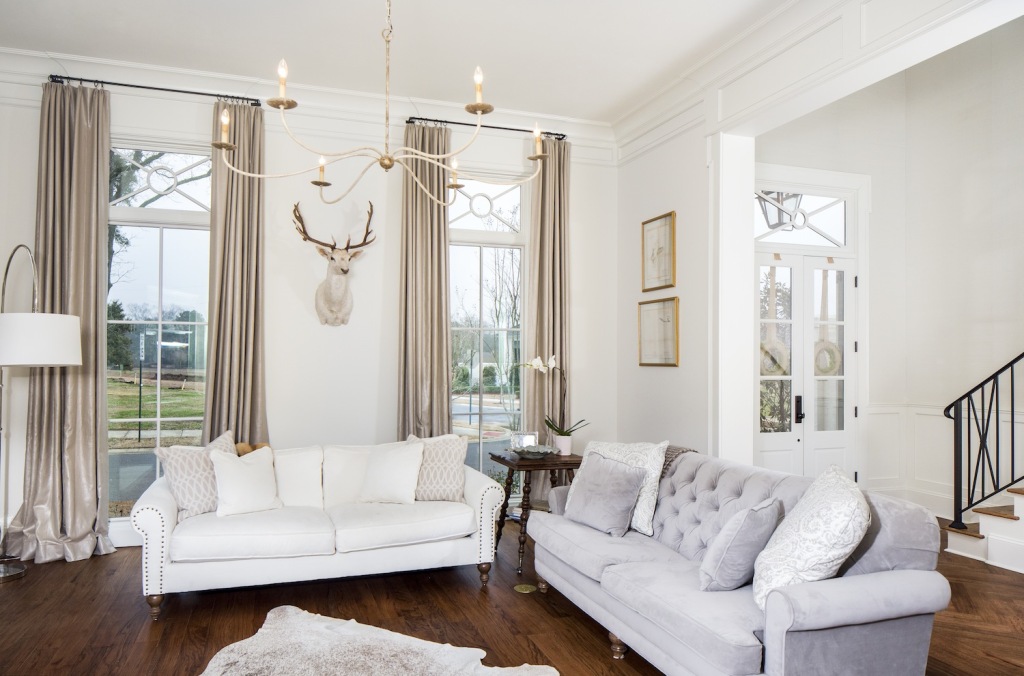 The home's layout also suits the couple's tastes to a tee, with large first-floor public spaces that have an air of openness that's great for entertaining but still have enough separation to allow for multiple conversations. The family room, keeping room and kitchen are divided by 10-foot-wide doorways that help to create that spacious but still intimate feel. "It's open, but the rooms are defined well," Mike explains. "It doesn't feel like a giant gymnasium."
Today, Mike and Kori's home doubles as a showcase for the builder's talents, highlighting the care he puts into all his work. But the decorating process is not quite finished yet. Just off a month-long honeymoon in South Africa that Kori says doubled as a "hunting-moon," Mike eagerly awaits the preserved treasures that he scored overseas. "I don't know what we're going to do when all this taxidermy arrives," he laughs.