Designer tip: Richard Ourso on working with low ceilings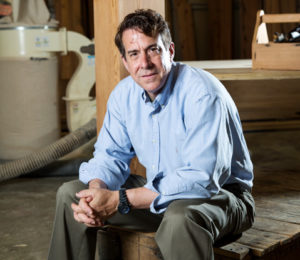 Many recently built homes take advantage of all the free flow and space that come with open floor plans, including the addition of high ceilings, which can help expand the scope of a room. Older homes, though, were built with different styles in mind, and they don't always come with sky-high details. But according to Richard Ourso, owner of Ourso Designs Kitchen & Bath Firm and manager of The Olde Mill, a few simple steps can help turn the tables on a common conundrum in home design.
"We have a lot of clients who own older homes with 8-foot ceilings," he says. "These are great homes in great locations, but a lot of people struggle with the fact that 8-foot ceilings don't leave much room for improvement. However, there are a few ways we can make that space feel more open, inviting and entertaining. To begin with, we can remove the walls separating kitchen and living areas. We can raise the cabinets all the way up to the ceiling. We can mortar any brick flush and paint over it if the brick is unsightly. Later on, we can install decorative beams and increase window space. Any of these design techniques will add value to the home and make those spaces with lower ceilings feel less claustrophobic."
To learn more about Richard and Ourso Designs, check out oursodesigns.com and theoldemill.com.