Designer tip: Rachel Cannon on functional and fashionable guest space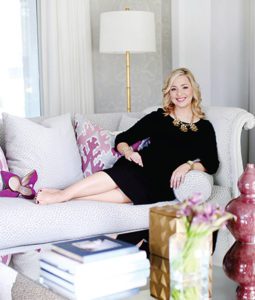 With the holidays just around the corner, the pressure to present the perfect home to friends and family is mounting. However, Rachel Cannon of Rachel Cannon Limited suggests focusing time and energy on the space dedicated to the guests that make holiday celebrations special.
"While the timing might not be right to attempt a whole house makeover before your guests arrive," explains Lewis, "you can focus on prepping your guest room to be cozy and inviting for their stay."
When addressing a guest room, Cannon suggests thinking not only about your own preferences when it comes to bedding and lighting, but supplying options for guests that allow for complete customization. This will allow guests to feel at home in the space, rather than confined in an uncomfortable and unfamiliar setting.
"I recommend offering layers of bedding so guests can reach optimum comfort for sleeping," says Cannon. "In the guest room pictured, we used a blanket under the matelassé, which might be enough for a Louisiana holiday season, but also included a featherweight down insert for the duvet for those visitors who might be a bit more cold natured."
In addition to bedding, Cannon recommends replacing the typical nightstand with a larger chest of drawers. While this option will take up more space, Cannon notes that it is space well used when it comes to guest accommodation.
"Chests of drawers can store all kinds of things for guests, including a small oscillating fan, more blankets, books, magazines and more," says Cannon. "And while the pieces of furniture themselves are larger, we don't recommend cluttering them up with too many accessories. Make sure guests have room to place their smaller items by using trinket dishes, such as the one in the room pictured."
While no nightstand is complete without lamps, Cannon has observed that lighting is often the most overlooked aspect in a guest space. To ensure that friends and family get a full eight hours, Cannon suggests incorporating multiple lighting options to allow guests to set the mood in the space based on their own personal habits.
"Consider using lamps that have a dimmer switch on them," explains Cannon. "This can mean the difference between well-rested company and company who can't sync their sleeping and reading habits, and nobody wants to have breakfast with the person who had to endure a 60-watt lamp bulb on half the night while her partner finished the last few chapters of a book!"
For Cannon, the key to a conflict-free holiday season is knowing your guests and catering to them. And while these tips are a starting point, Cannon suggests adding personal touches that bring the lives of guest and host together because, after all, the holidays are about spending time with those we hold dear.