Designer tip: Nicole Brown on creating intimate seating
When deciding how to design a living space, there is a very important aspect to keep in mind–living!
Nicole Brown of Nicole Brown Interiors, LLC says that the types of furniture chosen for a space lay the groundwork for how a room is used. "Creating intimate seating is so important when placing furniture in a space," she says. "The standard sofa and a couple of chairs may fill the space, but does it invoke a feeling of closeness or a desire to linger?"
Every home is different, and so is the nature of socializing in each home. Brown says that when choosing furniture, one should consider the size and types of the gatherings the space will be used for.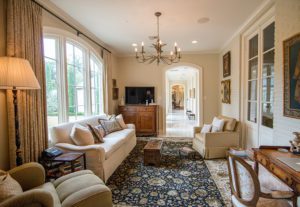 "For instance, in a room that will incorporate multiple discussion areas, swivel chairs will make the most of focusing on more than one seating area, " she says. "And an area that is more multi-purpose would benefit from upholstery that can easily be moved around to allow for a quick change."
As the holidays approach, incorporating holiday decor means an opportunity to move furniture out of the place its been idling sitting for who knows how long. Brown encourages changing your set-in furniture arrangement and creating something more intimate for your holiday gatherings. "Bottom line…don't be afraid to move things around," she says. "You might find you have more options than you think."
For more on Nicole Brown and her designs, visit nicolebrowninteriors.com.