Designer tip: Meghann Landry on showing some skin
According to Meghann Landry of McMillin Interiors, animal prints are the must-have design element for this season because, as she says, "Skins are in!"
While the colorful versions of these patterns that were popularized in the 1980s and '90s should be left in the past, neutral takes on nature's artistic vision are back and better than ever. By incorporating simple elements such as a rug or throw pillows, these prints act as bold neutrals that elevate any room from the ordinary.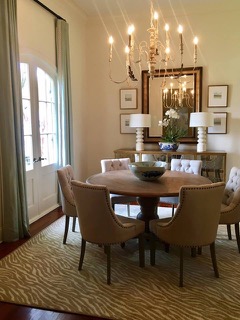 "Whether you're using these classic patterns in traditional colors or the recolored versions in a more updated space, both add another textural layer to your room," says Landry.
For Landry, the key is consistency. Avoid overloading a space and instead opt for one specific print to incorporate. Make sure to choose a version of the print that works with the room's overall color scheme to ensure the coexistence of the elements in your space. A space looks complete when pieces complement one another, rather than competing for attention.
Landry notes that when these animal-inspired elements are incorporated tastefully, the look has the power to stand the test of time. "Skin prints have proven to be timeless in design and can mix with any look."
For more design inspiration from Landry, as well as the rest of the McMillin Interiors team, visit mcmillininteriors.com.