Designer tip: Lisa Gilly on choosing outdoor furniture
Thanks to the blistering heat of Louisiana summers (no balmy breezes here!), its residents know how to appreciate a good slice of shade, especially if it makes enjoying the beauty of nature—or even a poolside barbecue—more bearable.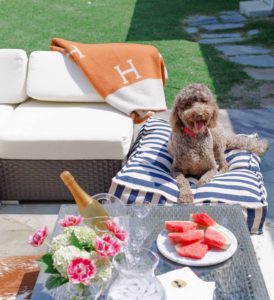 "Outdoor porch and patio spaces have become an integral part of home design in recent years," says LD Linens & Décor owner Lisa Gilly. "While there has been a big trend toward home décor made for these outside spaces, finding appropriate furniture and especially fabrics that can withstand the heat and humidity of south Louisiana can be very difficult."
But Gilly isn't new to the patio design game.
"Sunbrella fabric has been around for a long time and continues to be an industry favorite," she says of the fade-resistant, water-repellant, easy-to-clean textiles. "I would suggest buying outdoor furniture that is neutral in color, and then adding a pop of color with outdoor pillows and rugs."
As always, practicality is key.
"The key to designing with outdoor fabrics is to consider how easily they can be cleaned. Dash & Albert has a great, classic, collection of outdoor rugs, poofs and pillows, and all can be sprayed with a water hose to clean. That is the beauty of their line. They also have a pet-friendly line that allows you to relax and enjoy your pooch at the same time. Their rugs are also a fantastic option for covered porches."
To learn more about Lisa Gilly and LD Linens & Décor, check out ldlinensanddecor.com.