Designer tip: Kristina Petit talks new tones for kitchen cabinetry
When it comes to refreshing and rejuvenating a space, one of the simplest solutions comes with a fresh coat of paint. With a seemingly unending range of colors to choose from, painting cabinets—arguably the standout feature of any kitchen—can seem overwhelming, so to get some insight on picking the perfect colors for cabinetry, we spoke with Kristina Petit of Kristina's Collective Interiors for her expertise.
Though many still love the look of a classic wooden cabinet, their painted counterparts are still rising in popularity, and there is likewise a rise in theories on which color takes the crown.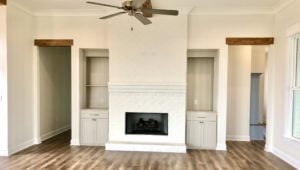 "White was the standard for quite a while, across everything. The all-white kitchen reigned supreme," says Petit. "However, we've turned a corner from this look in the past few years. People are using more bold, dramatic colors than they have in the past, including on cabinets. That can sound scary at first, but I want you to picture warm, earthy tones."
The light, traditional cabinets lend themselves to traditional homes. Yet the timelessness of warm earth tones can spruce up any area while maintaining a classic feel.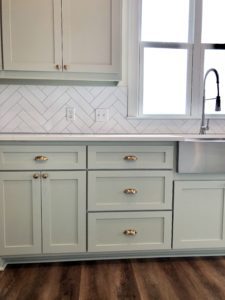 "Blues are still very popular, but green has come to the forefront as well," Petit explains. "Anything from a jewel tone to a deep forest green is popular, and even a muted earthy green would make a great choice right now. The key to picking a color that's both current and easy to live with is paying attention to tone. You want to pick a color with a warm undertone. Again, think earthy, with brown and beige undertones, not the cool ones of the past."
Nature-esque tones are perfect for making a home feel cozy and comforting, Petit says.
"A few of my favorites are Sherwin-Williams' 'Contented,' the one shown in this pictured construction kitchen, and Sherwin-Williams' 'Retreat' for a darker forest green option," Petit says. "I also love 'Revere Pewter' by Benjamin Moore, a warm beige for cabinetry, as shown in the new build's pictured living room. But as always, gather inspiration to see what you're drawn to, and pull the commonalities to determine what you love and stay true to yourself. The most beautiful home is a home authentic to the people living in it!"