Designer tip: Kathy Simoneaux on the rustic charm of shiplap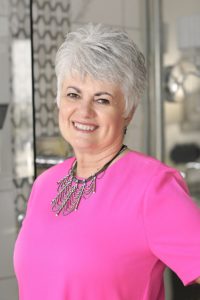 "Shiplap. It's a word very few outside of the design world knew about until Joanna Gaines' Fixer Upper hit the airwaves," says Kathy Crifasi Simoneaux, CAPS, owner of and designer for Acadian House Kitchen + Bath Design. "The HGTV show has popularized the Texas designer's style: a rustic yet elegant mixture of new and old textures. Fans of the show know that Joanna loves to incorporate shiplap into almost every one of her designs."
But those unfamiliar with the term still ask: what is shiplap, anyway?
"It is a paneling, traditionally made from pine, and is often used for the construction of rustic outhouse buildings such as barns or sheds because of its low cost," says Simoneaux. "The boards are often between 3 to 10 inches wide and are laid horizontally. It is made of very affordable lumber because of the nature of where it is usually found—outdoors."
These days, she says, Acadian House designers incorporate shiplap more and more into their projects, since it's a simple, versatile way to add architectural detail to a space. Whether working with a painted or stained finish, either can achieve a rustic, traditional or even modern feel.
"The texture and uniqueness is what drives its popularity for uses on walls, ceilings and cabinetry," she says. "The grooved edges of the shiplap boards add just enough interest to the walls without drawing the eye away from the overall design of the space."
Still, says Simoneaux, most homes in Louisiana don't have any shiplap hiding under their interior sheetrock walls like so many of the Waco homes on Fixer Upper.
"But the same look can easily be achieved by affixing boards to dry wall," she says. "Shiplap can be used from mudrooms to master bathrooms, and you can find it from floor to ceiling." 
To learn more about Simoneaux and Acadian Kitchen + Bath Design, check out acadianhousekitchenbath.com.