Designer tip: Dan Bergeron on the importance of scale
While homes with low ceilings pose design challenges in the modern era of open floor plans and spacious dwellings, very high ceilings may come with some setbacks of their own. One might think that all that extra space might require more covering artwork or decor, but according to Dan Bergeron of McMillin Interiors, homeowners might benefit from a more subtle approach.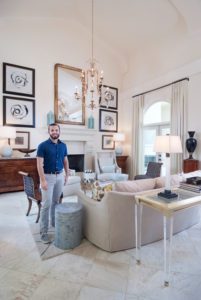 "You don't necessarily need to fill every inch of wall with floor-to-ceiling artwork and mirrors," he says. "The key to the overall design is scale. In rooms with ceiling heights over 12 feet tall, for example, furniture such as sofas, chairs, chests and tables should be taller than average to feel proportional in the space. Don't be afraid to go big with your lamps, mirrors, artwork and draperies! For this particular room [pictured above], I chose lounge chairs that were 4 feet tall to balance the scale of the fireplace, a 5-foot-tall gilded iron and crystal chandelier, and custom black and white abstract paintings, each over 3 square feet, to fit proportionally into the vaulted living room. These few pieces, mixed in with the many other curated selections, allow this otherwise grand space to feel cozy and welcoming."
To learn more about Bergeron and his designs, visit mcmillininteriors.com.