Designer Tip: Crushing on neon with Alli Sims
Bringing all the fun of party design to her home, Alli Sims of Alli Sims Weddings and Events gushes with inRegister on her newest design crush–neon signs. "I have been loving neon for a while now," she says. "Many artists are selling their own works, but the best part is that you can make a custom one to say whatever you want!"
Sims says she loves the opportunities for bright expression that this eccentric decor offers. "You can display your favorite lyrics, your favorite phrase, or your favorite shapes," she says. "It looks amazing in a living room, adds personality to a closet, and of course I love to use it as a bar backdrop when I design a wedding."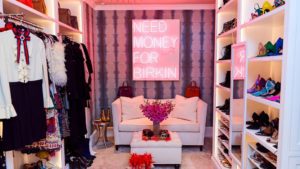 At the moment, she is obsessed with Beau Dunn, whose work is pictured above. A Los Angeles artist famed for her statement pieces used in the homes of the Kardashians, Dunn brings fun phrases to her neon work to create masterpieces that speak to the vibrant personalities of those who choose to display her pieces around their homes. Sims says she is eagerly awaiting a piece she just ordered for her living room.
"Add a little light to your life," she says. "And make it bright."
For more of Alli Sims' expertise, check out this article from the inRegister archives, or visit her website here.