Designer tip: Coffee table creativity with Shannon Mahon
This article originally appeared in an August 2018 edition of the [email protected] newsletter.
---
Over the years, the coffee table has gone from involuntary storage in the living room for every miscellaneous item in your home, to a room's focal point. Designers are shifting focus and using their eye for styling to create the perfect living room "centerpiece." However, there is a method to the madness. Finding the right decor for your coffee table is crucial to keeping it balanced and chic. We sat down with Shannon Mahon, owner of Mint and Shannon Mahon Interiors, to learn how this local talent is turning the (coffee) tables.
---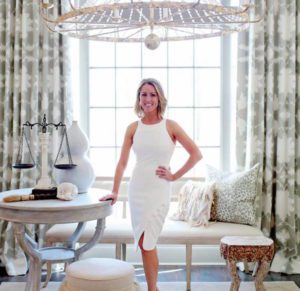 Solid Start
"Stacking a few large books is a great start," says Mahon. "We love using fashion designer hardback books like Chanel, Valentino and Tom Ford."
Adding a few large hardback books is a great way to create a coffee table base. Feel free to make it personal–if books about travel or photography are more your style, use those instead.
Something Fresh
"Every table needs a pretty plant or some flowers," says Mahon. "Some of our favorites are orchids and succulents. These can be arranged in a fabulous pot or vase!"
Placing a pot of greenery on your coffee table is a great way to add a pop of life. Fresh plants and cute succulents add character to your coffee table and make the space feel a little more luxurious.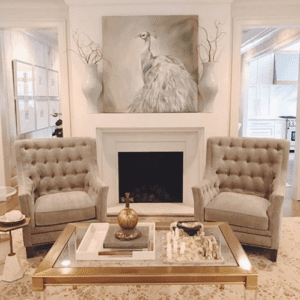 Hold It Together
"I often love to use a lucite, marble and brass tray," says Mahon. "Mixing textures helps to create a unique and beautiful space."
Instead of just placing each item onto the coffee table, choose a mixed-metal tray to create a safe space to hold your decor and keep everything organized. Using trays to hold items keeps the table balanced and decluttered.
Something Vertical
Creating dimension is another requirement for styling the perfect coffee table. Finding a "vertical" piece such as a vase or a statue is a great way to make everything seamless while adding height, notes Mahon. Vertical pieces add height and look great stacked on top of those hardcover books.
Odd Objects
"This one is always my favorite," says Mahon. "I love adding a brass sculptural object or an oversized crystal. This object can often be placed on top of your stack of books, too!"
Throwing in a random object can spice up the table and speak to your personality. It's important to stay true to your personality through the items that you choose. Let your coffee table do all the talking!
---
To learn more about Shannon Mahon Interiors, scroll through Mahon's Instagram here or see her design expertise at Mint.