Designer tip: Carrie Griffin on first impressions
Will Rogers once said, "You never get a second chance to make a first impression." Whether you're hosting a dinner party with friends, welcoming family for the holidays, or even letting the mailman in for a glass of water, what guests see when they first step into your home can say a lot about you.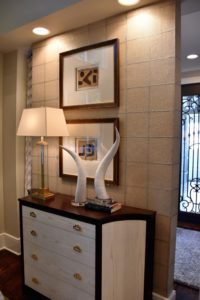 Interior designer Carrie Griffin of Carrie Griffin Design shares some secrets to sending the perfect message to visitors crossing your threshold. "A foyer or entryway is such a good place to do something fun," she says. "It is a place you can really make a statement and set the tone for the rest of your home. It should be welcoming and show off a bit of personality, as well as being functional."
Griffin explains that one of the best ways to add character to your home's entryway is to add wallpaper. "You can add a punch of color, pattern or a neutral texture," she says. "Usually in an entryway we are not committing to a large space, or one that you spend a lot of time in, so it's easier to take a risk."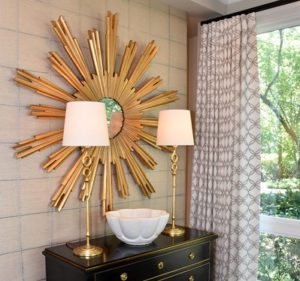 Despite common criticism of wallpaper these days, Griffin reminds us, "This is not my grandma's wallpaper!" When used tastefully, it can create interest and set a desired tone to your room. "During the upcoming holidays, you will have a beautiful backdrop to add some simple seasonal greenery," she says. "Take a risk, just pick something you love, and go with it! It will make a great first impression."
To complement an adorned wall, Griffin suggests playing with textures and patterns by using draperies and rugs. "Use a striking chest for storage and as a place for a bowl or box to drop things when you come in the door," she adds. "Last, add some beautiful lamps for warm lighting and a fun mirror to reflect it."
To learn more about Griffin and her designs, visit her website.