Designer tip: Anne McCanless on outdoor space planning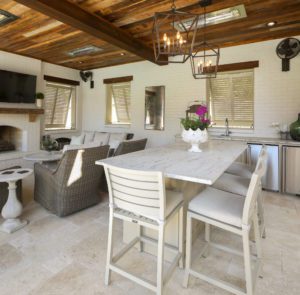 If you can't stand the heat, get out of the outdoor kitchen. That's the motto of more and more savvy homeowners who are adding distinctive cooking and entertaining spaces to their backyards. Thanks to carefully planned layouts, it's possible to escape from all the smoke and sizzling temps even while enjoying the outdoors and savoring a great grilled meal with guests.
"I'm seeing a growing number of people choosing to separate their outdoor grilling areas from their outdoor living and entertaining areas," says interior designer Anne McCanless, who was responsible for the style of the outdoor retreat shown here. "That way, the smoke is not a problem, but people are still close enough to mingle and relax."
Here, McCanless isolated the grilling and cooking space, which includes both a gas grill and a charcoal smoker, along with a separate side burner. This area is strategically positioned just outside the kitchen door, so bringing food in and out is as convenient as possible. Not far away from this outdoor "room," a completely separate entertaining and living area features comfortable upholstered seating, a fireplace, a granite-topped island and even a sink for more functionality.
For more on this expansive outdoor space, read our article from the August issue of inRegister.