Designer tip: Allyson Hicks on decorating with a theme color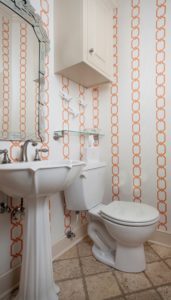 Adding color with confidence can be an intimidating proposition, says local design consultant Allyson Hicks. Instead of whipping out a color wheel for every last piece of furniture or decor, she suggests trying to choose one strong color to flow throughout the home, while maintaining a neutral palette for  paint colors and flooring.
"By using one bold color such as coral, cobalt blue or emerald green on the majority of your accent pieces, you are able to create a unique look that is definitely not boring," says Hicks. "Being focused on one color from room to room creates not only an instant designer look, but a warmth and natural flow throughout the house. In this home remodel, I was able to incorporate different shades of orange like coral, salmon, tangerine and even peach, against off-white walls and traditional pine floors for a bright, beautiful, unique look."
To learn more about Hicks and her designs, visit ahdesignconsulting.com.