Design redefined: The Guitreau home has evolved after years of fine-tuning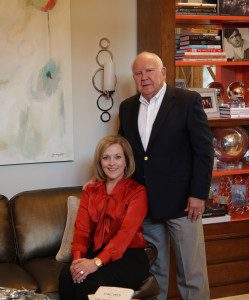 Janice and Billy Guitreau's bags may be often packed, but at the end of a romantic trip to Italy, a jaunt to watch the Tigers play, or a weekend in Las Vegas, there's no place they'd rather be than right here at home.
Who can blame them, when their private quarters capture the best of all of their favorite destinations, along with a lifetime of design wisdom, all under one roof?
After years living in the Country Club of Louisiana, the Guitreaus decided it was time for a larger property with space for family to spread out and party guests to mingle. While they had built before, the new project posed unique challenges.
"Twenty years ago, I couldn't define my personal design style, but I knew I was an architecture buff," says Janice. "Building this home not only required me to define my personal style but to refine it as well."
Taking such a step forward meant first looking back. Like many Louisiana homeowners, Janice had enjoyed her French country phase and made many other style shifts over the years, but ultimately she says that she and Billy wanted to "de-clutter our lives. We wanted a simpler, cleaner look."
There were certainly elements of that European elegance that Janice still loved, but merging that with the couple's new desire for a more streamlined décor would require careful planning. "My desire was for you to be able to walk into our home and not be able to put a design label or decade to it," she says. "We wanted to be able to refresh the design with minimal cost and maximum effect years from now."
A savvy team of pros was invited to help implement Janice's vision. Longtime friend and interior designer Karen Giffel served as confidant and adviser from start to finish. Lou Ravasio of Lawrence Design Services drafted the plans with the Guitreaus' penchant for casual entertaining in mind. And builder Frank Alpan of Alpan Developments took the design from the page to three-dimensional reality.
In selecting the right elements for the home's floor plan and style details, the Guitreaus borrowed ideas from their favorite getaway destinations. "Travel is truly the best education," says Janice. "The reason everyone travels to my beloved Italy time and time again is because of the history, beauty and tradition but also the durability of the sights. … They are pleasing to the eye and enduring because the Italians honored the classic designs of the Romans and Greeks. They appreciated space and proportion."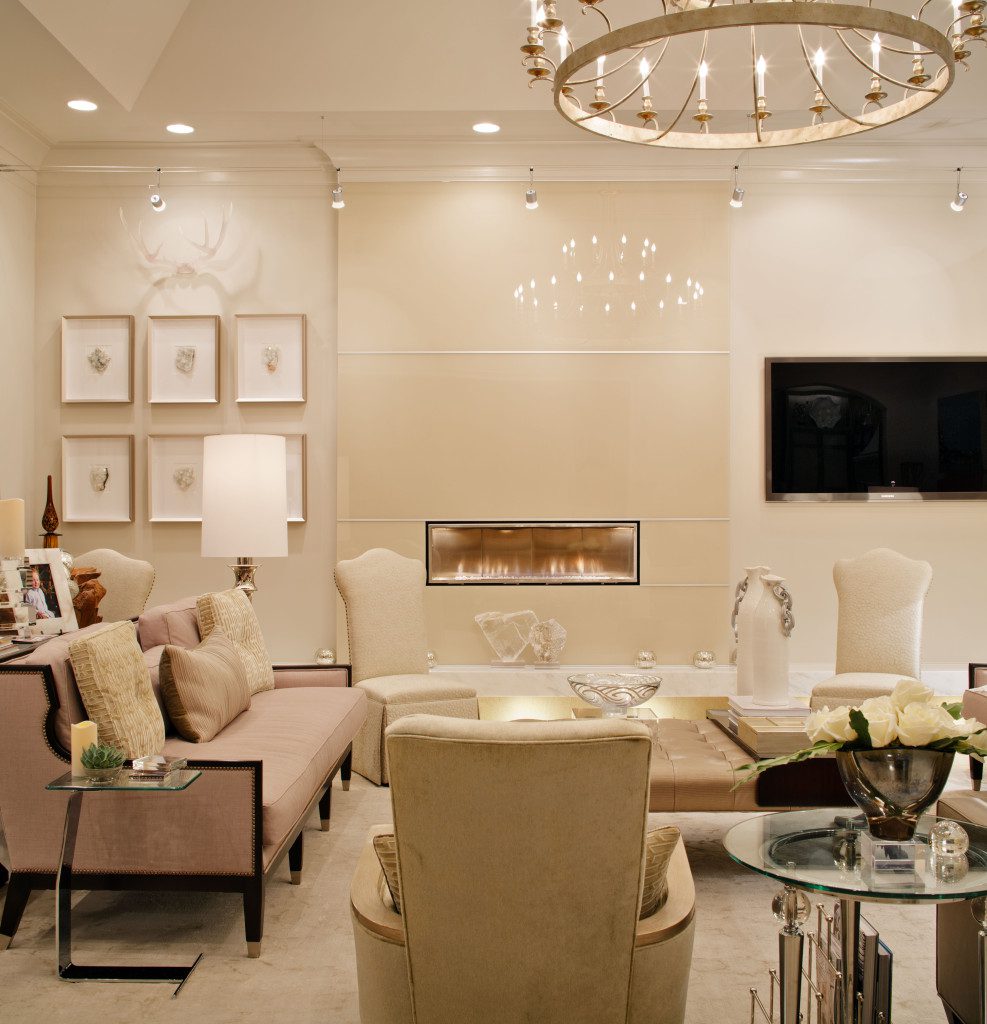 In a more unexpected location, the couple also found inspiration. "Las Vegas is … home to casinos built with unlimited imagination and the budgets to make it a reality," Janice says. "Envision starting with a clean slate. A new casino has a theme, and it is repeatedly echoed throughout the interior and exterior design. It's daring and exciting, but always with the clientele in mind."
From each of these disparate worlds, Janice chose elements to apply to the new home's design scheme. "Italian classic design is seen in our house in relation to space and proportion," she explains. "Vegas design is reflected in the use of materials applied in a different way: backlit onyx, textured stone applied vertically to a wall, a bold touch of color in every room."
Making the house a welcoming place for extended family and friends was also essential in planning its layout and design. "We want our guests to walk in and feel comfortable," Janice says. "Entertaining should be easy and second nature."
To achieve such a relaxed but still sophisticated atmosphere, the Guitreaus built in several party-friendly features, from a kitchen and butler's pantry roomy enough for a catering staff to work their magic to a very open flow between public areas. But perhaps the most notable entertaining accommodation was the inclusion of a large sunroom, which has a second kitchen complete with grill, dining space and cozy seating upholstered in durable fabrics.
"It was built for children, grandchildren, great-grandchildren, nieces and nephews," Janice says. "Our large family has to consider family members from 2 to 76 years old; all can peacefully coexist in this room."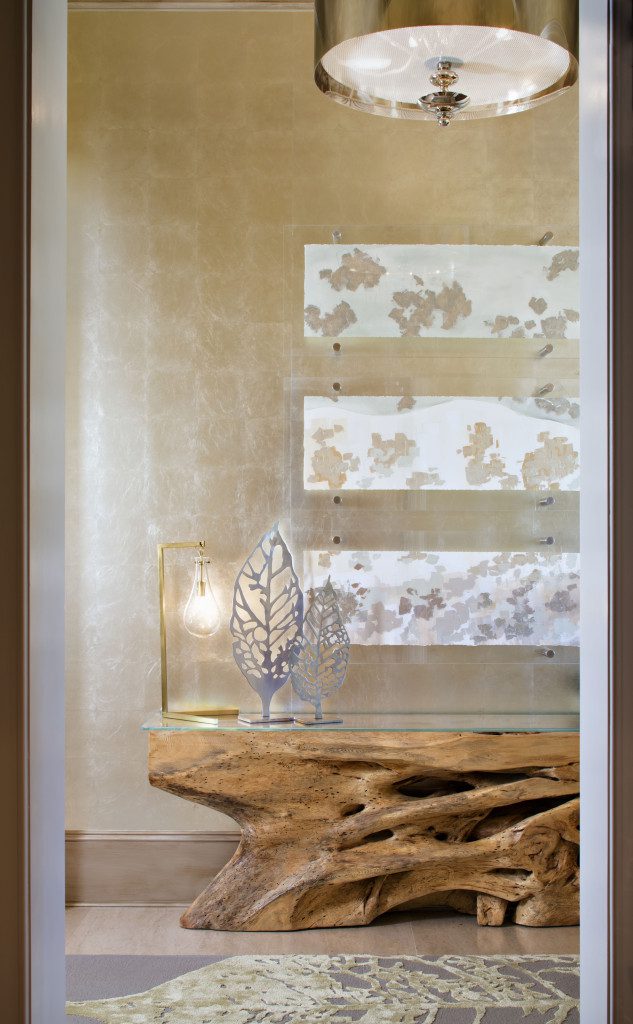 To fill the house with just the right furniture and accents, Janice and Karen kept their bags packed, traveling to Vegas, Chicago, New York and other markets to select unique trimmings for every room. "We shopped hard," says Karen with a laugh. "And we were able to find some really special things that aren't available everywhere."
To find the perfect artwork, they set their focus back on south Louisiana, choosing and commissioning pieces from artists including Lou DeAngelo, Lauren Barksdale Hill, Alexis Walter, Jennifer Poe and Mike Klung.
Working on the design project with a dear friend like Karen made it all the more fun, says Janice. "We could brainstorm for hours on the smallest detail. She continually had to pull me back on course when I would go off on a tangent," Janice says. "She was always true to the design and our personal goals."
Being so passionate about the details—and finding the talent to bring them to life—is what Janice says makes her new house the dream home she never really knew she wanted. "In the Baton Rouge area, there are a wealth of resources and artisans to do what you ask," she says. "I've learned to honor my imagination by asking if it's possible."
Click on the photos in the gallery below for a closer look at this home: