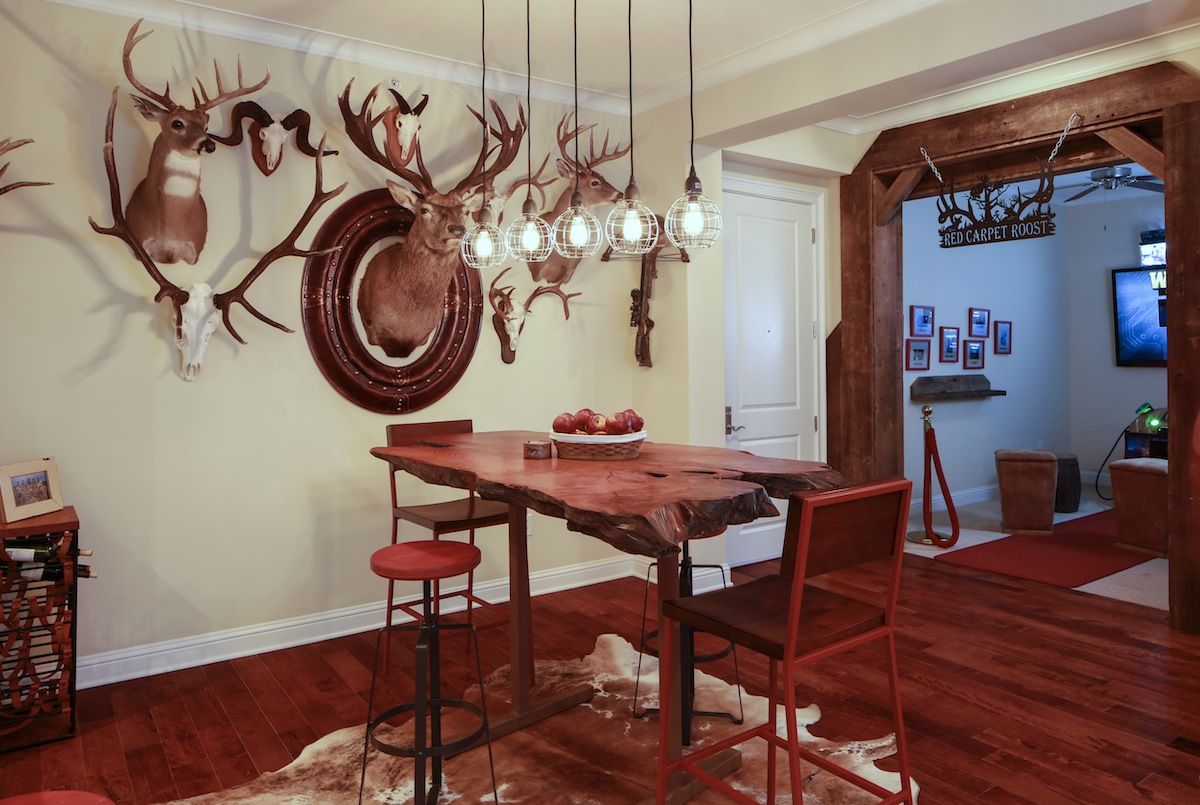 Outdoor TV personality Matt Busbice's home reads like a colorful chronicle of his hunting adventures
If a visitor feels like he's being watched when he's at Matt Busbice's home, it's no wonder. Maybe the eight pairs of eyes that gaze down from the dining room's trophy wall create that sensation. Or perhaps the trail camera mounted inside the living room's London phone booth really is tracking everyone's movements. Just as a hunter must always be alert when he's out in the woods, it's a good idea to keep your eyes open in this unique abode—otherwise, you just might miss something.
Originally from the Lafayette area, Matt moved to Baton Rouge to attend LSU in 2000, and since then he has called the Capital City home—well, as much as a person can have a true home when he spends about 60% of his time traveling. His are not ordinary business trips. Matt's work assignments have him flying out with camera crews to hunt for exotic game in rugged locations from Texas and Wisconsin to Argentina and Australia. It's all part of his life as co-star—with his father and brother—of the popular show Wildgame Nation on the Outdoor Channel.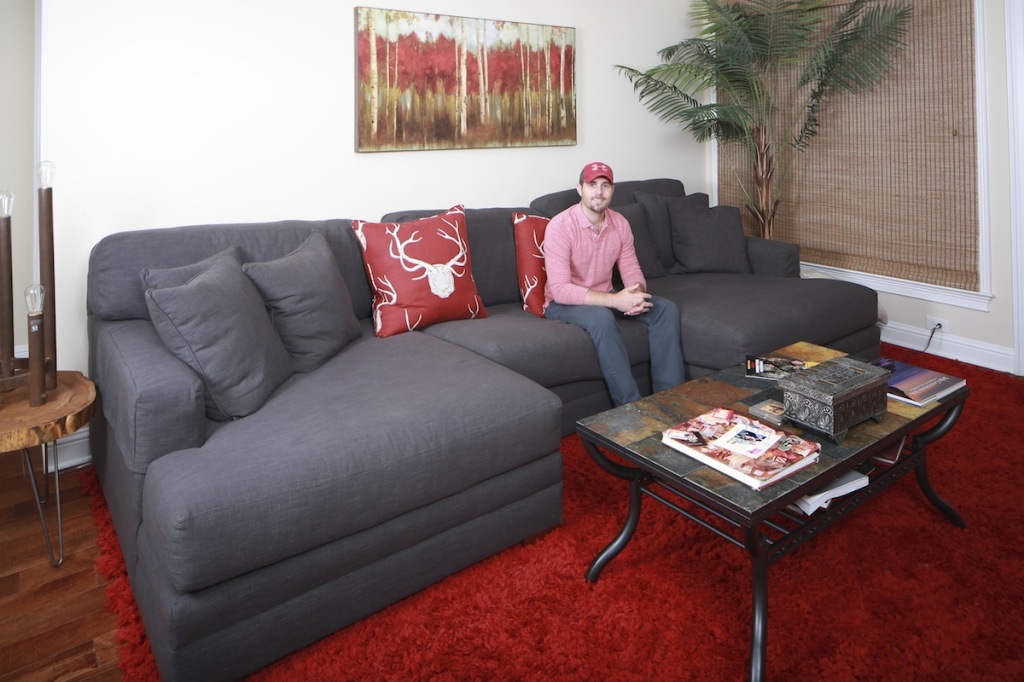 Being on TV and at the same time serving as a top executive in a handful of hunting-related companies means Matt's lifestyle is very different from most south Louisiana men his age. Life changed for Matt and his older brother Ryan in 2002, when they concocted a nutrient-packed deer feed block on Ryan's kitchen stove. "Deer loved it," Matt says of the product, dubbed "Big Buck Crunch," and it wasn't long before Cabela's placed a large wholesale order.
"That's what got us started in this hunting business," Matt explains. Their company, Wildgame Innovations, added related products to their lineup including crossbows, trail cameras, metal detectors and duck calls. In a dozen years, the little family-owned home business has grown into a worldwide conglomerate that grosses more than $150 million per year. "It was a very humble start," he says. "But I say, don't dream big; dream small and let it snowball."
When he's not filming or engaging in other entrepreneurial pursuits, Matt retreats to a quiet condo at The Crescent at University Lake. He was drawn to the complex's luxury amenities; but when he moved in last February, he felt compelled to make a few big changes to suit his offbeat lifestyle. His sister, Sarah Busbice Dickerson, played an important role in designing the condo's interior and searched the Dallas markets to find the right pieces for each area, knowing they would need to make a big impact in the small space. The dining table was an especially difficult prey to nab. "We knew we wanted an organically shaped high-top table," says Matt, "but that wasn't easy to find." After a lengthy search, Sarah discovered a craftsman who made a tall table from a single slice of tree trunk and a rusted-metal base, and she completed the look with painted barstools and cage-style pendant lighting.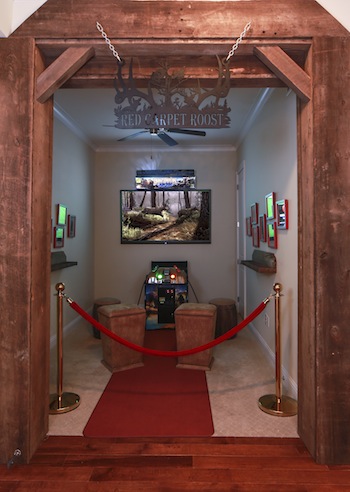 The dining room is also home to one of the condo's most arresting features: a wall adorned with eight imposing wild-game trophies. "At first, I thought I should spread out the mounts all around the condo," Matt says. "But then a visitor suggested putting them all together on one big wall for a bigger impact, and I realized that was the perfect idea. That way, the whole place wouldn't feel like a camp, and I could kind of let the rest of the house be a normal house."
As constructed, the condo came complete with a study near the entrance, but this wasn't exactly what the new homeowner had in mind, either. Matt had the double doors removed and the room's opening reframed with rough-hewn wood for a ranch-style vibe. An Idaho artisan was contracted with to create a custom sign featuring a few of Matt's forest friends, and he lined the walls with photos taken with some notable names. "Over the years doing the hunting show and in the hunting business, we've come in contact with a lot of famous people who like to hunt," Matt says, pointing to pictures with basketball great Scottie Pippen, country singers Blake Shelton and Miranda Lambert, and Si Robertson of Duck Dynasty.
Finally, he moved in a big-screen TV and all the artillery needed to play his favorite video game, "Big Buck Hunter." "This is where my downtime happens," he says of the transformed room. "After I go out with my friends, everyone wants to come back here and play. It's a fun place to finish off the night." But the space and its featured attraction aren't just for the guys. "My grandma and mom went at it for hours," Matt says with a laugh.
The living room features a few distinctive treasures Matt has collected, including a red phone booth that he found online. "I one-clicked that telephone booth on Amazon, and it showed up in my house," he says. On the mantel nearby, he displays a knife that was a gift from the guys at Orange County Choppers. And just beside the fireplace rests an authentic barbershop pole that he discovered in Wyoming.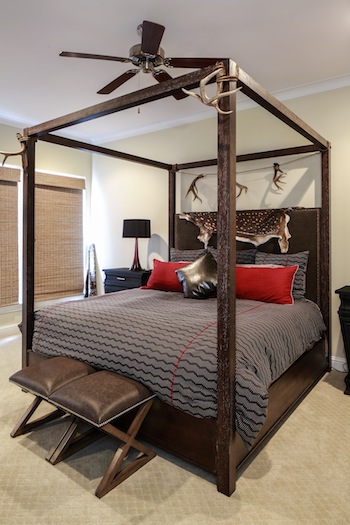 Even though the condo expresses the rugged bachelor lifestyle, Matt admits to knowing his way around the kitchen. His freezer is well-stocked, thanks to his own successes in the field. "I like to cook wild game, especially venison," he says. "If I'm going to cook, it's probably going to be something I killed." He says his favorite meat probably comes from the axis deer, with a taste that's "so clean and pure, it has no gamey flavor." Recently, he made "gourmet sloppy joes" with the meat, which he says were "the most fantastic I've ever had."
Though the 31-year-old's life seems busy now, he says he's only just beginning. Later this year, he says he may add a few more TV shows to his repertoire, and he's in the process of writing a horror movie. The Busbices' company also recently entered into a major merger that Matt and family hope will add to their success.
"It's tough to imagine I've been in business for 12 years," Matt says. "It's luck that we somehow managed to carve a living out of it."