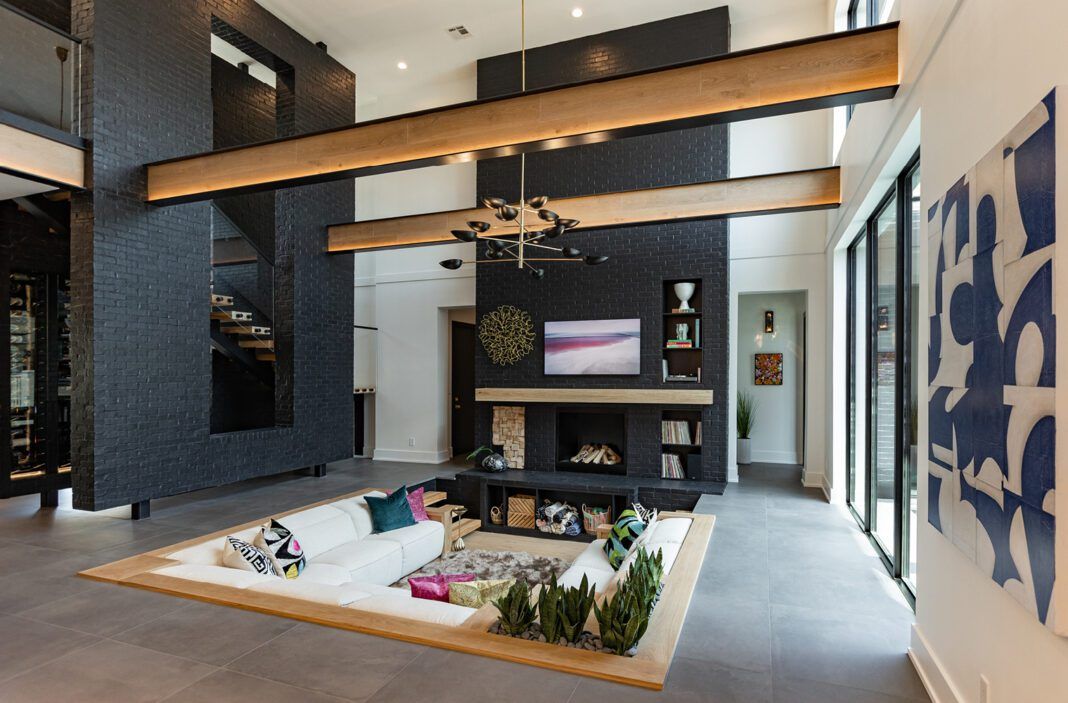 Black is far from basic at a Rouzan home that sleekly links indoors and out
---
The swirling, larger-than-life doodles of German-born street artist Simon Röhlen, better known as KEF!, can be seen all around Baton Rouge, from the Perkins Road Overpass to downtown. But the artist himself was recently spotted posing with one of his creations in an unlikely location: inside a bathtub in Ellen and Shane Dantin's Rouzan home.
The occasion was a party that the couple held in the artist's honor during one of his visits to the Capital City. A KEF! painting holds pride of place in the Dantins' primary bathroom, where it hangs against a deep black Venetian plaster wall above a tub in the same dark shade. As every great party does, this one made its way to the bathroom, where the artist was gracious enough to have a little good clean fun as the homeowners captured a few pics for posterity.
The Dantins have had plenty to celebrate lately, from their son Jack's first birthday to their newly built house capturing the Best Overall Home Award during the Home Builders Association of Greater Baton Rouge's Parade of Homes. The latter was an especially significant achievement since this was the first home built by Shane and his team through his new firm, Dantin Builders, and their first entry into the event.
"It was surprising," Shane reflects on the honor. "As different as the house is, I thought there would be a lot of people who didn't like it as much because it's not traditional. But to win that award was awesome."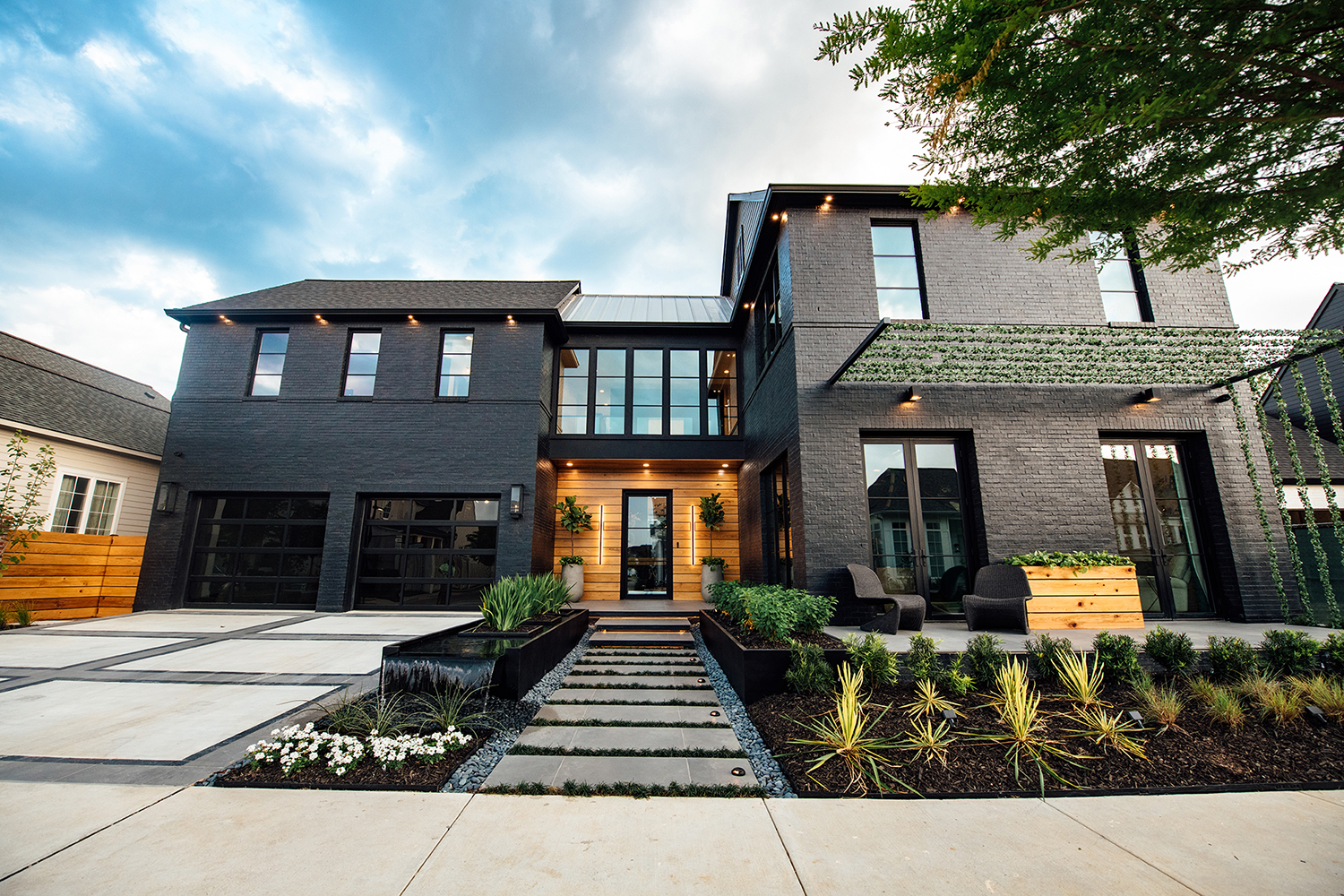 As owner of Pinnacle Exterior Construction, Shane's main focus had previously been on outdoor living spaces. With their experience in the construction business, he and Ellen had a very clear vision when it came to building their own home. "We've always liked the modern look," Shane says, adding that they also wanted to incorporate loft-inspired details like high ceilings, brickwork and big windows. Their list of desired features also included items such as concrete accents and a balcony overlooking the main living area, but when they called upon architect Dwayne Carruth of The Front Door Design Studio, the vision really all boiled down to a single overarching request.
"The first thing that I told him was, 'I really don't want to feel like I'm in Baton Rouge,'" Ellen says. "I said, 'I want to come home from work, I want to walk into my house, and I want to feel like I am just transported somewhere else.'"
It was a fitting concept considering that Shane's focus at Pinnacle has always been on making outdoor spaces that give homeowners the feel of a getaway in their own backyards. "So somewhere along the way, we decided to make this a showhouse," says Shane, "taking the same idea of what we do with Pinnacle and creating a house and an outdoor space where everything flows together, and you walk in and feel like you're on vacation."
With Carruth's initial plans in hand, Shane turned to landscape architect Grant Murphy of Reich Landscape Architecture to create an outside-the-box landscape design that would fit this unique residence. "I asked him to design something special," Shane says.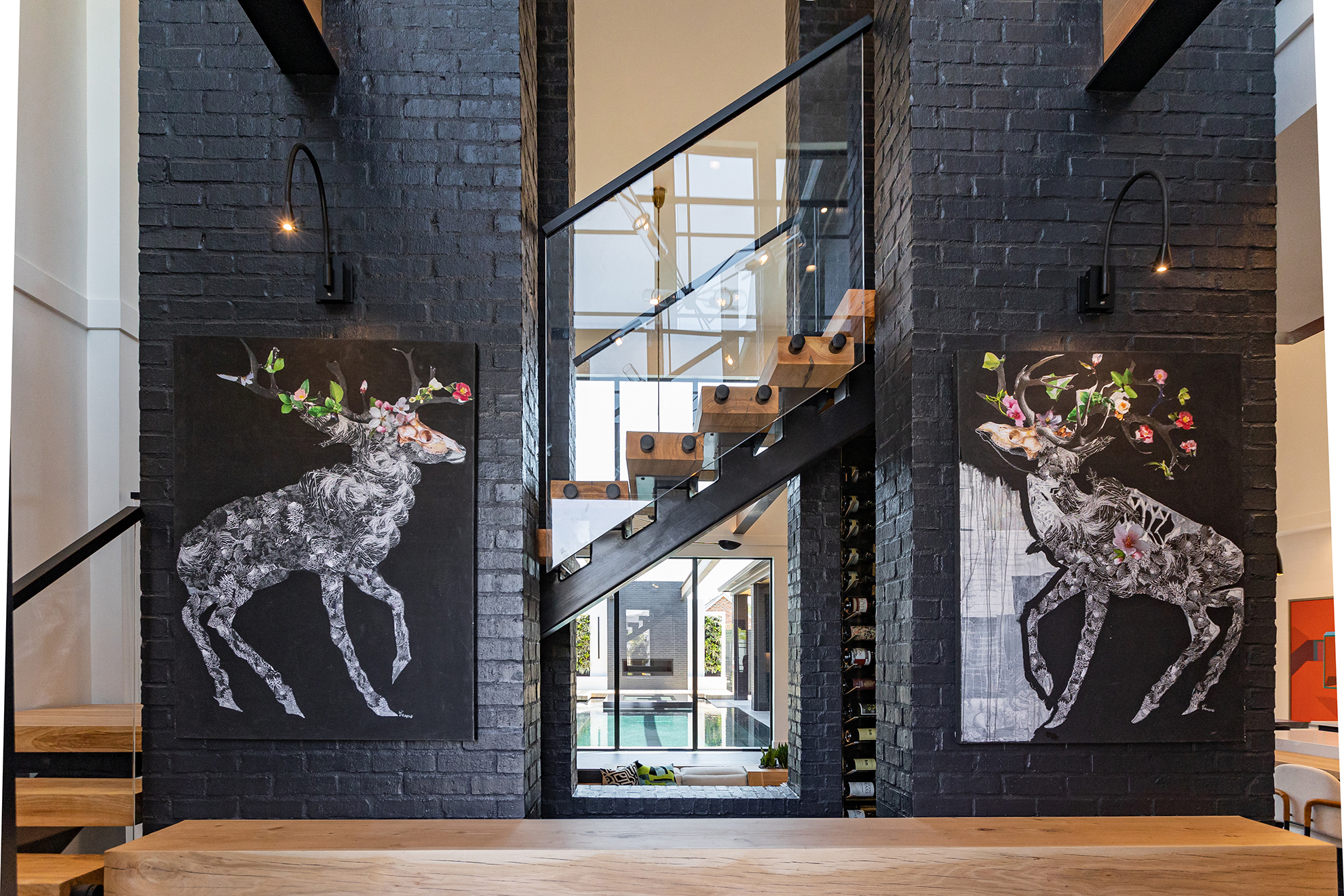 The final major member of the initial design team was interior designer Becky Walker of The Design Studio of Louisiana, whom Shane had connected with previously when Pinnacle brought another Reich design to life in Walker's own yard. "He's very passionate about details and design and craftsmanship," Walker reflects on what forged her bond with Shane. "We developed a relationship through that project, so when he and Ellen started designing their own home, I was excited to be part of it."
Immediately, the synergy between the design team members began paying dividends. Murphy's renderings showed wood-inlayed steel I-beams extending overhead from the back of the property over the pool to the house, and Walker suggested extending the beams right into the house all the way to the front door. It would prove to be one of the home's most distinguishing elements. "We just had to figure out how to build it," Shane says.
Another signature detail in this space is the sunken living room that centers the home's open main living area. "That was super, super important to me," explains Ellen. Though acquaintances were skeptical of how such a unique feature would work with a toddler in the house, the cozy pit currently doubles as a built-in playpen for Jack, who can pull his toys from baskets and bins tucked into nooks in the brick fireplace wall and contentedly play, while his parents sit on the reclining sectional sofas with a clear view out to the pool.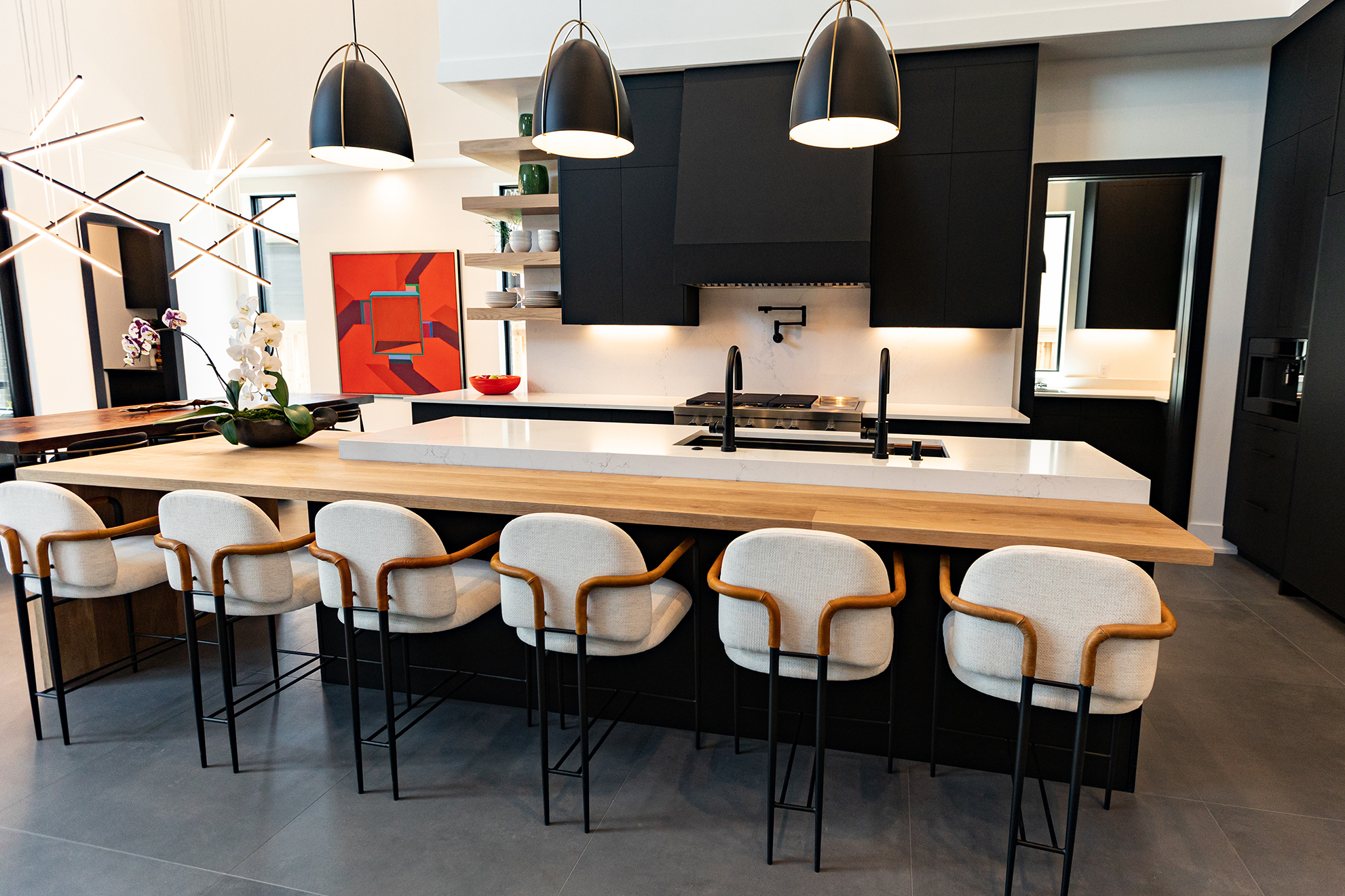 The finished home, which was completed just in time for the Parade of Homes in April, makes a statement before a visitor ever steps inside. It all starts with the color—or absence of color, if you will. "For Ellen, black was a big thing," Shane says. "She didn't want off-black or kind of black or anything like that. She was very adamant about it, even though everyone tried to suggest slightly lighter shades because they were afraid it would feel too dark."
So what paint color did they settle on? "Sherwin Williams' 'Black of Night'—with more black added," Ellen says of the hue that is used both on the exterior and interior. "And what's cool is that the house is still super light and airy. I'm really happy with it."
Against that dark backdrop out front, the landscape design includes an ivy-covered wire trellis and a steel water feature dotted with lilies in planters. "Usually, those are the kinds of details that people put in a backyard," Shane says, "but we felt that curb appeal was such an important consideration here."
In keeping with the outside-in theme, the same dark porcelain tiles lead up the front walkway and right into the house, where they are used on the floors throughout the first story and then again out back around the pool and outdoor living area. "When you're standing at the front door, you can see all the way through the house to the very back, and you can see the beams and all the same materials and details. It's all about having that flow."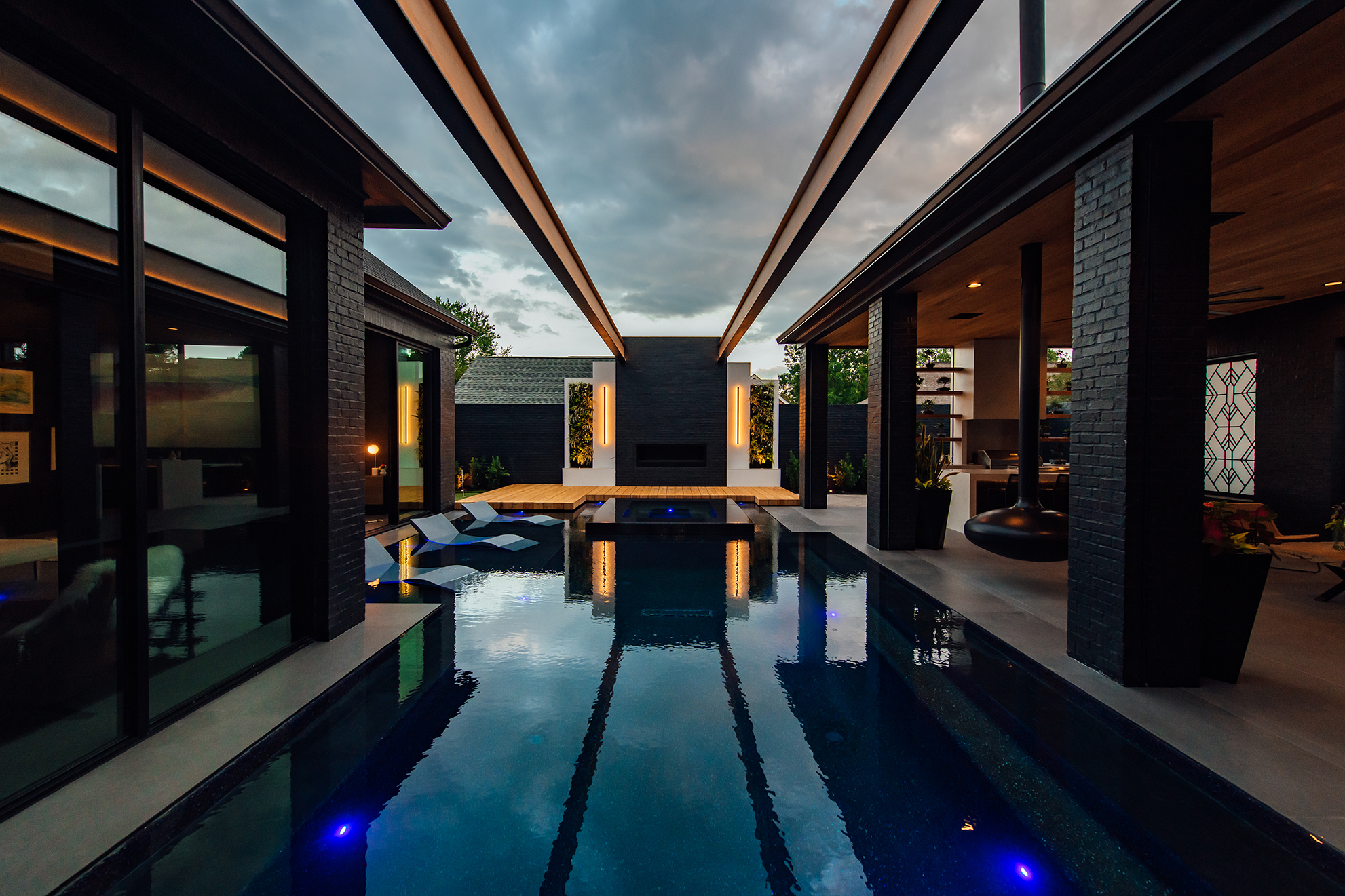 Once inside the front door, the drama steps up a notch further, thanks to a floating black brick wall conceptualized by Walker and two stag paintings by Demond Matsuo that give the first indication of the vital role art plays in this home. "It was really important to us to not just buy art to fill the house," Ellen says. "We wanted to make sure that everything we got meant something to us and was something that we really loved."
The Dantins fulfilled that desire with help from Ann Connelly Fine Art, through which they chose pieces like the stags, the KEF! work in the bathroom, and other high-impact pieces from artists including Cecil Touchon, Megan Buccere and Ida Floreak. These pieces are placed strategically throughout the house, beginning at the foot of the ash staircase—milled and installed by Pinnacle—that floats up behind the foyer's black brick wall.
Ellen's long-awaited sunken living room sits flush against a fireplace wall that mimics the style of the floating brick wall in the foyer. Within the brick column are nooks that now hold decorative items as well as a turntable and records that are a holdover from Shane's former vinyl and music memorabilia business. Ryan Siemann of Pro-Fit Solutions handled the sound and automation throughout the house to help spread the tunes from LPs and beyond throughout the indoor and outdoor areas.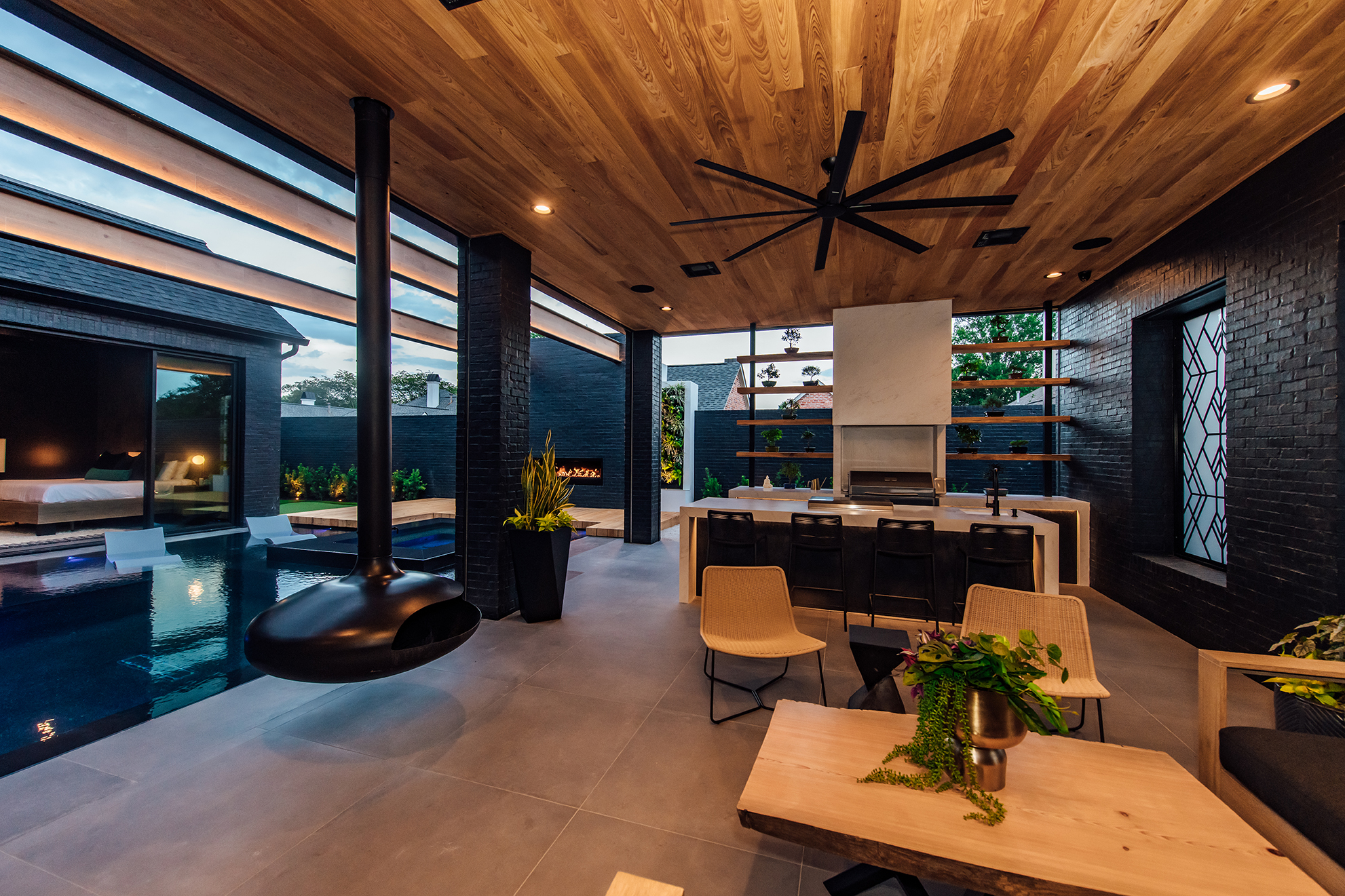 As expected from a homeowner who owns an outdoor construction firm, the living and cooking areas just beyond the back doors are as important as the ones within the walls. Here, with features like a drop-down TV, open shelving for Shane's bonsais, a suspended fireplace and a cypress pool deck, Murphy and Shane sought to create functional spaces that were equally aesthetically pleasing.
And Ellen and Shane have been making the most of their outdoor oasis with what they call "nonstop" entertaining. "It's been nice," says Ellen, adding that in addition to hosting a party for KEF!, they also had a gathering for artist LeCrue Eyebrows, whose painting hangs in Jack's nursery. "Shane really likes to cook, so he's been enjoying the hibachi grill and pizza oven. The outdoor area is definitely one of our favorites."
Inside and out, the finished home is the product of a seamless collaboration between so many experts in their fields, says Walker, who was aided on this project by The Design Studio junior designer Isabel Oatley. "The beauty of design, whether it's exterior or interior or architecture or landscape," she says, "is that the evolution of that design is what creates the magic in the end."
---
See more photos from this home in our gallery below: