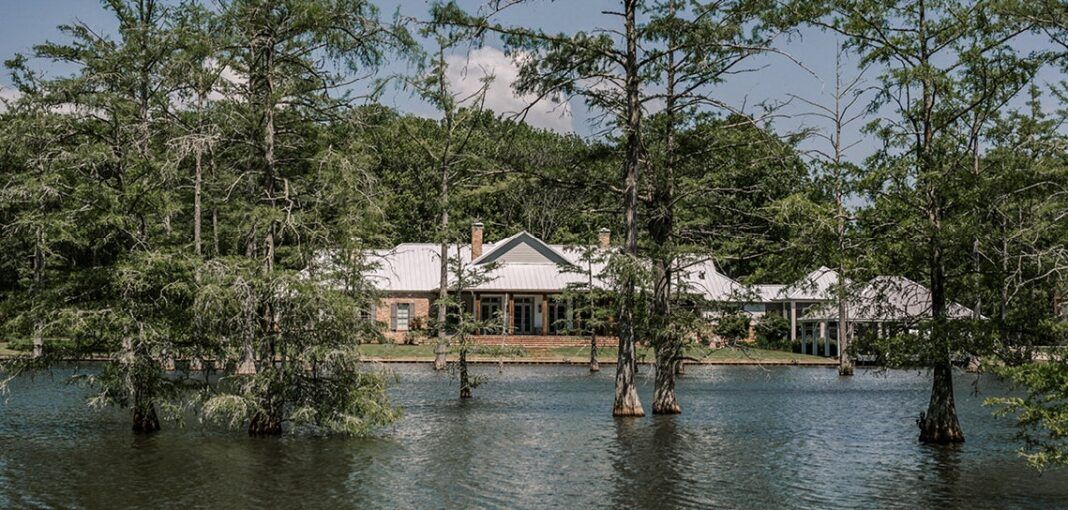 Camp meets couture at a private hunting lodge that serves as an escape from everyday life
---
They say Louisiana's seasons are a little different than in other parts of the country. Instead of the typical spring, summer, fall and winter, we mark the year by Mardi Gras, crawfish, snowball and football seasons—each one filled with its own unique celebrations and camaraderie. But for many of our state's residents, there's a fifth season that's just as important: hunting season. Duck season is ushered in during November just as the lingering summer heat gives way to chilly mornings over fog-shrouded lakes, luring friends to gather for weekends away from the daily grind.
That's just what one Baton Rougean had in mind for his own rural Louisiana retreat north of the Capital City. Allyson Hicks, owner of Allyson Hicks Design Consulting, had worked with this client on previous projects and came on board along with local architect Mark Matthews to steer the out-of-town operation, which would involve the design, construction and outfitting of a private hunting lodge on a large swath of land with a private lake as one of its biggest selling points.
"This was sort of his dream hunting lodge," Hicks says of her client. "He wanted it to coexist as a family retreat as well as a hunting getaway destination he could share with his friends. We planned our design with both of those purposes in mind."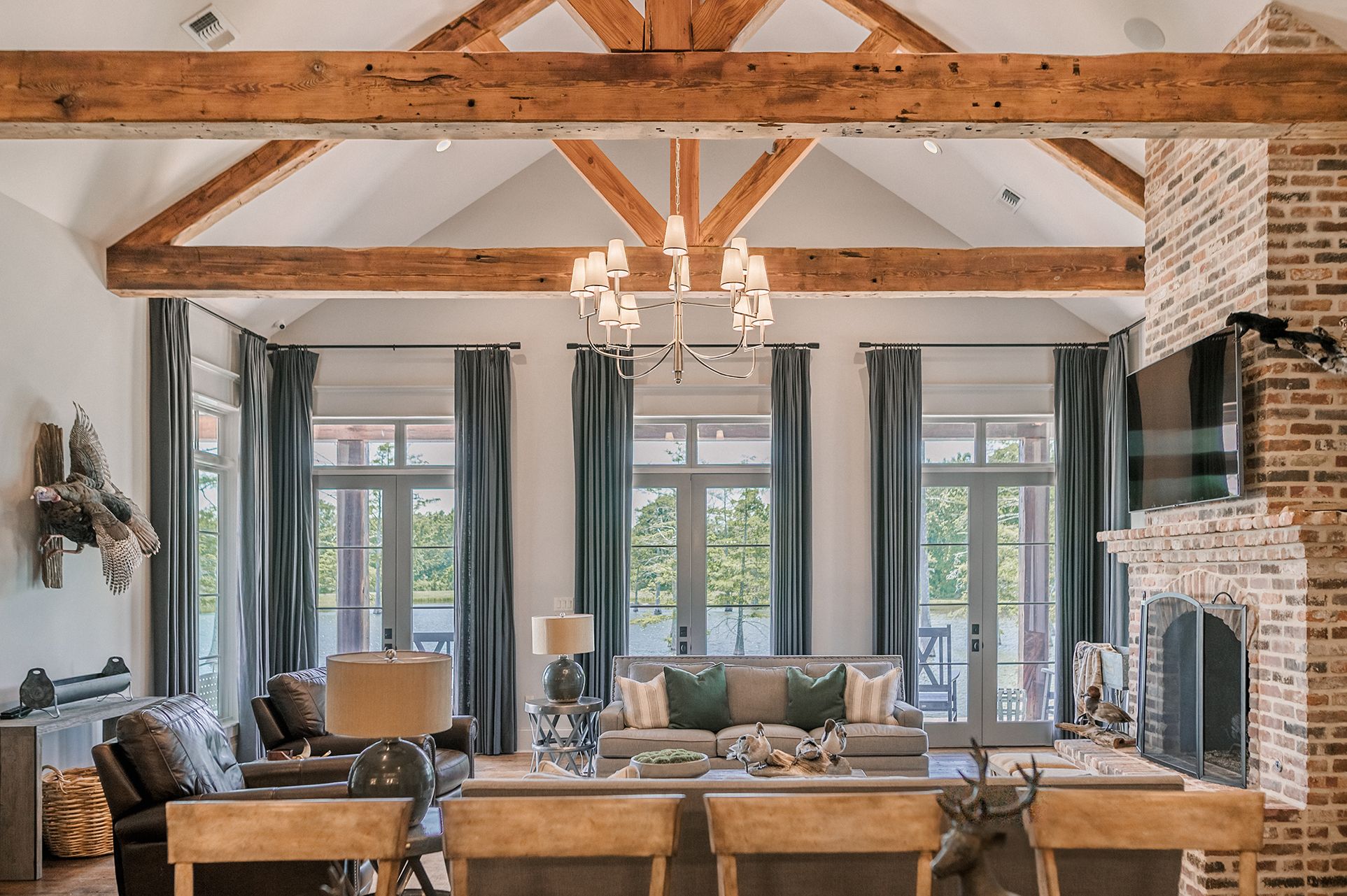 With four guestrooms in addition to a large primary bedroom and a bunkroom with four twin beds, the new home was designed to easily accommodate large groups. "The layout of the lodge is kind of set up to where you could put family and kids on one side and friends and guests on another, if they were all there at the same time," Hicks says. "And I wanted the design of all of the rooms to flow well but still have everything different—not like a hotel where all of the guestrooms are exactly the same. So we really did do a different look in every room."
The residence's public areas are geared toward fun and function, from the game room and the bar to the open living and dining area and the equally well-appointed outdoor kitchen. A large mudroom features private lockable closets for frequent guests to store their gear, while another drop zone is designed for hunters to quickly ditch muddy boots and jackets. Outside, the lakefront area is set for sitting or swinging with deep porches, a putting green, and a firepit surrounded by Adirondack chairs.
Getting the look of the lodge's interiors right was an artistic exercise for Hicks, who was directed to give the rooms a look that would suit its Bayou State setting and its sportsmanlike purpose but without going too far in the direction of a typical casual hunting camp. She also drew inspiration from the homeowner's preferences when it came to colors and finishes.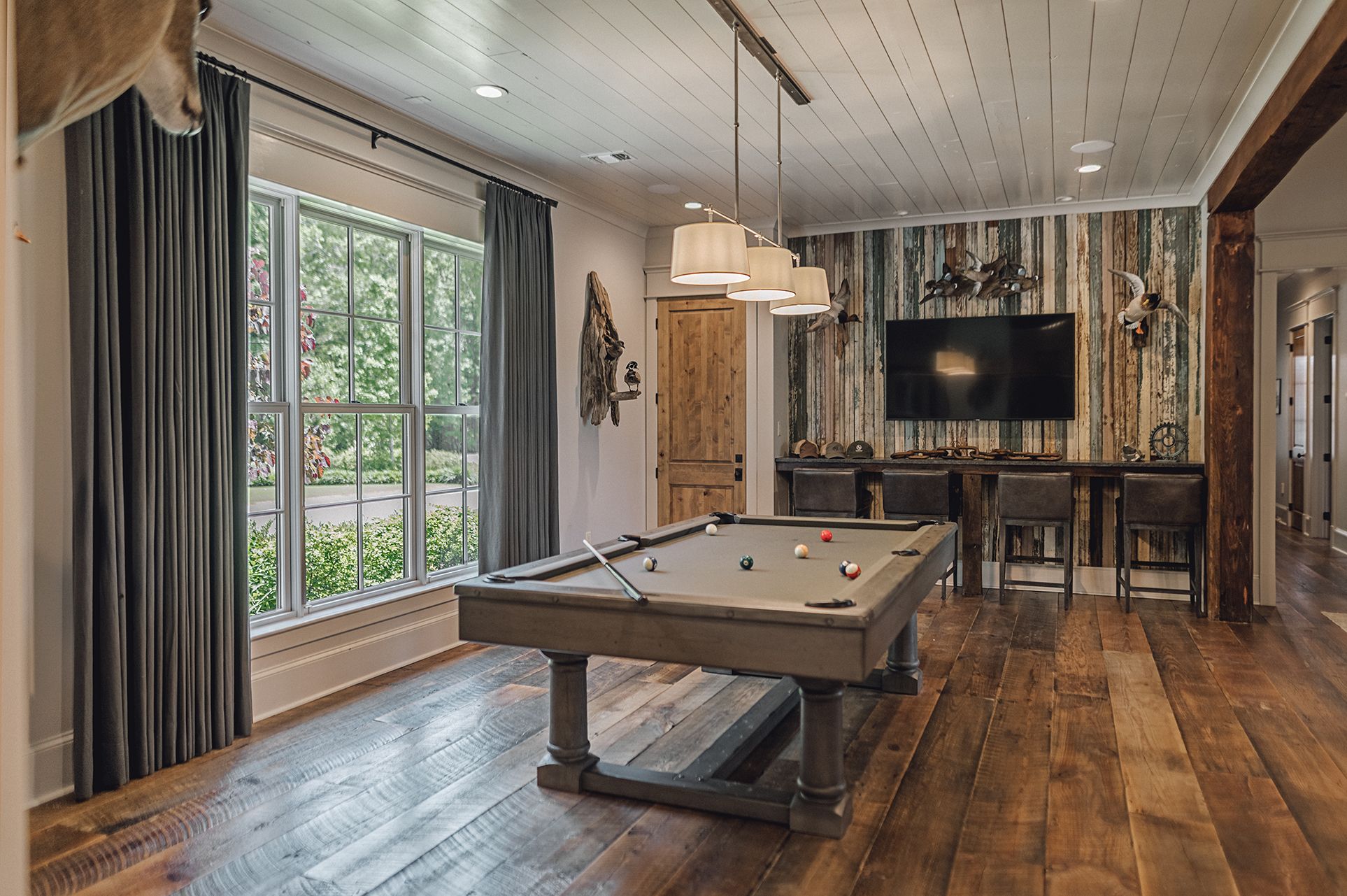 "He loves all things gray—which I don't really hear a lot—and he doesn't like gold," Hicks says, noting that the desired palette informed the use of gray shades on walls and trim, as well as the selection of metal finishes including polished nickel, gunmetal and black iron. "He also wanted it to include materials and elements that are representative of the state of Louisiana—things like the exposed beams and the old brick."
The biggest balancing act came in straddling the line between rustic and clean-lined in the overall feel of the design. "We wanted it to look current but not to be something that would date itself quickly," Hicks says. "Mainly, he wanted it to be as comfortable as possible, while still being timeless. So I mixed in worn, vintage-looking pieces with other pieces that were more streamlined."
One of the most eye-catching motifs Hicks carried throughout the rooms is the use of antique woods. Sourcing pieces from The Corbel in Jackson, she selected weathered shiplap for the ceiling of the outdoor kitchen, antique beadboard for accent walls, and antique doors that complement new stained alder wood doors from T&L Forest Products.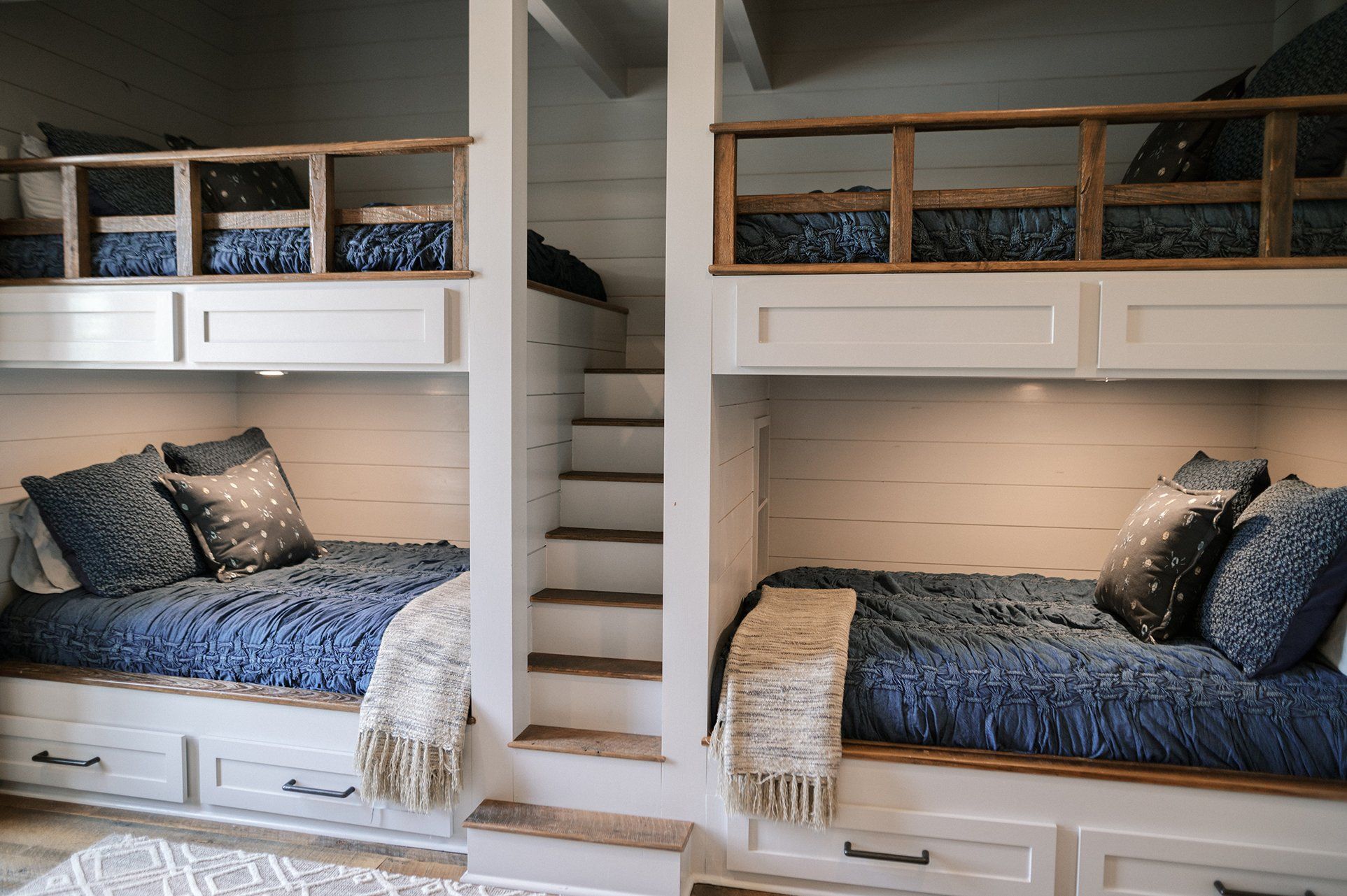 Hicks also embraced the refined-meets-rustic aesthetic by echoing the look of the lodge's galvanized metal roof indoors. She called upon artisan Josh Guillory of Custom Iron by Josh in Lake Charles to create a custom galvanized metal range hood for the kitchen, and she chose light fixtures for the bar area with the same matte metal appearance. The overscale nickel handles on the kitchen's drawers and cabinets were also part of Hicks' intentional approach. "He wanted to stay light and airy in the kitchen, but I was also big on finding the right textures," she says. "So those really, really thick nickel handles are way overscale compared to what I'd do for a normal kitchen, but I needed them here to add a little more masculine vibe. It's the same thing with the backsplash—it's a white marble, but it's got chiseled edges and it's very, very beveled and textured."
Lighting was another important consideration, with Hicks being careful to create a mix of more streamlined fixtures with cruder pieces that more pointedly resonate with the rural setting. For the design consultant, it was all part of the process of making this home a haven both for a family and for friends—no matter the season.
"It was all about making sure I stayed true to the purpose of the project," Hicks says. "I had to find that happy medium."
---
See more from this home in our gallery below: