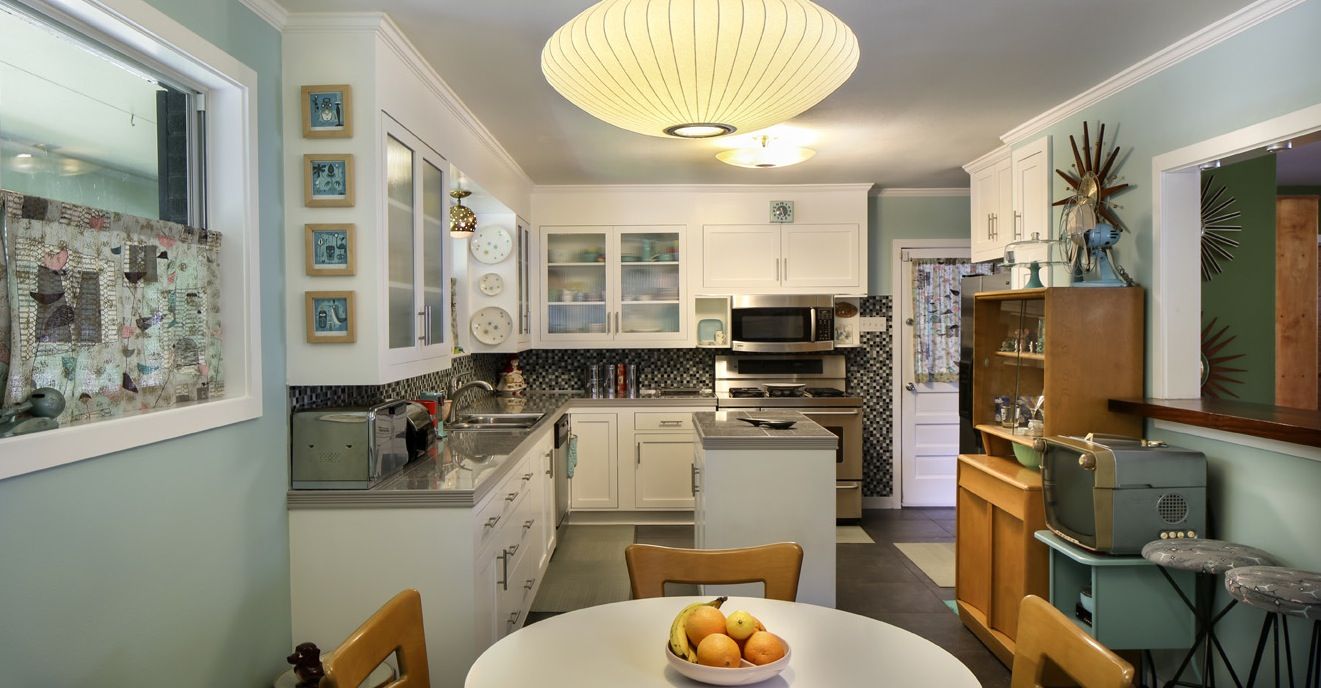 The Beary home is pure midcentury magic
The kitchen sported peach and brown tile, paneling and "three layers of linoleum flooring" when the Bearys moved in, says Kerry. The couple overhauled it while staying true to the home's mid-century vibe. Photos by Melissa Oivanki.
Mad Men may have made every cable TV viewer a fan of midcentury modern design, but Kerry and Jeff Beary were rocking the aesthetic years before it experienced its small-screen encore.
Bold geometric patterns. Sleek furnishings. Statement lighting. Futuristic fixtures. The Bearys love them all, and their home in Broadmoor is a three-dimensional, life-size homage to this colorful period.
The neighborhood itself is a perfect backdrop for Kerry and Jeff's play on the past. Broadmoor was developed in the early 1950s, when Baton Rouge's population was growing rapidly because of the many nearby industrial plants. Many plant employees and their families found their own pieces of the American dream in this subdivision, lured by new homes as well as good schools and stores within walking distance.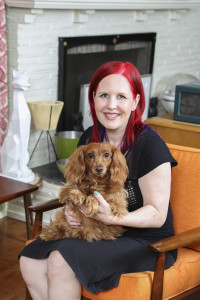 The Bearys weren't even born when the house they now live in was built in 1953. But Kerry, a New York native, and Jeff, who is originally from New Orleans, made this place their own in 2004. Though the overall style of the house suited their architectural tastes, there was much work to be done. The couple wanted to restore the home's original vintage appeal while making it more functional for modern inhabitants.
They took on a hefty DIY kitchen renovation, including adding an island and carving out a pass-through bar between the cooking space and the living room. Midway through the project, Hurricane Gustav hit. "All of our brand-new appliances were in the shed that the tree hit," Kerry says with a wry smile. But even a Category 4 catastrophe could only slow, not stop, their progress. Today, the kitchen could pass for a set from a period movie with its Tulip-style table and George Nelson overhead light fixture.
Avid collectors of midcentury furnishings and accessories, the Bearys have filled every room in their home with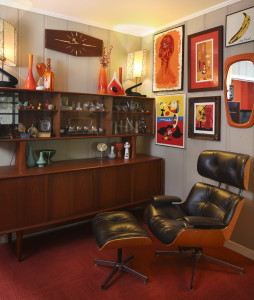 eclectic treasures. "Everything has a story, let me tell you," Kerry says. "Little things I've picked up along the way become reminders of people or places."
There's the sofa table purchased from a woman who walked around "smoking cigarettes and carrying a can of oxygen." A Danish teak cabinet that Kerry says she loves so much that "it will go with me everywhere until I die." The jukebox that Jeff got from his grandfather, a Wurlitzer employee, when he was a child.
And then there's the prized set of Heywood Wakefield furniture in the living room. Kerry first spotted the wheat-colored wood dining table, credenza and cabinet when visiting an elderly neighbor. "She said, 'When they put me in the home, I'll call you and you can have them,'" Kerry recalls. Two years later, she got that call, and the furniture found new life just down the street.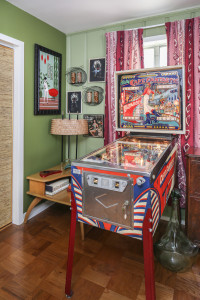 Vintage TVs and other appliances are also part of the décor, but they aren't just for looks. "Jeff can fix anything," Kerry proclaims, and he has proved it by converting a 1950s TV to pick up cable, rewiring old lamps, and getting clocks ticking and pinball machines clicking again.
Kerry and Jeff have built their collections at estate sales and flea markets, antiques shops and vintage dealers they discover on their travels. For four years, they racked up at the self-proclaimed "World's Longest Yard Sale," coming home with so many purchases they had to tie some to the car roof.
For passionate collectors like the Bearys, the hunt never ends, and so the decorating is truly never done. "I try to use everything we have," Kerry says. "I rotate things, not because I get tired of them but because I miss things. I can't have it all out because then I'd have to dust it all."
Some of the treasures that aren't a part of the couple's everyday home décor can be found at Kerry's record store, the Atomic Pop Shop. Their enthusiasm for vintage vinyl is evident at home, too, in a bedroom converted to what Kerry calls "Jeff's listening room." Here, he can pull albums from an alphabetized inventory and turn up the volume on a pair of huge old auditorium speakers. "The sound is—whoo!—amazing," Kerry attests.
On the walls throughout the house, vintage art shares space with Kerry's own creations. Like their other collections, this one comes from the heart.
"We are the people who do not buy art to match our sofa," she says. "We buy it because we love it."
Click on the photos in the gallery below for a closer look at this retro pad: