5 trendy lights for brightening up the new year
Over the past two years, our homes have become our dominant environments—the base camps where we organize our days, write out our goals and plan for the future. And with the new year still fresh on our calendars, why not strive to make our homes as bright as possible? We reached out to Erin DeBosier of SPACES By Erin DeBosier to help us with this task.
Keep on reading to see her top five lighting picks for making 2022 the brightest year yet.
---
Color-pop table lamps (above): Of this window-lit billiards room, DeBosier says, "The paprika lamps were the final touch, pulling in the wood floor color, which was also the same color in the pinstripes of the men's suit fabric I used on the curtains." Not only do the lamps add a pop of warm color that complements the blue of the billiards table, but the symmetry the pair provides is also pleasing to the eye.
---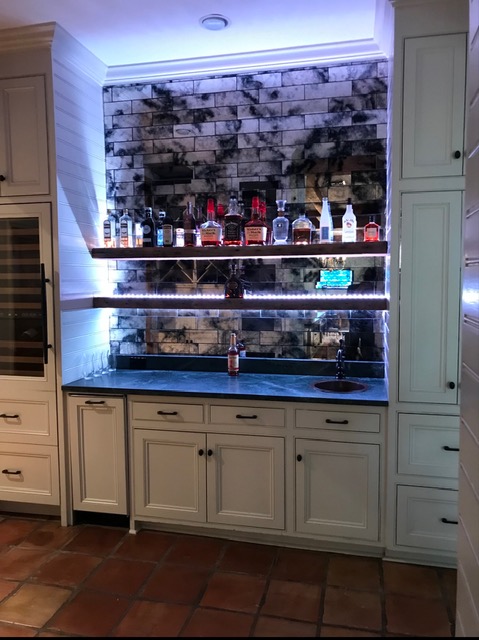 LED strip lighting: LED lighting is all the rage these days, emitting a subtle glow instead of the glare of more obvious fixtures. Some put them behind TVs to add some ambiance for movie night, while others light them up for colorful parties. But DeBosier has some unique ideas of her own.
"For this bar niche in an A. Hayes Town-style house, after adding the antique mirrored backsplash and the antique pine beams, I used LED strip lighting for top shelf reflection and mood lighting, which changes with the click of a remote! Now that's trendy!"
---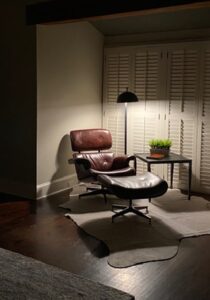 Sleek and simple floor lamps: While floor lamps have been around for years and most would consider them traditional, DeBosier says that she incorporated one with a modern twist, proving that "simple" doesn't always equal "boring."
"In this bachelor's primary bedroom window alcove, I created a reading space with an Eames leather lounge chair, a cowhide rug and a simple iron floor lamp," she says. "The lamp plays off the nearby modern iron canopy bed and has an adjustable iron dome that provides downward lighting without emanating it elsewhere, keeping the light right where you need it."
---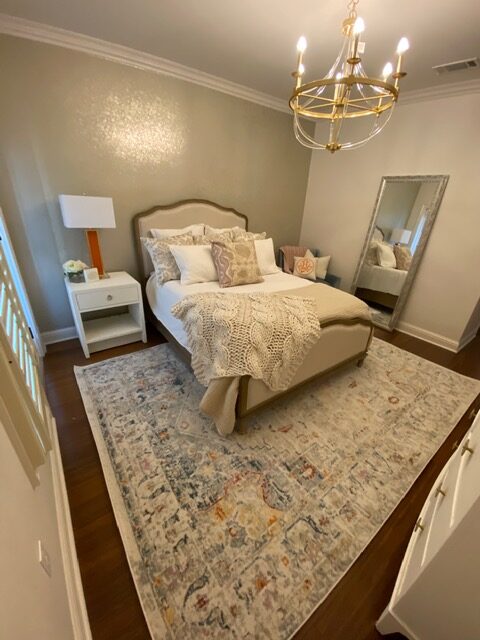 Trendy chandeliers: A chandelier is a big statement piece known for elegance and sophistication. However, it doesn't always need to be traditional; it can be fun and trendy as well. DeBosier designed this room for a returning college student. "She likes a little French style with a touch of modern style," she says, "so I chose this classic shaped chandelier with trendy gold and acrylic materials and paired it with a tall orange table lamp to pull color from our rug and modernize the look of the room."
---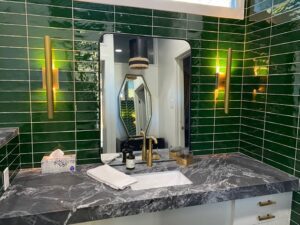 Simple sconces: Much like the pair of table lamps, these wall sconces add a bit of symmetry to their space while also adding color accents that play off of the rest of the décor. "In this remodel, I chose midcentury-modern-style brass sconces to offset the green, white and black. The backlighting on this closed-front-style sconce highlights the green tile wall, but also provides a stylish nightlight for the adjacent bedroom," says DeBosier. "Even though this house is a mid-mod house, I remodeled the bathroom with only a nod to the period, so the sconces I chose are still appropriate for modern trends."
---
For more trends in homes and interiors, follow us on Instagram @inRegister.