10 questions with All Wood Furniture co-owner Doug Duhon
Cypress trees are a large part of Louisiana's landscape, towering over swampy marshes with whispy moss dangling from outstretched branches. While these trees are a defining mark of our landscape, they also provide a warm, rich wood for furnishings. Doug Duhon, co-owner of All Wood Furniture, is a self-made artisan who along with his team crafts a variety of furniture pieces from these local trees–from dining tables to chairs to outdoor swings–and sells them at three locations in Baton Rouge and Lafayette. We sat down with Duhon to learn more about All Wood.
---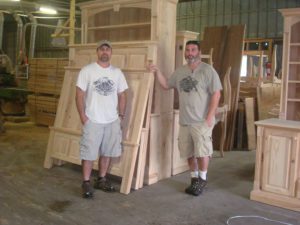 1.What is a typical day like for you and your team? We have two teams–a production team in Carencro and a sales team at each store. Our production team focuses on quality and turnaround. We want to provide the best quality in a timely manner.  Our store team spends the day doing normal retail activities like stocking and pricing, but they prepare for who's going to come through the door. The store can be pretty quiet one minute and then bustling with customers the next. They never know if the next customer will buy a simple 4-foot swing or enough cypress furniture to fill a few rooms of their house.
2.What is your professional background? How did you get into the retail field? My background is in flooring and lumber. While working at the 84 Lumber company, I made a lot of contacts in different fields. I was offered a job at a local furniture company. After a while there I knew I could build better products and market them. The retail store fell into place as I outgrew the shop's front room in Carencro. From there we opened a second store in Lafayette and then one in Baton Rouge.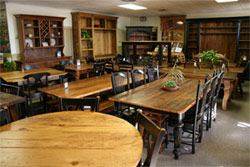 3.What are the first things customers see when they walk through the doors? Most people actually comment on the aroma of the wood before they talk about what they see. Our stores have the fabulous armoa of fresh cypress wood. Sometimes the furniture comes directly out of the shop into the store and still smells like fresh lacquer. The first thing they see when they walk into the store is a sea of cypress furniture. We try to stock the different colors and items that our customers favor.
4.What sets your store apart? We are not like any other furniture store. We do not employ high-pressure furniture sales tactics, and we offer custom versions of just about everything in the store. If someone comes in and loves a certain style of table but they need it in an odd size, we can accommodate them. We have lots of customers who stop by the store several times before making a purchase. Lots of times they may come in with an old worn All Wood Furniture magazine ad showing a piece of furniture they've been wanting for a long time.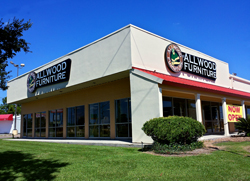 5. What is one thing you think customers should know about your store that they may not be aware of? That we can custom build to their specifications and turn it around in less than eight weeks usually, without them having to wait six months like other custom builders. We have a huge selection of tables, TV stands, hutches, islands, etc., and each one can be build in a custom size and finished in several of our All Wood Furniture finishes or a custom color.
6. How do you keep your store's inventory fresh and up to date? We research furniture weekly and stay up with trends and styles. We are constantly trying new items and colors. The trend for the longest has been antique black chairs, table bottoms and TV stands against a rich wood color. Our coffee-color-finish cypress table tops with antique black bases are absolutely stunning.
7. Can you share a hint about what shoppers will see in your store next season?  We've already been bringing out more colors to market. We recently became a distributor for TWP outdoor stains to complement our outdoor cypress furniture. We're also looking at bringing out hybrid styles like our Mid City Modern with a rustic touch to them. Outdoor living is big, so we will be bringing our arbors and pergolas to the Baton Rouge market in the next few months.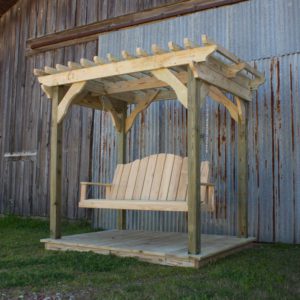 8. What was your reason for opening the store? When did it open, and how has it grown or changed since then? We opened our Baton Rouge store because of the increasing demand for our furniture in the Baton Rouge market. We had two stores in Lafayette and we were getting more and more Baton Rouge traffic. We found a great location off of Airline Highway that had been a furniture store for over 20 years. When we first moved into the location, it was primarily an unfinished furniture store. While we do sell unfinished furniture, the store has transitioned into more of the cypress furniture we are known for and built our brand around.
9. What are a few must-have furniture items right now? Our outdoor furniture is taking off in Baton Rouge right now. Our Adirondack chairs are a very popular item for outdoor living. Our cypress bars are another must-have item. People are spending a lot more time outside entertaining. Our bars make perfect setups for drinks and food. We recently started selling mini pergolas, and they have become a hot item as well.
10. What are some of your best-selling products? As mentioned before, we are known for our handcrafted cypress tables. Our 40-inch by 6-foot coffee-colored French table is one of our best-selling items. People are drawn to the design and curve of the legs and skirt along with our perfectly laid-out tabletop planks and finished with our lacquer finish. People comment that they've seen other tables but none have the refinements and finish that our tables have.