10 questions with Birds of a Feather
While previous generations might have saved up for the shiniest car, the trendiest clothes or the most current of home furnishings, people today have begun to rediscover the value of longevity over luster. Descriptors like "vintage," "antique" or "thrifty" have become trendy buzzwords of their own, a testament to society's shift toward sustainable consumption, but also to an aesthetic return to patterns, textures and colors we once loved in decades past.
For Wendy Womack-Phillips' St. Francisville consignment furniture shop, Birds of a Feather, that multifaceted beauty resides in much more than the eye of the beholder, with each item in her specially designed showroom hailing from a family who loved it first. Since the shop opened its doors in March, business has been booming, so we sat down with Womack-Phillips to learn all we can about her collection of furniture, home goods, garden supplies and more.
---
1. What is a typical day like for you?
My typical day is just helping people facilitate their new home purchase, and sometimes landing a new item in the process! A couple came in the other day to purchase a loveseat, for example, and ended up telling me about a beautiful velvet chair they didn't need anymore. Later, they brought it in for me to sell, which is part of why I love this job so much. Customers and I are always exchanging ideas and always helping each other out.
2. What is your professional background? How did you get into this retail field?
When I was around 28 or 29, I started working in the Dallas Market Center focusing on interiors and clothing, and I had a lot of opportunity to travel. I would go from Palm Beach to Denver to LA to New York—I did that whole racket for 18 years. But during my downtime I discovered a huge antique store in New Orleans and started working with them internationally to help with its buys and consignments. When I moved to this region—I'm a north Louisiana girl—I saw that there was nothing quite like that here. Everything was either a mom-and-pop store with limited selection or a huge Magazine Street emporium where they expect you to have $5,000 to drop on an armoire. I realized we needed something in the middle.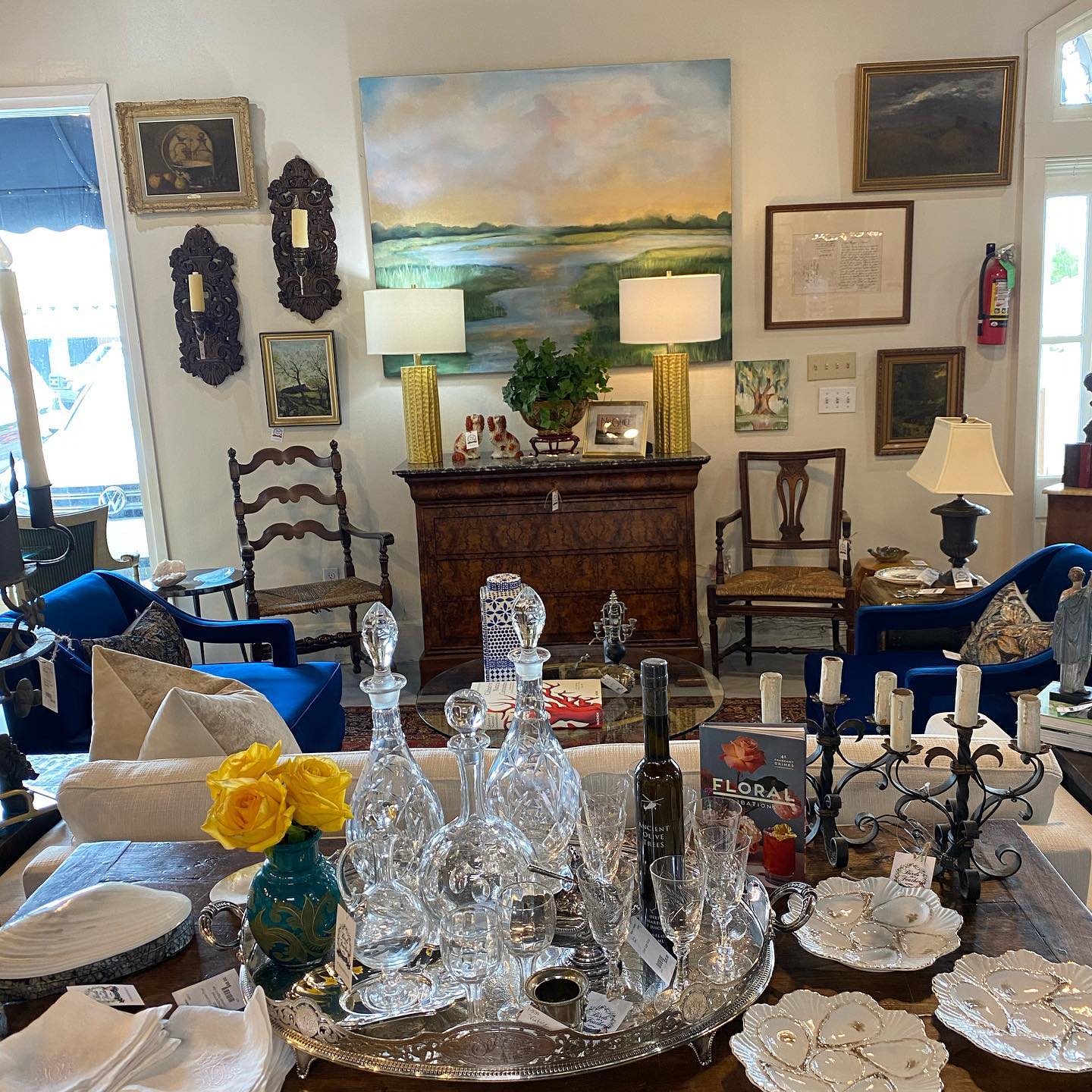 3. What are the first things customers see when they walk through your doors?
I definitely try to create an environment of warmth. Even if someone walks out without having bought anything, I want them to have enjoyed their experience and tell people about it. I always have a candle burning so everything smells nice, and I'm always in a baseball cap there to help you if you need it, without being up in your business—I hate those stores that make you feel like Julia Roberts in Pretty Woman, like you're not really welcome there. There's a French market feel, with chandeliers and bird houses hanging from the ceiling, and I've arranged the furniture into little vignettes, little scenes, so you can get inspired and see how the pieces would actually interact with one another in a room.
4. How does a consignment shop work? 
A lot of people, especially members of an older generation, don't want to sell items themselves on the Internet on places like Facebook Marketplace, and they don't to have to meet with random people they don't know. But I didn't want to do a booth-style store, with booths looking too inconsistent based on whoever was selling what there. This way, I just take a little percentage of their product, I market it on Instagram—I do all the selling part for them. It's a help-me-help-you situation.
5. What sets your store apart?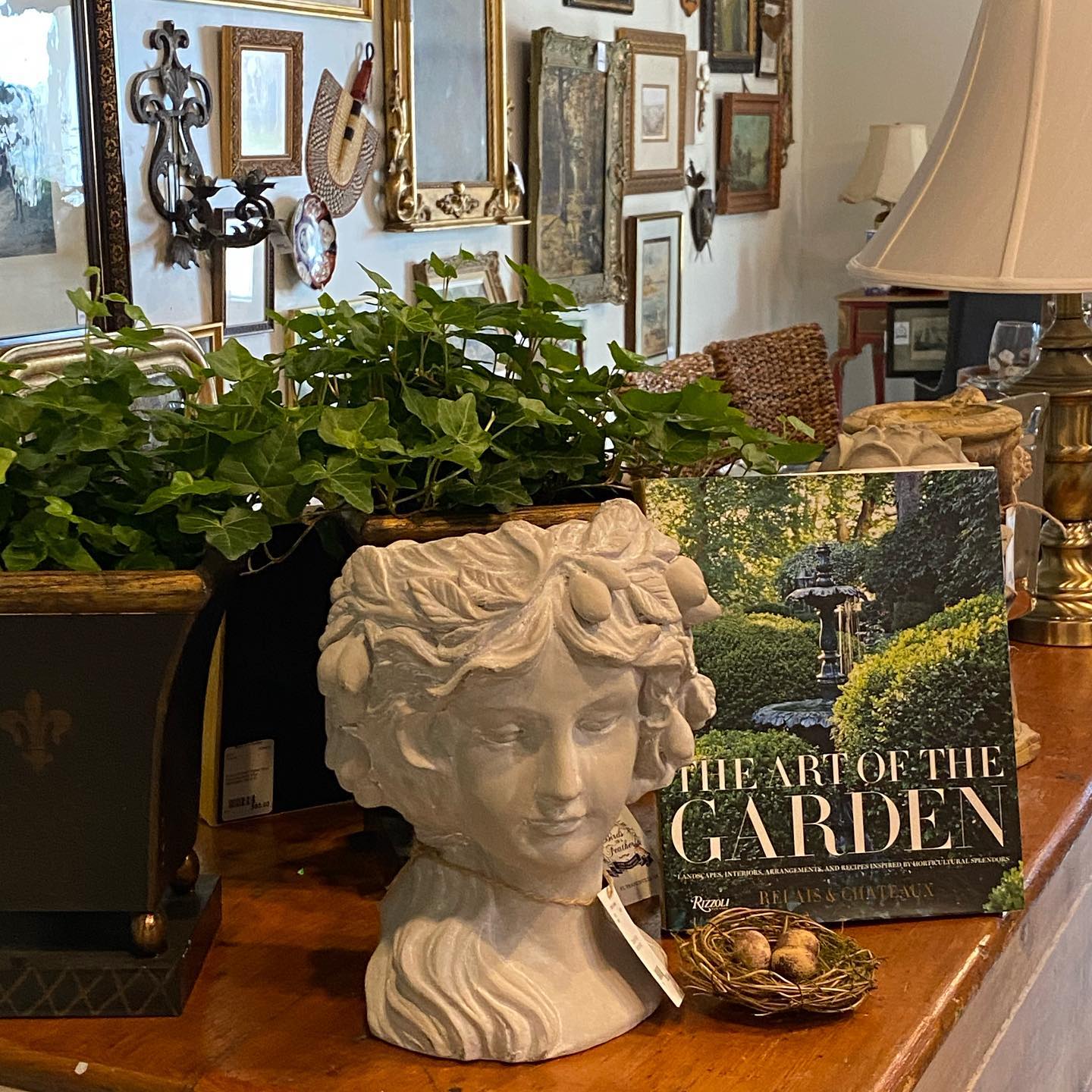 I like the fact that the store isn't just about stuff. It's about setting the scene and telling a story. I had one customer tell me that my store was like a well-seasoned traveler, and he's right!
6. What is one thing you think customers should know about your store that they may not be aware of?
It's mostly what I want them to know about themselves: If you're in an artistic mindset, just know that there is no such thing as right and wrong. A lot of people have these rigid Pottery Barn ideas about what looks good or what should go together, but you've got to trust your gut. Trends come and go all the time, but a home should be a reflection of your heart, and everyone's heart is different. If you want to display those candlestick holders you found on Frenchman Street when you were twenty, do it. Put it by that Chinese chair you like or that vintage vase in a different color. Let your home reflect who you are, and not just what the Internet says you should be.
7. How do you find most of your consignments?
Word of mouth does a lot of work. And repeat customers coming back to me with their own finds. Instagram has also been a helpful way for people to get in touch with me.
8. What are some of your most popular items?
We have an outdoor section with a bunch of garden items, and those definitely sell pretty well, regardless of if someone came in for furniture or not. Bird feeders, that kind of thing. Plus, people are still doing a lot of outdoor gardening after being spurred on by the pandemic, so they're always looking to spruce up those areas. In terms of home decor, artwork and mirrors are usually quite popular. They're an easy way for people to change up their space.
View this post on Instagram
9. What's something surprising that people might not expect to find in your store?
I have a designer friend in New York, Joe Ravel, who developed his own sunglasses/eyeglasses line. They come in all kinds of colors and patterns, so I guess they're pretty nontraditional, not just the typical black or tortoiseshell most people have. I wasn't sure how they'd do being sold in my store, but now hardly anyone walks out without a pair! Just a little something extra to pique people's interest and reiterate the idea that we're all individuals who can be who we are, regardless of what's on trend.
10. And finally, what's the story behind the name of your shop?
When I came to St. Francisville to stay, I could see that it was a "nesting" community—everyone is really close-knit, and we like to borrow from one another and lend a helping hand. "Birds of a feather flock together," as they say. So that's where it call comes from.