10 questions with STONE and CLOTH owner Kris Klar

From bathroom floors to kitchen countertops, the products and services at STONE and CLOTH Baton Rouge aim to bring a fresh feel to home surfaces. The company's two locations offer and install hardwood floors, granite countertops, wool carpeting and more. STONE and CLOTH also recently added a custom furniture line, giving customers the power to create the perfect space all at once. We sat down with owner Kris Klar to learn more about STONE and CLOTH's products and background.
---
1. What is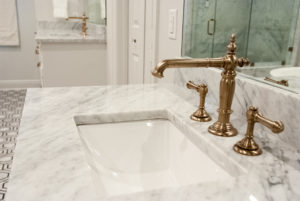 a typical day like for you and your team? I get to the office around 6:45 a.m., I meet with project managers at 7:15, and customers start coming in around 9. I start my day at our Airline Highway location because this where we do all of our fabrication and warehousing. Usually around 10:30 a.m., I head over to our current projects to check the progress, and after lunch I go to our second location on Lobdell Avenue.
2. What is your professional background? How did you get into this field? I did marketing for a Fortune 500 company when I graduated from LSU. I also spent some time doing home remodeling before I decided I wanted to specialize in countertops, flooring and furniture.
3. What are the first things customers see when they walk into your showroom? We want our showrooms to feel as welcoming as possible. Our location on Lobdell has a more special boutique feel. We want customers to feel like they are walking into a living room in someone's home instead of a showroom.
4. What sets your business apart? Our willingness to take the extra time to fully educate our customers really sets our business apart.
5. What is one thing you think customers should know about your business that they may not be aware of? In our showroom you can select all exterior and interior paint colors, bricks, shingles, mirrors, tile, wood, carpet, countertops, furniture, etc. all in one day. We will create a spreadsheet with all of your selections and help you track them throughout the building or remodeling process. Even though we do not sell most of those materials, we work with companies who do, and they provide us with swatches and samples.
6. How do you keep your services and products fresh and up to date? We are continuously bringing in new lines and rotating our selections. Our biggest customers are interior decorators, and they help us keep up with the latest trends, as well as timeless options.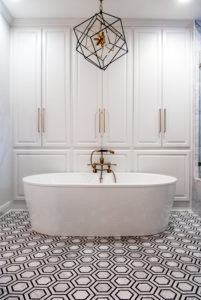 7. Can you share a hint about what trends consumers will see next season? Lots of greens, especially in tiles, fabrics, etc.
8. What was your reason for opening the business? When did it open, and how has it grown or changed since then? I have always loved construction and design. I get to do some of both in this industry. We opened in 2009 and just did countertops. We expanded and got into flooring in 2014 when we opened our second location. And we just started selling furniture in 2016.
9. What are a few must-have products this season? A must-have product this season is a Mont Blanc quartzite countertop. It looks just like marble, but it's much more durable.
10. What are some of your best-selling products or services? We have some unique handpainted tiles that everyone loves.