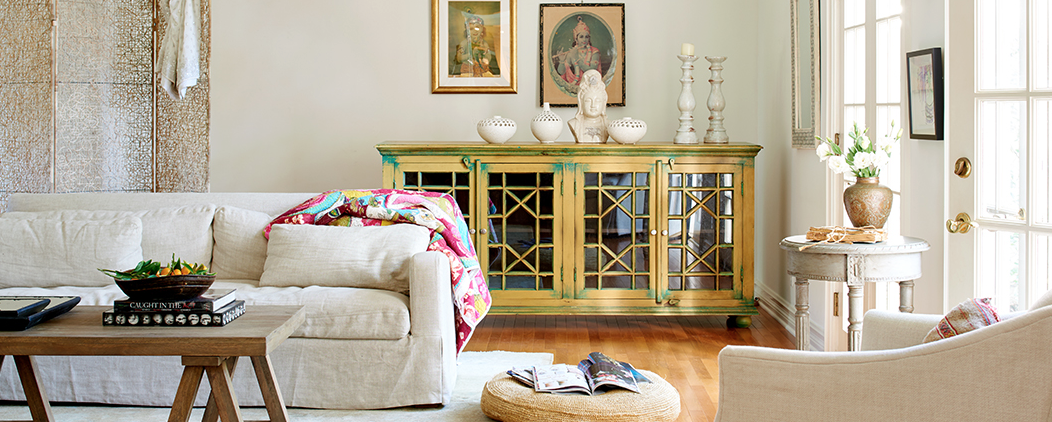 10 questions with Xeniya Savelyeva Borello of Nadeau Baton Rouge
Bright, unique pieces of furniture give an outwardly gorgeous room a bit of personality. At Nadeau on Perkins Road, every piece has a story, and the team warmly refers to their reserve as "furniture with a soul." From reclaimed wood tables to bright blue buffets, each item is handmade. Steering clear of mass production and proving that one-of-a-kind furniture can be attainable are the principles upon which Nadeau was founded. Nestled next to Trader Joe's, Nadeau aims to bring a slice of soul and charm to the Baton Rouge community. We sat down with Xeniya Savelyeva Borello, the store manager at Nadeau Baton Rouge, to learn more about Nadeau and the story behind the store's soulful selection.
---
1. What is a typical day like for you and your team?
The day starts with opening the doors and putting a few items outside for display. We like to rotate this display because Nadeau's inventory is ever-changing. We then focus on customer service and providing visitors with an unforgettable experience. We offer handcrafted solid wood furniture at wholesale prices. The store operates like a retail space or warehouse where all of the products are safely stacked. When customers visit, they tend to get lost in the mazes of uniquely crafted furniture. We always greet customers, make them feel welcome and tune in to their unique style and needs.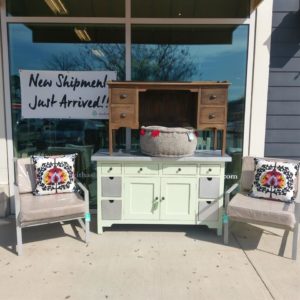 2. What is your professional background? How did you get into the retail field?
I've always been drawn to design, particularly interior spaces. I believe furniture is the soul of the interior space. It's what makes a person's vision for their home come together to create a warm and welcoming feeling. I studied art and business at Millsaps College. However, the interior design industry is very competitive and I knew having an art and business degree wasn't enough. So I studied interior design at Parsons The New School of Design. After college, I worked for a few interior design and furniture companies as an office manager or operational manager. Then, I realized I wanted more than just an administrative title. I discovered Nadeau and it turned out to be my dream job.
3. What are the first things customers see when they walk through the doors?
The first thing customers see when they walk in is an eclectic blend of stacked furniture and a lot of it. It may be visually overwhelming at first, but the longer you spend looking at pieces, the more you fall in love with the craftsmanship and uniqueness of the furniture. The beauty of the store is that customers find something totally different every time they turn a corner. The experience is like walking through a furniture wonderland–it's exciting, inspiring and always interesting. The majority of our customers are repeat customers who are always excited to find out what's new in stock.
4. What sets your store apart?
Nadeau is different because we provide high-quality furniture at a low price. Each piece is made by hand with solid wood like acacia, teak or mango. The prices are wholesale and the products are never mass-produced. Customers love the fact that their neighbors or friends will not have the exact same piece of furniture they purchased at Nadeau. We provide the convenience of no assembly required. Pieces can also be picked up the same day they're purchased.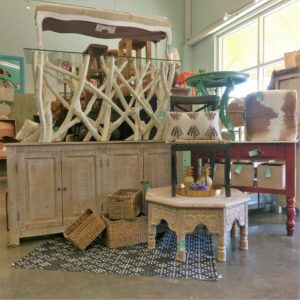 5. What is one thing you think customers should know about your store that they may not be aware of?
All sales are final. We provide customers with tape measures and encourage them to take as many pictures as they like before purchasing. Our staff has plenty of experience in the furniture industry and is here to provide good interior design advice for free. Having all these tools at the time of shopping helps customers feel at ease and know what to expect when a particular item arrives at their home. Also, we don't sell products online. We're a true brick-and-mortar retailer where customers visit and experience pieces in person.
6. How do you keep your store's inventory fresh and up to date?
We work with artisans that live and breathe furniture. To them, crafting each piece of furniture is an artistic process, much like a painter who fills each brush stroke with his or her own soul and feeling. Nadeau doesn't chase trends and styles because they are fleeting. We're all about a long-term vision, striving to offer furniture that's both fresh and timeless.
7. Can you share a hint about what shoppers will see in your store next season?
We guarantee that next season customers will see new, handcrafted pieces filled with a lot of soul, but we're never sure of exactly what's going to appear in the store because we don't sell mass-produced items. Whatever the artisans are inspired to make is what we will offer. It's exciting because each time we receive a new shipment container, it's filled with furniture and accessories that we've never seen before. We always encourage customers to get on our email list so they can know when new shipments are scheduled to arrive.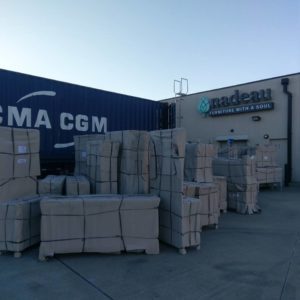 8. What was your reason for opening the store? When did it open, and how has it grown or changed since then?
There was a great need for a location in Baton Rouge, especially after the New Orleans store opened in 2011. Most of the clients wanted an even larger selection of furniture that's both functional and stylish. We opened in December of 2013, and our customers are combination of Baton Rouge locals and a steady flow of residents from nearby cities such as Lafayette, Hammond and Zachary. We have a large inventory, both in volume and variety. We have also updated our logo and repainted the floor in neutral and soothing tones of turquoise.
9. What are a few must-have items this season?
Some of the must-haves are our unique teak consoles with glass tops. We also carry elegant side tables with marble tops. This type of material mixture is in demand right now. Anything that combines wood with metal, glass or marble is a simple way to add dimension to your space without adding a lot of pieces. It's all about texture and color coordinating. For example, pairing a beautifully handcrafted glass-top console with a geometric-style rug and banana-leaf plant in a woven basket can effortlessly create a Zen environment. Adding pictures of family and friends as well as your favorite artwork in a gallery wall above the console can transform an empty, dull wall into a space you can appreciate and enjoy.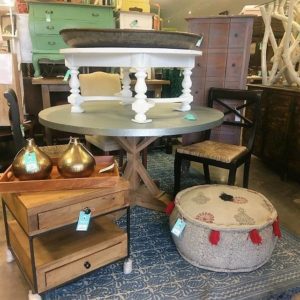 10. What are some of your best-selling products?
Some of the best-selling items are our dining tables. They're all solid, which means no leaf or extension, and come in a variety or sizes ranging from 5 feet to 7 1/2 feet. Another best-seller is our dressers. We offer affordably priced dressers with plenty of drawers to make sure you have enough room for storage. Desks always sell fast as well because we have sizes that are perfect for students and professionals.
For more handcrafted furniture and design inspiration, check out Nadeau's website and Facebook.