10 questions with gallery owner Ann Connelly
Ann Connelly, owner of Ann Connelly Fine Art in Baton Rouge, has chosen a life path dedicated to showcasing the original art of local and international artists. For her, authenticity is the name of the game. She makes frequent treks to Venice and Paris while also keeping tabs on artists right here in Louisiana—all in an effort to find works that wouldn't merely look great in a living room, but would fit perfectly in a personal collection focused on new and innovative interpretations. One of the most significant milestones in the life of the nearly 30-year-old gallery was its move to a brand-new location dubbed Studio Park on Lobdell Avenue earlier this month. With the fresh new space now open and beckoning art lovers from near and far, we thought this would be the perfect time to touch base with Connelly and learn more about her colorful success story.
---
1. What is a typical day like for you and your team? Even in a creative business, we follow a basic structure for daily operations, including communication with customers and designers, presentations to corporate clients, and meetings with professional artists. Outside of the business-focused structure, our team absorbs and disseminates a constant stream of new and unique information. Our product is ever-changing but our mission and brand remain constant.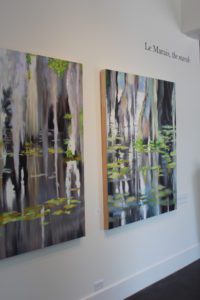 2. What is your professional background? How did you get into the retail field? My background began in studio art, but I'm a terrible artist. I find it to be the most difficult career path that any person could choose. I hold such a high degree of respect for those artists who are able to navigate that life and create a truly unique mark of high quality. I was fortunate to be mentored by Adalie' Brent, an important art professional in the Baton Rouge community, and that opportunity propelled me  toward the steps that would lead to the opening of the gallery.
3. What are the first things customers see when they walk through the doors? When you walk through the doors, you see a large variety of really good art. The collection ranges in media, scale and price range. Our goal for the space is to be an inviting art experience for those who are just beginning to collect and also for our patrons looking to expand their collections.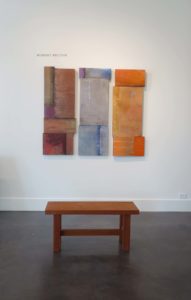 4. What sets your gallery apart? My team and I have been solely focused on original artwork since the opening of the gallery in 1989. Our goal is to be local, but with a global perspective. Searching through a curated lens, we are able to connect with professional artists not only in our region, but all over the world. We attend art fairs yearly in Miami and New York, and internationally in Venice as well as frequent trips to scour the markets of Paris.
5. What is one thing you think customers should know about your gallery that they may not be aware of? The environment is intended to be comfortable and authentic. What most people may not know is the constant churning going on behind the scenes of the gallery with day-to-day operations, deadlines for presentations, and complex production schedules. For those who may wonder, there's no "book reading" here!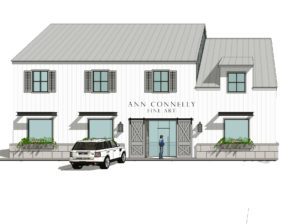 6. How do you keep your inventory fresh and up to date? Every day we are looking—when we travel, when we relax, and when we are under a deadline for a project. This constant process is so natural for our team; it's a part of us.
7. What can art lovers expect to see in your new gallery space? With our new location in Studio Park, the space was designed with the intention of creating a dynamic environment where we can not only display artwork, but also pop up with creative merchandise. Currently, we are featuring vintage Turkish over-dyed rugs in bold, trending colors. In the future, we will build more suites of one-of-a-kind items. Everything we do follows to our mission to "collect authentic."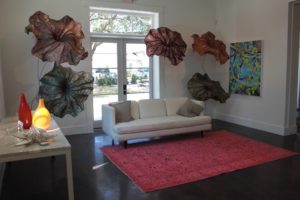 8. What was your reason for opening the store? When did it open, and how has it grown or changed since then? I am a hopeless creative and honestly felt I had no other path. It has been fluid and ever changing, which can be chaotic sometimes but perfectly suits a creative mind. The pursuit to bring high-quality work to the community and beyond is the founding principle of the gallery and has remained unchanged since 1989. As far as the new location goes, I had been interested in the property for years. I loved the location, the beautiful oak trees and the proximity to Mid City and historic Old Goodwood. We also love the ability that ownership affords in terms of continually improving the property and making a lasting creative impact in Baton Rouge. In designing the new gallery space, we were able to develop an environment that works for the way we work. Our large production facility is connected to the gallery (this is where we stretch artwork and create custom frames). The gallery space is light-filled and comfortable, expanding into our storage bin area that has custom floor to ceiling wooden bins to safely and easy store artwork that's not hanging on the walls. This project has taken years of preparation but we are so happy with the final product and excited to share it with the community.
9. What are a few must-have items this season? We have a collection of curated pick-up items including hand-blown glass flowers in a variety of colors and shapes inspired by our local flora and fauna. The concept we are most excited about this year are the large-format murals that are trending across the globe. Two years ago, we began our partnership with public artists from Germany and Argentina and are currently exhibiting some of the wall-sized canvases "Pastel" Francisco Diaz created for us last year when he traveled from Buenos Aires to Baton Rouge.
10. What are some of your best-selling pieces? Authenticity is what we sell. Never the same thing twice. It's easy to represent our artists and their work when it stands alone in its quality, authenticity and originality. We work hard to find the originators not the duplicators.