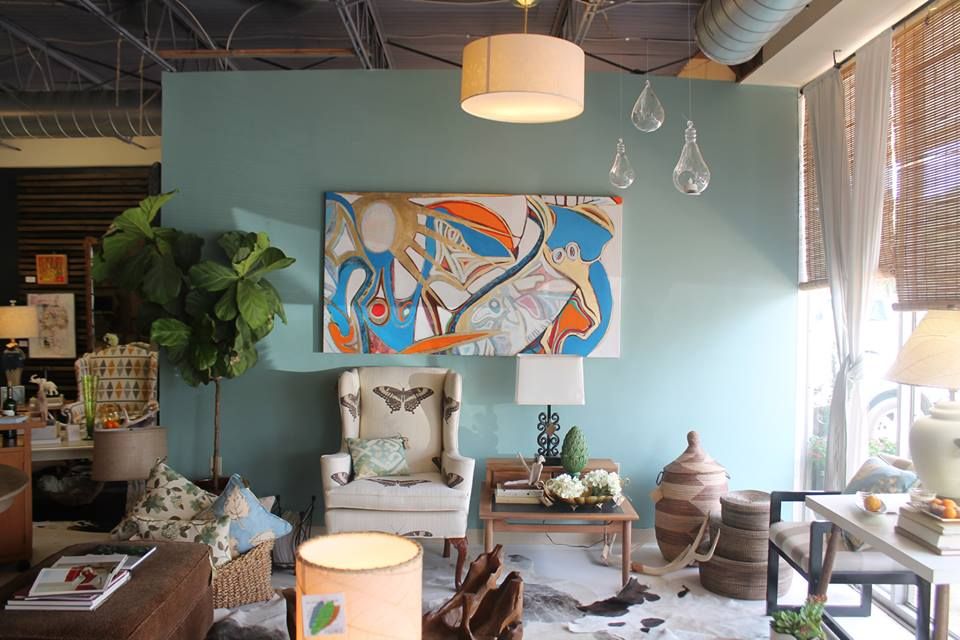 10 questions with Artvark Ltd. owner Claire Major
Artvark Ltd. owner Claire Major didn't always work in the furniture and home goods field, but just one look inside her warehouse suggests otherwise. Inside, an enormous collection of curated, one-of-a-kind items awaits—but only if shoppers pay attention to the select days of the month Major opens her doors. Whether in search of something shiny and modern or vintage and unique, shoppers can always expect something a little different from Artvark, and right in time for the holidays. Below, learn what else Major had to say about her ever-changing store and its still-recent history in Baton Rouge.
---
1. What is a typical day like for you and your team? At the store, first I always make sure things are clean and in place. That being said, a lot of times things are not in place because I'm always moving things around or merchandise is coming in, whether it is new or vintage. My team consists of a mother and a son who live in the neighborhood. They may be sanding furniture, cleaning the store, cleaning the warehouse or moving furniture from storage to the showroom. There is never a lack of things to do.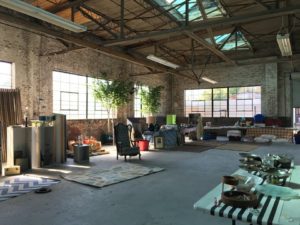 2. What is your professional background? How did you get into the retail field?
I was a Residence by Marriott GM for 12 years, and when my hotel was sold, Marriott hired me to do a consulting job that lasted a year. It began my 15-year stint as an organizational development consultant. I did a brief stint (three years) working with defense contractors after a client hired me while training them in D.C. I worked for three years selling logistics and construction services in conflict, post-conflict and austere environments. All of that prepared me for my current job. I just said, "I'm tired of doing this, and I want to make my avocation my vocation—arts and interiors."
3. What are the first things customers see when they walk through the doors? They see a vignette that I always set up right smack in the center. It's always different. It can be a vintage sofa and accessories, a antique iron and glass outdoor table with umbrellas and orange vintage chairs, a mid-century modern table stacked with all sorts of ceramic plates, cups, honey jars, tea and coffee canisters, or fabulous wooden box shelves that hang on the wall, which is there now. There always has to be an eye-catcher coming in.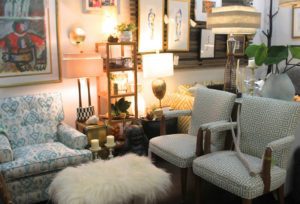 4. What sets your store apart? I sell new and vintage pieces. I'm very eclectic and urban in style but lean towards contemporary because the vintage I like is mid-century modern. I get to know my customers well. I think I have a strong following, and I take care of getting them the things they are looking for. I'm not always open, either. I do renovation or styling projects or sometimes need to chill. And one more important thing: I like items that are a little bit different, and try to get my clients to realize when people walk into your house, you don't want them to see the same old thing, even though it is pretty. Different, even with a little funk.
5. What is one thing you think customers should know about your store that they may not be aware of?
I'm located in an old part of town in a 90-year-old warehouse that was originally the Packard Dealership in the late 1920s. It is fabulous. There is just little to no commerce immediately around me, but everyone keeps their grass cut and tries to keep it clean. I love it.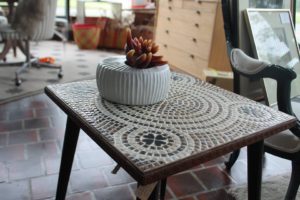 6. How do you keep your store's inventory fresh and up to date? I go to market usually two times a year. I am a design book/magazine junkie, as well as a Houzz advertiser and frequent viewer as well as HGTV.com. I love to see new and beautiful things.
7. Can you share a hint about what shoppers will see in your store next season? Ah, good question. I want to do more bedroom furniture for both adults and kids. I also want to sell more gift items so if people don't need furniture or a lamp or a rug, they can still shop with us and find great and unusual gifts. I also want to start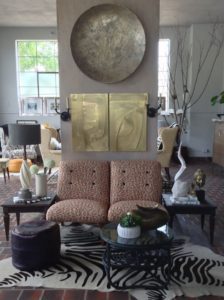 selling baby stuff because I'm going to have my first grandchild in February 2017!
8. What was your reason for opening the store? When did it open, and how has it grown or changed since then? I just wanted to do what I'm passionate about. I did my first major gut and renovation in 2009 and opened my store in 2011 in the Old Goodwood Shopping Center. I did not renew my lease after three years because I decided I didn't want to work six days a week. So I  moved into The Foyer for two years until my husband and son bought Northside Motor Exchange. When a lease fell through with a prospective tenant in 2015, I moved in my current showroom in February 2016.
9. What are a few must-have items this season? A faux fur throw or pillow (always a hide, I just love them), accent tables and something blue to brighten up a room of neutrals.
10. What are some of your best-selling products? My mid-century modern furniture, for sure. My reupholstered vintage sofas and chairs are also popular because they're just like new, but for so much less. Lamps, both new and old, and pottery are also great sellers.