Young entrepreneurs are finding fans in Baton Rouge
---
Unlike their millennial elders, the members of Gen Z have never known a world without social media, digital marketing and the benefits that arise from spreading the word about the next big idea—even if by word of mouth. Whatever their methods, the young entrepreneurs behind a handful of burgeoning local businesses have made the most of their creativity, capitalizing on the glimmer of potential born of happy accidents, school assignments or the desire to give back to the community. 
"We just do it when we have time," says U High student Annsley Easton, who with her friend Suzanne Ayres sells handmade jewelry under their brand The Aesthetic Magnolia. "We pay attention to other people's businesses and see what they're posting on Instagram, which is also a great way to communicate with followers and see what they like."
From pop-ups to popcorn, we're digging into the products made by some of Baton Rouge's youngest businesspeople, and maybe gleaning some inspiration along the way. "I'm ready for us to keep working hard and for us to be CEOs when this is no longer a small business," says Bailey Galloway, the 11-year-old co-founder of gourmet popcorn company Posh Pop. "If we're billionaires one day, it will be because we worked hard while we were young."
---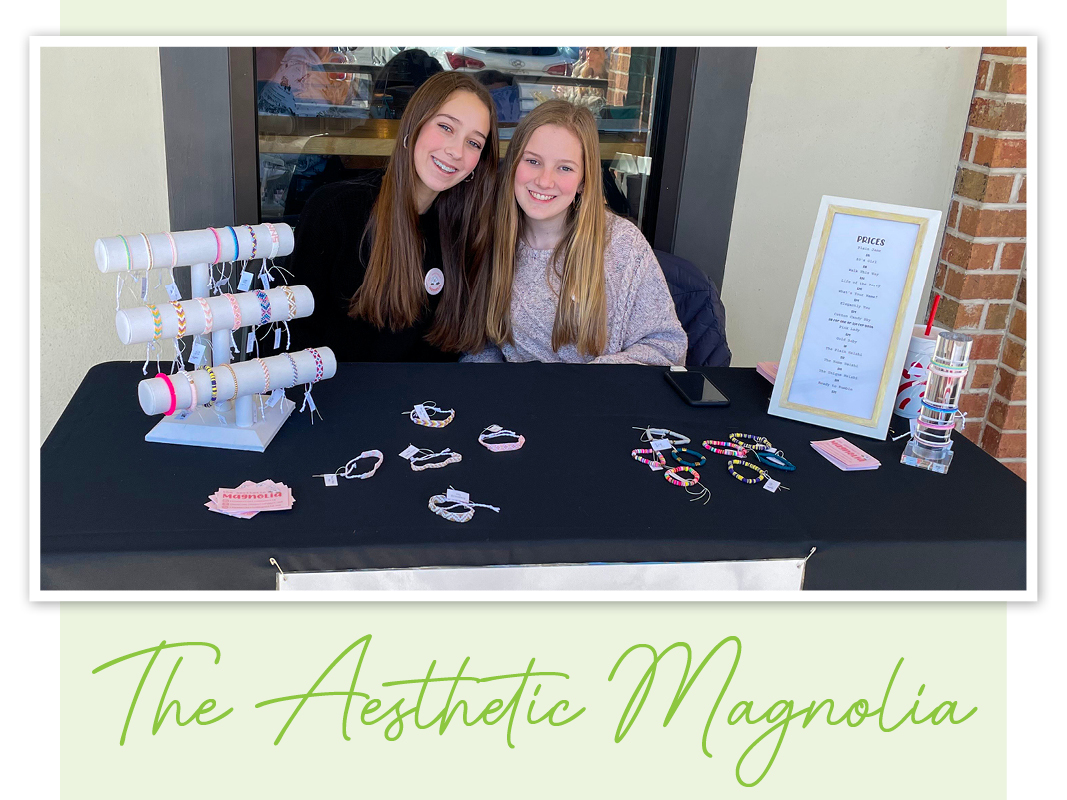 The magnolia makes for a lovely accessory to Louisiana landscapes, so it's no wonder that U High ninth-graders Suzanne Ayres and Annsley Easton borrowed it for the logo of their handmade jewelry business—before they'd even decided to start one in the first place.
"We've been friends for a few years, and last summer we just wanted to figure out a way to do something together and make a little money, so we came up with the Aesthetic Magnolia name first," says Easton. "We originally thought about making earrings, but ultimately we realized that neither of us had good bracelets that we could wear on a daily basis, no matter the occasion. So that was how it all started."
The designs consist of woven, finely beaded patterns, along with a few options in heishi beads, whose flexible composition and stretchy bands allow for easy removal. Many can be personalized and monogrammed. 
"We've always enjoyed making art," says Easton, whose passion for drawing led to her Aesthetic Magnolia logo design. "Suzanne is also a competitive dancer, so I think it all just ties together and helps boost our creativity."
Networking also helps.
"The wife of one of the coaches at school has an online clothing boutique and had done pop-ups at Light House Coffee," says Ayres. "She introduced us, and we ended up becoming friends with the owner, so we like to do pop-ups there every once in a while when our schedule allows. It's a great way to get out there and advertise while meeting new people and other small businesses."
As for what the future holds, Ayres and Easton are enjoying the fruits of their labors without looking too far down the line.
"We're just taking it day by day for now, watching it get bigger and grow," says Ayres. "Right now it's just really fun, plus it's kind of a stress-reliever. We love being able to hang out and bond and be creative this way."
---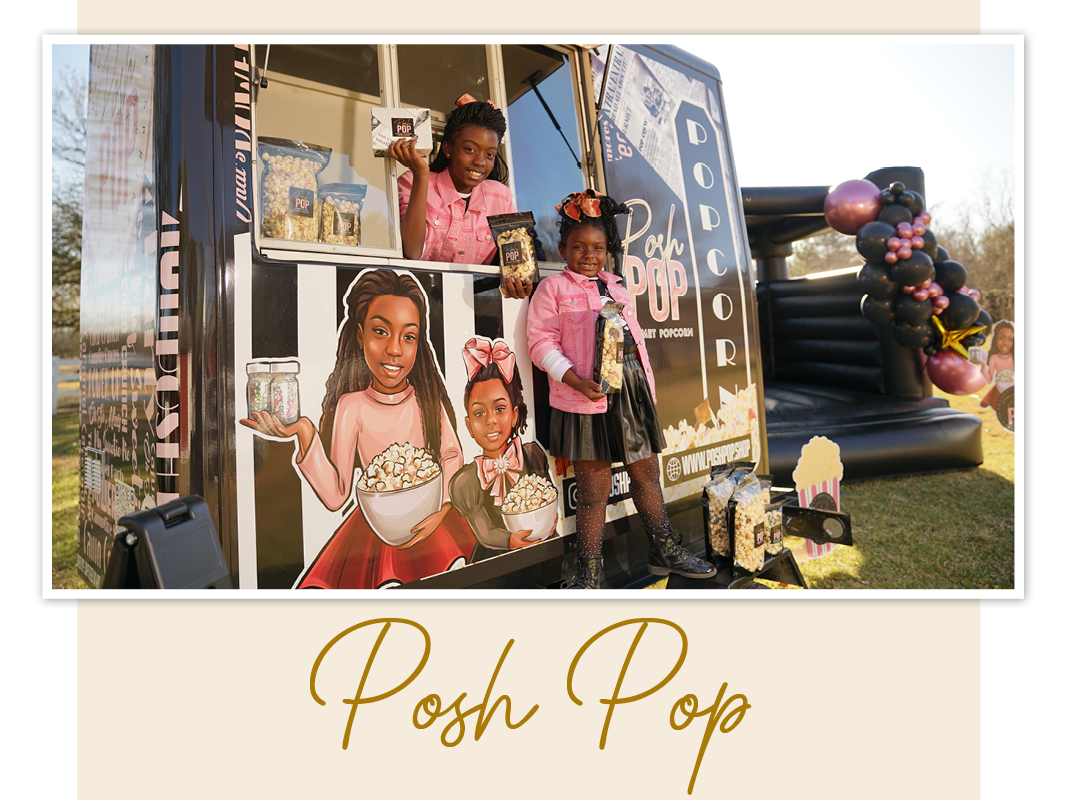 It may never have happened without The Grinch. Or at least not without a night of baking Christmas cookies in December 2020, when Ebony McCallister and her daughters Bailey and Harper Galloway found themselves staring at a mess of leftover sprinkles, chocolate chips, pretzels and other sweet treats that never made it to the oven. The girls decided to mix the ingredients up with the leftover kettle corn from movie night and stored them in the refrigerator until the end of the film. They couldn't have known that the end result would become a business expanding nearly as fast as the heart of Whoville's holiday burglar.
For the next three months, Bailey, now 11, and Harper, now 6, sold their popcorn concoctions exclusively online, having narrowed their initial brainstorm of 64 "flavas" down to a more marketable 21, each created and tested in their mother's kitchen in Zachary. Sweet and savory flavors with names like Praline Paradise, Slumber Party and Gold Rush continued to sell out thanks to the buzz generated on Facebook and Instagram, this time under the name Posh Pop, inspired by Ebony's event-planning business, Posh Meets Chic. Next came the expanded visibility granted by farmers markets, and then an invitation to pitch their product at LSU, where Posh Pop is now produced under the umbrella of LSU's Food Innovation Institute, or FOODii. Visitors to Baton Rouge events like Live After Five might have even noticed the most recent addition to the Posh Pop business strategy: a trailer in the brand's pink-and-black color scheme, where Bailey and Harper dish out their signature mixes—and occasionally some "posh punch." Posh Pop is also available at Local Supply in Baton Rouge and Maison Greige in Zachary.
"A lot of people don't realize how young we are," says Harper, who, with Bailey, helps with every aspect of the business, including mixing flavors, keeping track of nutritional information, and shipping orders. "We know what's in our product. We also love talking directly with customers to find the perfect flavor combination for them. I think our customer service is part of what's brought us so far."
---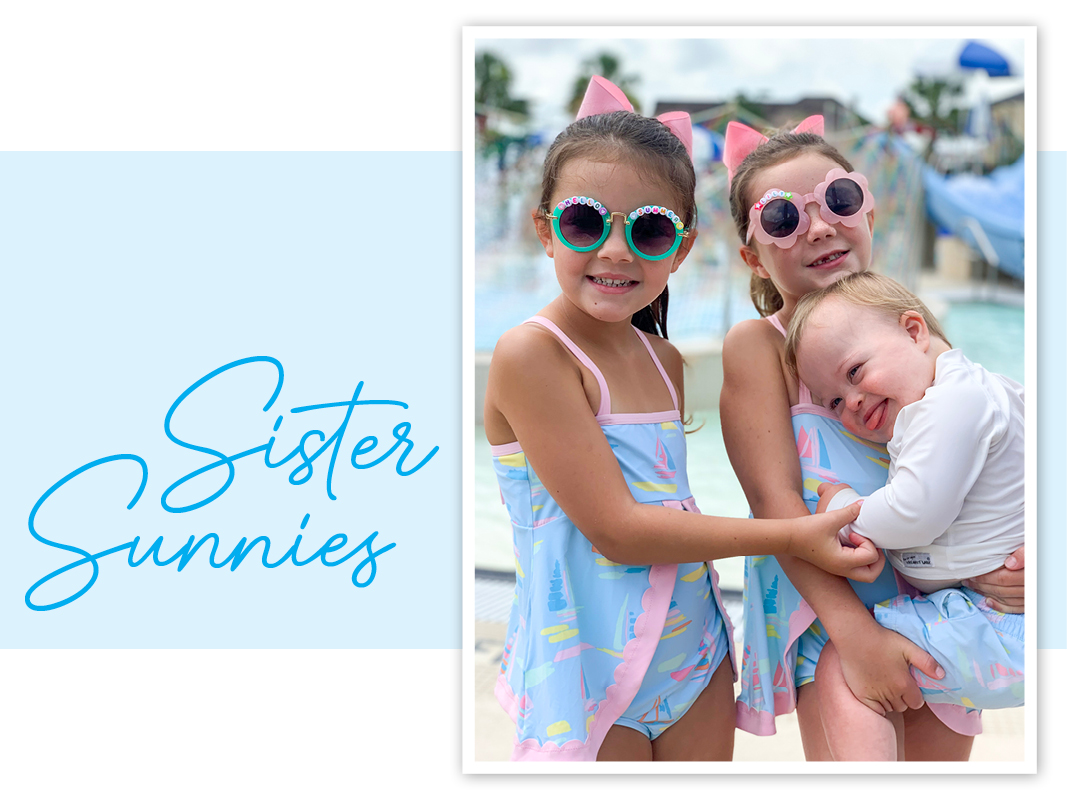 Not every good deed has to stay where it's been planted. Some of the best ones find their way far beyond their starting point, jumping from person to person through a chain of love and generosity. That's how it happened for Sister Sunnies, born from the efforts of Lafayette-based Katie Sanford and her daughters Annie and Lily, who at 6 and 7 years old already possess a precocious knack for philanthropy.
When the girls started making their own sunglasses in the summer of 2021, the floral, beaded creations acted solely as artistic accessories. But when the chic shades started garnering attention from family and friends looking to purchase handmade sunnies of their own, Katie thought of one friend in particular who could benefit from the funds.
"We give money to the Down Syndrome Awareness Group of Baton Rouge because our friend Rabb Choppin has Down syndrome and lives in Baton Rouge," says Lily. "Rabb is extra special."
Interested customers can check out the stories on the Sister Sunnies Instagram page to see which styles and colors are currently available, then select a name or phrase to be spelled out on the frames alongside hearts, stars and jewels, and direct-message the account to place an order. Anyone encountering Sanford and her daughters at events like their recent pop-up at Mini Macarons can even help design their special glasses right then and there. 
The family was a sponsor for the DSAG Baton Rouge Buddy Walk in March. "The girls really liked being able to physically see the money they had earned being donated," says Katie. "Plus it's just a fun event for families to give back to."
But Sister Sunnies has its personal benefits, too, especially when it comes to Lily's dreams of becoming a fashion designer. "My husband and I are both entrepreneurs, so to see them have the desire to not only work and make money for themselves, but to donate a portion of that money at such a young age, is pretty cool," says Katie. "I think the experience will only continue to foster good skills and values in the future."
---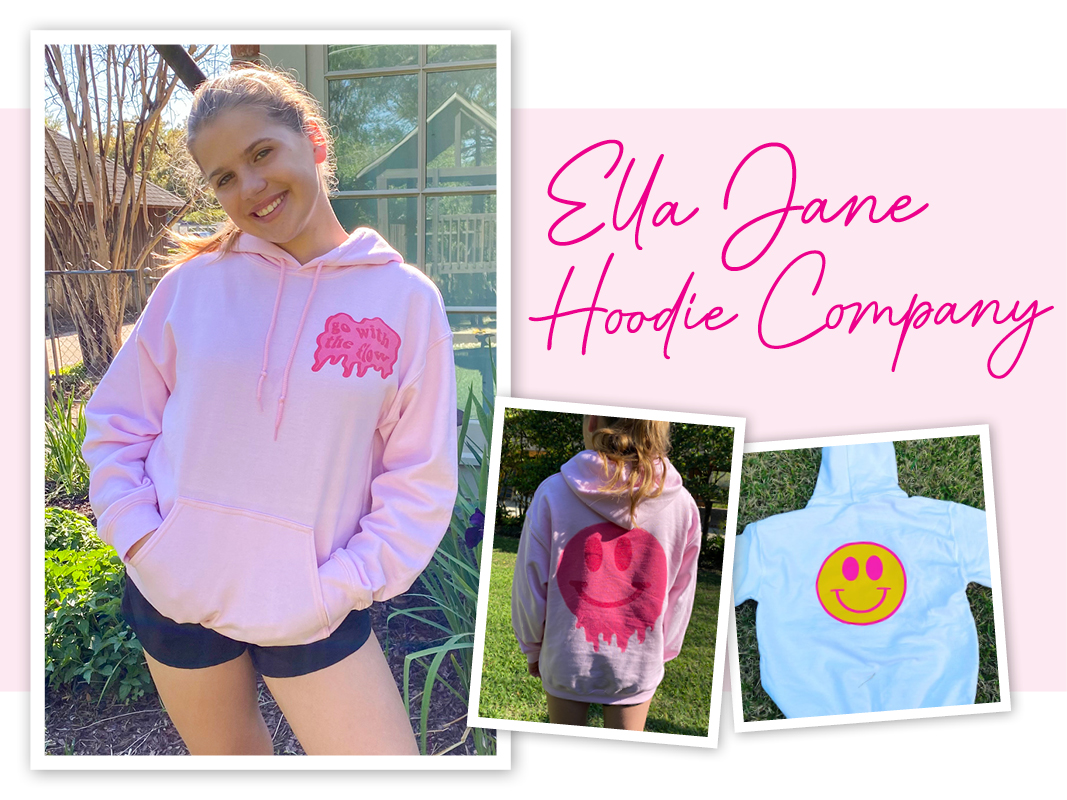 "Hey, is that Aviator Nation?"
Ella Peek looked down at the pink-and-yellow smiley face on the hoodie she'd worn to the ice skating rink. She knew the brand Aviator Nation—mostly because its punchy, Venice Beach-style sweatshirts tend to cost nearly $200 a pop—and laughed at the thought.
"Actually," she told the person who had stopped her, calculating the stacks of cash she must have saved, "I made it myself."
Not that she created the Ella Jane Hoodie Company to reel in compliments. The 13-year-old student at Our Lady of Mercy began making sweatshirts as part of a social studies assignment to create her own mock business, including a slogan, logo and commercial. But when she drew up her original designs and saw her friends' interest, she realized that she might have something truly marketable on her hands—plus something she'd want to wear in real life. She dragged out the Cricut machine she'd received in fifth grade, purchased some vinyl, and began cutting designs to iron onto her bulk order of about 50 white hoodies.
More recently, Peek has been trying her hand at screen-printed hoodies, too, sending off her designs to a manufacturer who ships the finished product back to her.
"I knew that I liked preppy sweatshirts, but I knew I wasn't about to pay $200 for them," she says, thinking back on her first design released in December 2021. Since then, she's also released sweatshirts in pale pink, each documented on her Instagram page @ellajane_hoodie_co.
Sitting in front of a light board made for calligraphy, Peek traces her Photoshop-created designs onto vinyl, cuts them out, and decorates her pieces with smileys and slogans like "Go with the Flow" and "Bright Days Ahead"—often in neon colors and drippy fonts. She hopes to be able to release new drops seasonally, stretching her talents and maintaining a hobby she enjoys.
"I just really like doing it," she says. "I'd love to be able to keep it up through high school."