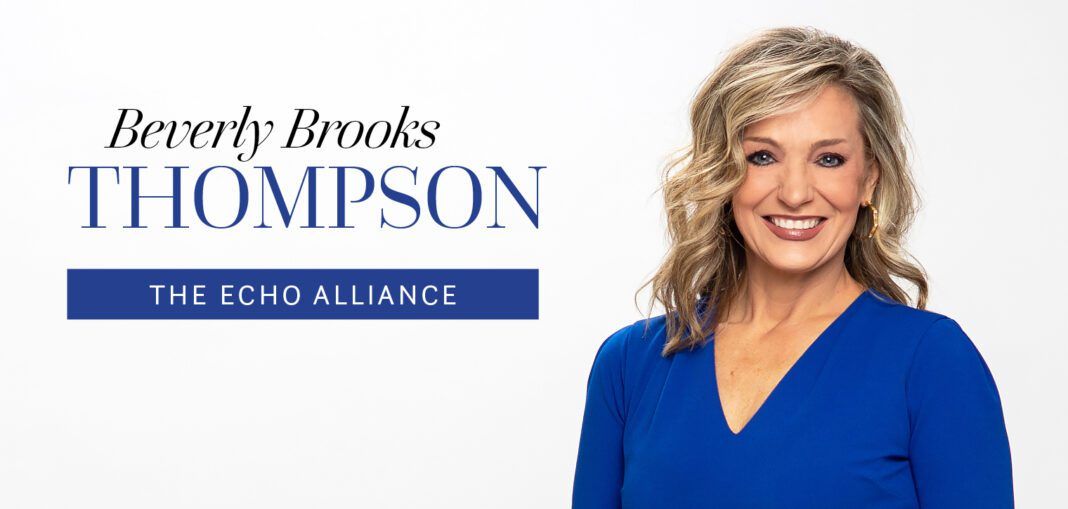 Women with a Cause 2023: Beverly Brooks Thompson

---
---
Of the 20 women gathered at the City Club of Baton Rouge at the behest of Beverly Brooks Thompson, the youngest was just 22 years old. The oldest, 82. But Danielle Mack, vice president and chief development officer for Mary Bird Perkins Cancer Center, knew when Thompson first reached out for help that they all shared one thing in common: the experience of watching a loved one suffer through cancer. That day in December 2021, the women stood, one by one, and placed a rose on the center of their table in memory of those lost or still suffering, agreeing to become the founding members of The Echo Alliance, a "women's giving circle" dedicated to raising funds for Mary Bird Perkins.
Thompson, a professional philanthropy consultant, referred to experts from places like the University of Indiana's Lilly Family School of Philanthropy to land on a unique method of fundraising she likens to a Shark Tank pitch. Each woman would make a once-a-year, tax-deductible donation of $1,000, then meet to decide on a single fundraising initiative for the cancer center, aiming for a $100,000 donation—meaning that 100 women would need to join the giving circle.
Now, nearly 160 count themselves among the fold.
"I knew what I do well—mobilizing people, especially women, to do something that makes a difference," says Thompson, who is also a cancer survivor. "I also knew that when you lose somebody you love, you will always hear their name echoing through your life, which is why we gave that name to the cause."
Her efforts resounded with a bang, leading to the decision to donate the first round of funds to cervical cancer treatment, specifically toward a new state-of-the-art treatment tool called the Geneva Universal Gynecologic Applicator. The tool now resides in the Breast & GYN Cancer Pavilion on the Woman's Hospital campus, giving doctors a means to help fight Louisiana's high rate of cervical cancer death.
To ensure that The Echo Alliance has more to do than simply vote for a yearly cause, Thompson, Mary Bird Perkins and the other members also arrange community-building exercises for the group, including educational talks about Mary Bird Perkins' work, networking gatherings and even an event sponsored by Lee Michaels Fine Jewelry, who gifted each inaugural member with a special engraved bracelet.
"We wanted to make getting involved simple and easy and affordable, where any demographic is welcome," says Thompson, who says members have also helped arrange extracurricular yoga classes, cooking classes and a "thank-you" holiday party. "There's no competition here."
With the next vote coming up soon, Thompson has high hopes for this year's major fundraising effort.
"That's the power of philanthropy," she says. "That's the power of women coming together for a cause."
---
Quick Glance:
How long have you been involved?
I lost my best friend to ovarian cancer in 2019. Through conversations with my friend Danielle after that devastating loss, I told her I was interested in forming a donor circle. The planning began in earnest in 2021, and The Echo Alliance launched in January 2022. I cannot think of a better way to honor Amy's memory than to put 100-plus strong, powerful women in a room with a common mission.
What do you love about the volunteer efforts that you do?
Empowered women, coming together for a common cause, each with an equal contribution, vote and voice working to eradicate the effects of cancer on our community. By myself, I can make a small difference. Collectively, we can mobilize and make a major difference in early detection, patient navigation and unparalleled care.
For more info, visit marybird.org/echoalliancebr.