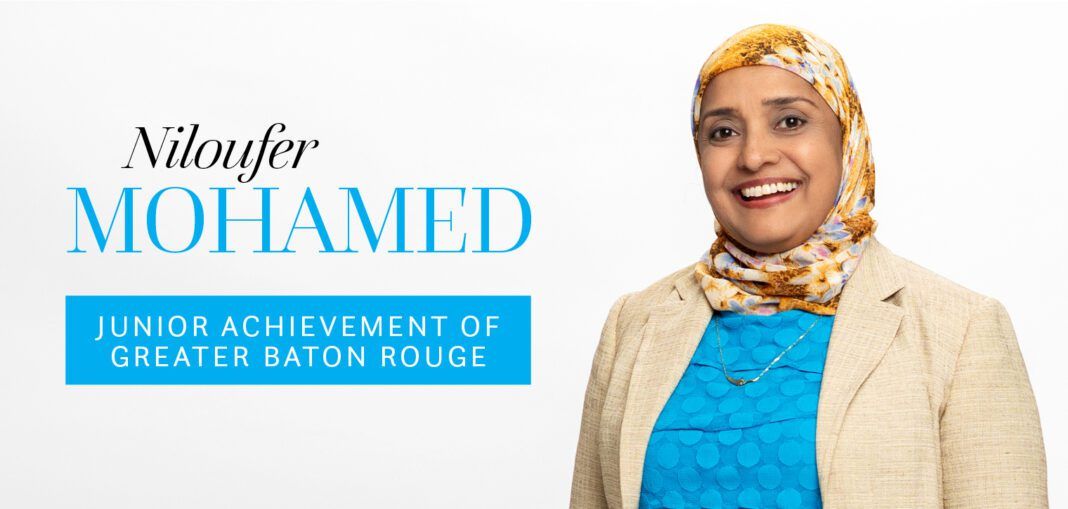 Women with a Cause 2023: Niloufer Mohamed

---
---
For most elementary school students, financial literacy rarely extends beyond the good old-fashioned bartering system ("I'll give you my sparkly gel pen if you give me your highlighter"). But for entrepreneurs like Niloufer Mohamed, who owns a CPA firm with her husband, understanding the ins and outs of one's finances is a necessary part of a well-rounded life—one that she shares with children all over Baton Rouge as a volunteer with Junior Achievement of Greater Baton Rouge.
"I've been a CPA for almost 30 years and serve on a couple of committees for the Louisiana Society of CPAs, including the financial literacy committee," says Mohamed, who also volunteers for the Interfaith Federation of Baton Rouge. "I had loved volunteering at my children's schools when they were still young, so when I heard about Junior Achievement during one of those committee meetings, I thought it sounded like a wonderful opportunity."
Originally founded in 1919 as a nonprofit youth organization in Springfield, Massachusetts, Junior Achievement formed a Baton Rouge branch in 1956, which now serves more than 30,000 students per year in the Capital City. Mohamed, who was drawn to the organization for its mission to promote economic opportunity and knowledge equity in K-12 students, has in just a few months of involvement made a big mark on the organization's "JA in a Day" program, specifically. The half-day commitments take her to classrooms in locations including Glen Oaks Park, Bernard Terrace and Audubon elementary schools, mentoring fifth graders on topics like saving money, the free market, and even interviewing skills. It's all part of a series of lessons designed by Junior Achievement to be fun and interactive from a young person's perspective.
"I try to engage the class from the very beginning, so they know I'm not just there to speak at them for the next three or four hours," says Mohamed, who says she likes to begin by asking simple questions and playing games. "When I ask a room of 9- or 10-year-olds who in the class would like to own their own business one day, you should see the number of hands that go up. Sometimes we don't think that children so young would have that on their mind, but they're very interested."
In the coming months, Mohamed looks forward to working with students in middle schools and high schools as well, giving her a chance to share more knowledge and learn more about the diversity of young people of Baton Rouge.
"I always say that if you don't reach out to interesting people, you're really not interested in life, because life is about getting to know people who may be a bit different from you," she says. "And education is a lifetime gift."
---
Quick Glance:
What do you love about the volunteer efforts that you do?
Engaging with the kids and others is priceless. You're infusing positivity in someone else's life, and showing them that they always have options to do better.
How is your cause making a difference?
To educate is to empower for a lifetime. Someone told me when I was younger in my career that there are three things no one can take away from you: your education, your skills and your experience. That has always stayed close to my heart.
For more info, visit batonrouge.ja.org.