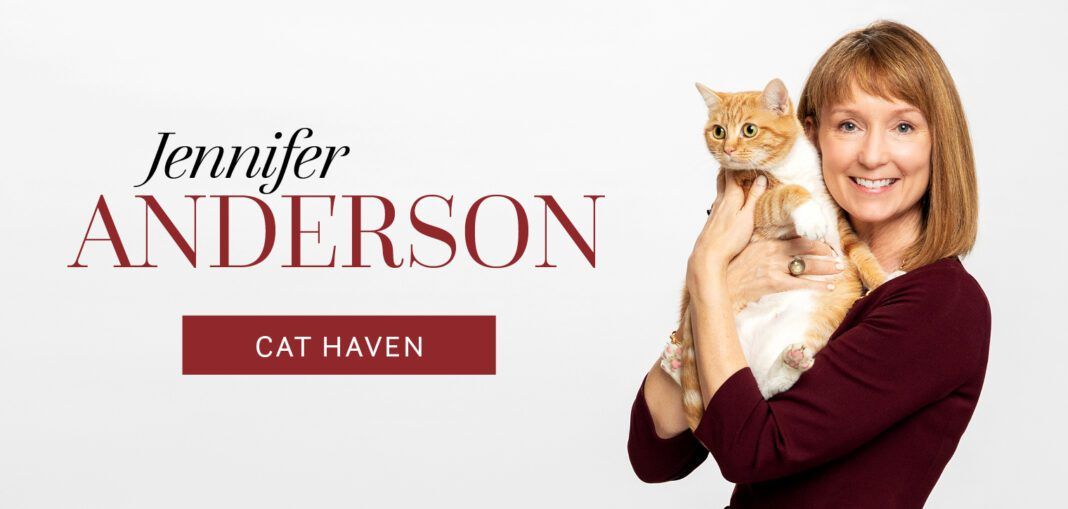 Women with a Cause 2023: Jennifer Anderson

---
---
Jennifer Anderson has supported Cat Haven for more than 20 years, including more than a decade as a board member. The Baker Donelson attorney is focused on a very specific goal in 2023 of raising enough money to double the size of the nonprofit's adoption center and helping to move Baton Rouge toward becoming a no-kill community for all companion animals.
"We've always wanted to help the community get to a point where euthanasia is not necessary," Anderson says.
Cat Haven's adoption center is currently 3,000 square feet, and what Anderson envisions is a facility at least double that size and located in a more central part of Baton Rouge, so people can more readily see and hear about Cat Haven's mission and work. "What I want is more than 6,000 square feet, and I want the capacity to rescue and matchmake with more kitties and cats," she says.
Anderson says the Cat Haven board is seeking to ensure that the new building includes more visitor-friendly spaces so people can interact with cats available for adoption and see how the animals bond with them, their children or other pets.
Cat Haven, as a no-kill organization, has worked hard to lead Baton Rouge in becoming a no-kill community, Anderson says. Cat Haven takes in cats and kittens not only from the community at large but also from the public shelter. In recent months, with Cat Haven's help, the rate of euthanasia in the Baton Rouge community has declined such that Cat Haven is now able to begin helping surrounding parishes pursue the same goal.
In January, Cat Haven has plans to build out its own surgical suite to provide onsite spays and neuters through a partnership with local veterinarians who generously give of their time. The equipment is all portable, so it will be moved to a new building once it is completed.
Today, Cat Haven has the capacity to safely house 75 cats and kittens at any one time. Ideally, the organization likes to hover slightly below that number in case there is a large influx at one time that needs sheltering. The nonprofit also works with a large foster network to provide homes for cats and kittens when the adoption center is at capacity.
"There's a constant flow," Anderson says. "We adopt on average 100 cats a month. That's more than three cats a day."
In the future, Anderson says, Cat Haven would like the ability to safely house 150 cats and kittens at one time. If the adoption center is laid out even more efficiently, the maximum capacity could be even higher.
---
Quick Glance:
How long have you been involved?
I became a supporter of the organization soon after it was founded in 1999, and I have served more than a decade as a board member.
What do you love about the volunteer efforts that you do?
Seeing the positive outcomes when a match is made and getting to spend time in the adoption center with the cute kitties.
How is your cause making a difference?
Our goal is to help Baton Rouge become a no-kill community for cats and kittens. Our efforts focus on rescue, foster and adoption services, as well as a spay and neuter program and helping to educate the public on caring for their pets to prevent unnecessary reproduction.
What do you hope to achieve?
We want to be a no-kill community, not just for cats but for all companion animals. We will launch a capital campaign in 2023 to double the capacity of our adoption center.
What is something we don't know about your cause?
People may not know that felines with disabilities can lead long, happy lives and make wonderful additions to their homes. Take Emi the torbie (mix between tabby and tortie), whose leg required amputation after a stubborn infection just would not heal. Now, Emi eagerly awaits her forever home to prove that tripods can eat treats, take endless naps, play, make nose art on windows while squirrel-watching, and do all sorts of other things that a cat equipped with four legs can do. She is available for adoption at Cat Haven.
For more info, visit cathaven.org.